Vibia Lighting
Vibia creates harmony of light and design in the of atmosphere and matter. They succeeded to achieve the balance of emotions and function, the symbiosis of technology and delicacy. The lighting fixtures from this lighting band are innovative products, different and made with high quality materials centred on finishes and handmade details. The elegance and modernity of their design combine perfectly with the contemporary approach to interior design.
Vibia lighting brand was founded in 1987 in Barcelona in Spain, then it merged by the T Group in the late 1990s, among the other design brands Tramo, experts in furniture designs and BSC, experts in seats designs. Vibia manufactures decorative indoor and outdoor lighting, modern pendants, sconces and floor lamps. Their aim is to offer products of exquisite design and high quality.
Vibia is a Barcelona-based designer lighting company that has become an international benchmark. The relationship of the individual with light, the creation of spaces in which to cohabit and sensations to share, is reflected in the almost 80 collections of Vibia.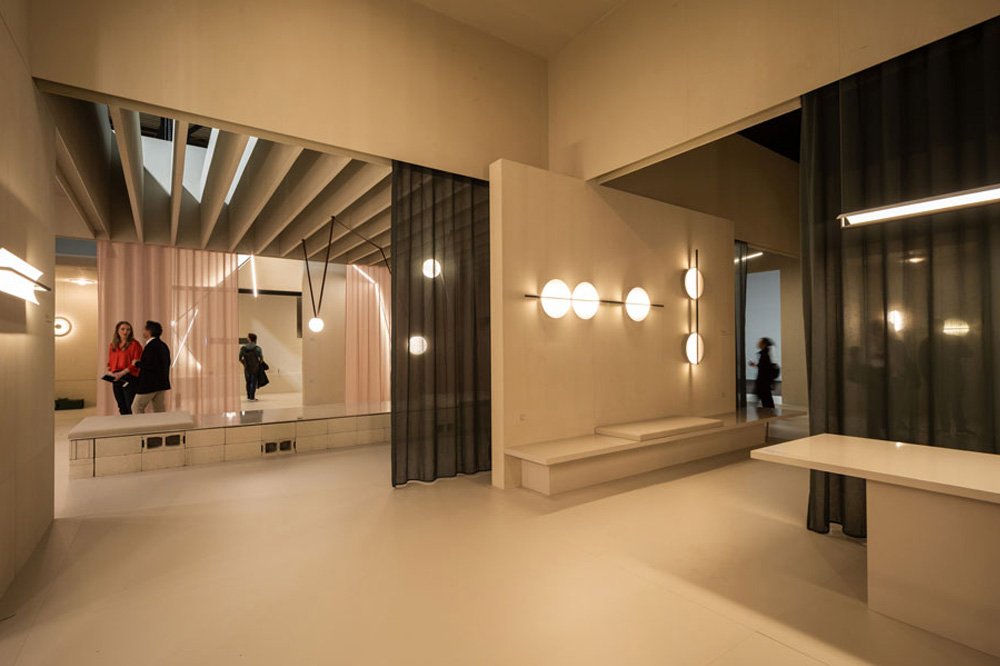 Vibia is a high prestigious brand in the European lighting market that extended into the North America through Vibia Inc. in 1999 with the express mission of offering pure design lighting products of unprecedented quality to the contemporary lighting market. For instance, most of components of Vibia products originate in Spain, while all final product assembly for the North America market is done in Northern California. Vibia generates new and exciting projects constantly, through collaboration with different design teams. Vibia is present in more than 60 countries, with the production centre in Barcelona (Spain) and a subsidiary in Edison, New Jersey (USA).
Above all, every lighting design of Vibia meets the same criteria: purity of lines, refinement of materials, and innovation in technology. Vibia is prestigious partner for an architectures, designers and business owners for elaboration unique lighting projects for hotels, offices and residential homes.
The designers of Vibia lighting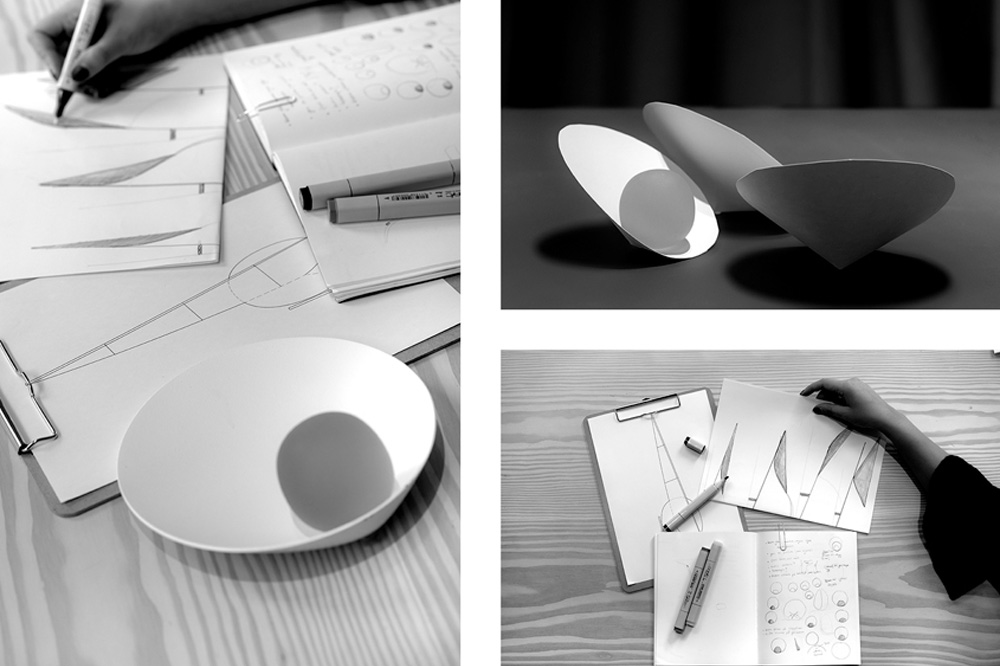 Vibia – Design LightingThe more than twenty designers with whom Vibia works are inspired by the values of creativity, good taste and innovation under the prism of contemporaneity.  Together with this, the Catalan company is committed to collaboration and allows architects, interior designers or designers active participation and co-creation of models.
That is to say, to speak of Vibia is to speak of innovative lamps, different and made with high quality materials focused on finishes and handmade details. Vibia luminaries with a modern and elegant design combine perfectly with current trends in interior decoration. The brand's catalogue is constantly evolving to respond to all needs in the field of design and interior design using teams from different generations and projects that do nothing but bring wealth to Vibia.
Vibia's catalogue is constantly evolving to meet the needs of interior design, maintaining its individuality.
Arick Levy, Tel Aviv, 1963
He graduated industrial design at Art Center Europe in Switzerlandm in 1991. He consolidated his ideas producing products and pieces in Japan, after tat created his own studio in Paris. One of his remarkable architecture works are the RockGrowth in Brussels 2016 and RockGrowtHermitage in Moscow 2019. The Vibia Collections created by Arick has a refined and sculptural approach to forms.
WIREFLOW
For instance, Vibia is describing Wireflow Collection as the harmony between presence and absence, transparency and luminosity, light and fluidity. This pendant lighting fixture with a modern 3D aesthetic is considered as an innovative reinterpretation of the classic chandelier. The Wirefloow pendants are made of a black cable construction with LED tube shape shades, that provides a 4,5 watts light. This geometrical perfection was used in various lighting projects, as for example the one of the Hotel Quick in Richmond, USA, playing the role of a transition piece into the cotemporary forms and technology of vintage style lobby.
NORTH
Contemporary reinterpretation by using innovative materials, refined shapes and incorporating an exquisite treatment of LED light. It was inspired by the change of seasons, when the sun generates different reflections with varying angles and intensities. The base and the light source are separated from each other in the space to offer a surprising lighting effect. The structure of the North Collection by Vibia are the traditional shades suspended from a slim carbon fibre rod structure. The floor lamp North is one of the winners #MetropolisLikes 2019, the prestigious award assigned by Metropolis Magazine. The criteria for choosing the best products of the year were artful originality, straightforward functionality, and an honest expression of materials.
CURTAIN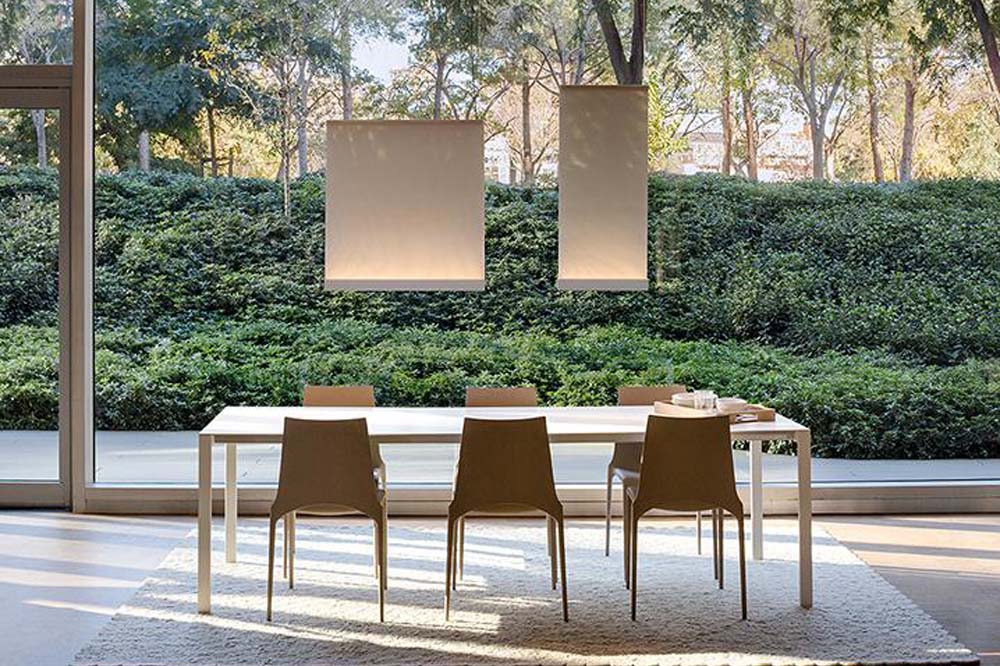 The Light cascade Curtain has multitude of uses, such as in a dining room or reception area. It is a new type of luminaire that combines direct light with vertical diffusion.  A more adventurous use of these pendant lights makes it possible to both light up and define zones, as well as play with the levels of depth and textures of the spaces.
Arick Levy's Designs in the VIBIAS's Catalogue by Collections:
CURTAIN hanging lamps.
FOLD SURFACE wall lamps.
NOTH wall lamps, hanging lamps and floor lamps.
RHYTHM HORIZONTAL hanging lamps and RHUTHM VERTICAL hanging lamps.
STRUCTURAL wall lamps and ceiling lamps.
WIREFLOW hanging lamps, WIREFLOW CHANDELIERS hanging lamps, WIREFLOW FREE-FORM hanging lamps and WIREFLOW LINEAL hanging lamps.
Diego Fortunato, Buenos Aires, 1970
Diego Fortunado is an Argentinian-born, designer of lighting, urban furniture, rugs, upholstering, and limited-edition objects. He is resided between industrial design, sculpture and conceptual art. He founded his first design studio in 1995 in Barcelona, his London design studio followed in 2011. Diego's works convey simplicity with meticulously care for details and new concepts of using conventional forms. His designs transmit a certain timelessness uniting concepts from different periods to give it a touch of its own. Mayfair lamps are a clear example, at first glance they have a retro air, but if we get closer, we can see details of more modern trends. There is a story behind his work with a bit of designer's humour and fantasy.
Diego has created long-lasting products that have become best-sellers over the years.
MAYFAIR
The Mayfair collection is made up of ceiling lamps, floor lamps and table lamps in different colours and materials so that they adapt perfectly to any space. The designer presents this model seeking to reinterpret the elegant lamps that in the nineteenth century illuminated the waiting rooms and game rooms. He has managed to create a lamp with a clean design, without superfluous elements. The Mayfair lamp has got the 2017 GOOD DESIGN Award by Museum of Architecture and Design and The European Centre for Architecture Art Design and Urban Studies. The Vibia Mayfair Collection has the appearance of a reinterpretation of a lamp from the 18th century but with an innovative approach reflected in the use of new materials, LED light sources and the operation of the dimmer by means of an optical sensor.
Diego Fortunado's Designs in the VIBIAS's Catalogue by Collections:
MAYFAIR hanging lamps, floor lamps and table lamps.
JAZZ hanging lamps, floor lamps.
Antoni Arola, Tarragona, 1960
Antoni Arola has graduated the EINA School in Barcelona, ​​in 1984. His professional career started in the Lievore Studio and Pensi, thanin AD Associate Designers. He founded Estudi Antoni Arola in 1994. Antoni is in continuous search for beauty, inspired by ancestral cultures and in its vision of light. He has a unique versatility that filters through his projects. He has been awarded with the National Design Award 2003, four times with a Silver Delta and in 2012 with a Red Dot Design Award.
FLAMINGO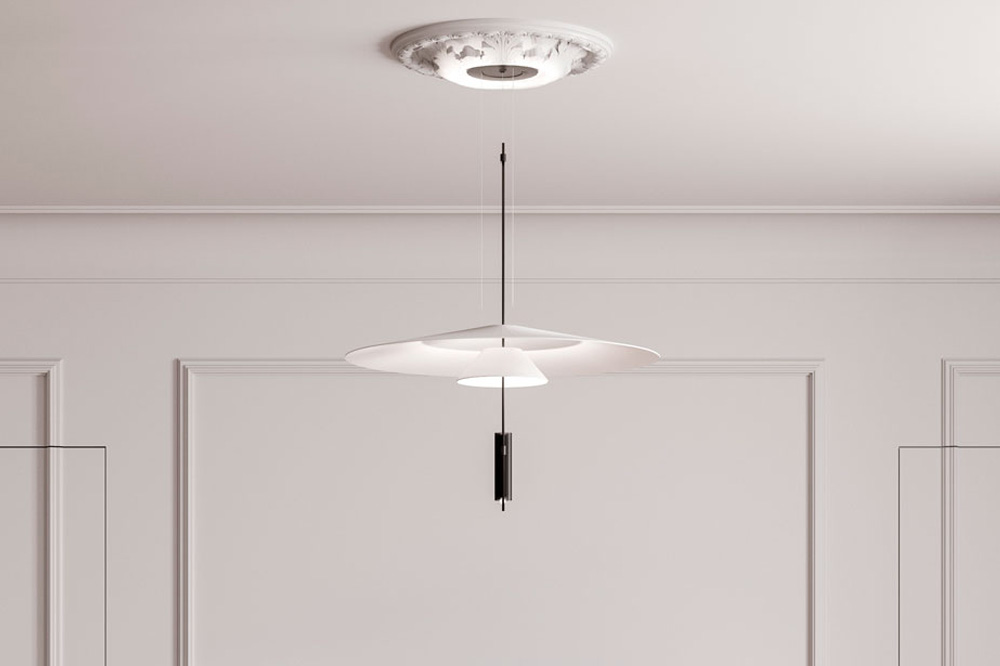 Flamingo is a pendant lamp that expresses the poetic and sculptural qualities of light. This is a lighting fixture based on the concept of deconstruction that offers users a versatile lighting that generates totally new sculptural and lighting effects. This light source is separated from the diffuser and consists of a series of conical discs supported by fine metal cables. This luminaire can also be used for many purposes. Flamingo hanging lamp Arola combines artistic experimentation in his design work with lighting research using materials and LED technology.
Antoni Arola's Designs in the VIBIAS's Catalogue by Collections:
FLAMINGO hanging lamps.
PALMA wall lamps, hanging lamps and table lamps.
Stefan Diez, Friesing, 1971
Stefan Diez studied Industrial Design at the State Academy of Art and Design Stuttgart. He founded his own studio in 2002 in Munich. Stefan is dedicated to transforming ideas into actual products with great diligence and proficiency with his team. As he has been exploring a broad spectrum of design, his works are a combination of hands-on experimentation and technical know-how. His design studio have received international design awards "Designpreis der Bundesrepublik Deutschland", the "IF Gold award", and the "red dot best of the best award"
GUISE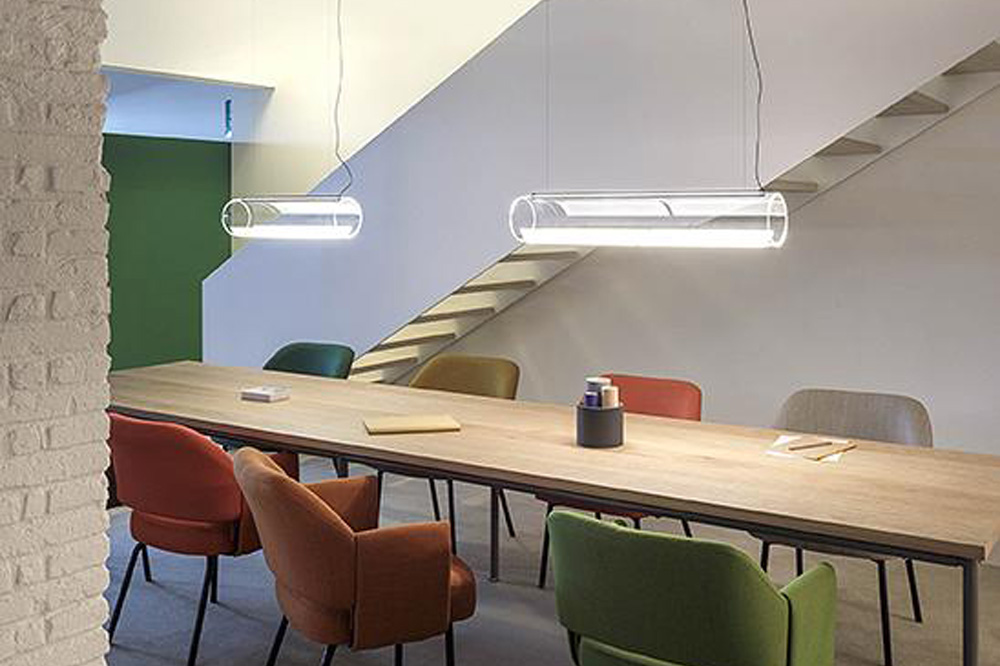 The light flow come from the lamp's own piece of glass while the source of light remains hidden. The light in turned on position evokes a presence that is fluid and magnetic. The transparent quality of the glass is highlighted in turned off position. The Guise pendant lamps have vertical and horizontal use that allows them to be placed over dining tables, offices or living rooms with single or multiple fittings. The Guise Collection is a Winner of the prestigious 2018 Red Dot and German Design Awards.
The Guise collection is crafted of industrial borosilicate glass from SCHOTT Tubing. This is Highly resistant to even extreme levels of sunlight, heat, corrosive chemicals, and impact, borosilicate glass with superior protection against erosion and aging.
Stefan Diez's Designs in the VIBIAS's Catalogue by Collections:
GUISE wall lamp, hanging lamp and ceiling lamp.
Jordi Vilardell, Barcelona, 1960
Jordi Vilardell graduated in Industrial Design from Escola Superior de Disseny i d'Art Llotja, Barcelona. He started his career in lighting design in 1983. His lighting products have pure clean lines and elegant design.
WIND EXTERIOR
One of impressive works of Jordi is the outdoor Wind collection. Never the less, this colourful and playful composition of the structure and shade, made from fibreglass, stand out in any environment. It has a chill out look and brings light and conversation to summer get-togethers.
Jordi Vilardell's Designs in the VIBIAS's Catalogue by Collections:
BALANCE floor lamps.
JOIN table lamps.
PUCK wall and hanging lamps.
PUCK WALL ART wall lamps.
SLIM hanging lamps.
WIND hanging lamps.
WIND exterior lights, outdoor hanging and floor lamps.
Toan Nguyen, Paris, 1969
Toan Nguyen graduated in industrial design from the ENSCI-Les Ateliers in Paris in 1995. He founded his own design studio in Milan in 2008 – with a branch in Paris, after working for various design studios in Paris, Barcelona and Milan.
ALGORITHM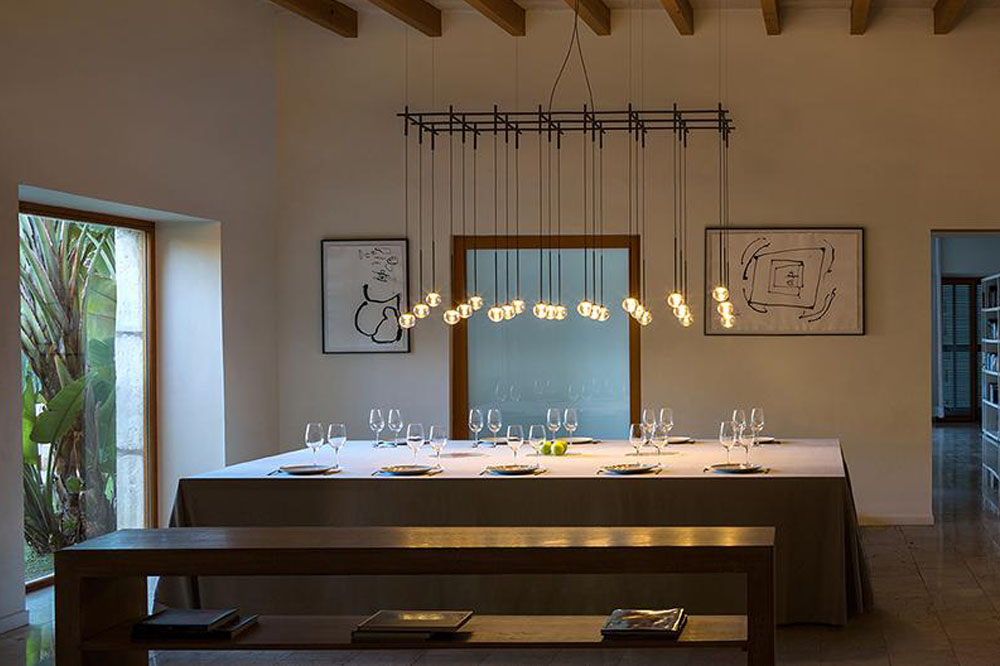 Algorithm pendants has the appearance of drops of light that are frozen in the air in the form of a constellation, or a flock of birds, or a cloud of frozen rain. Actually, made of blown glass suspended balls, this collection fuses beauty and geometry in an lighting system full of magic. The magical harmony of the symmetric range of those light drops is astonishing. The good part it is possible play with this Algorithm and create the new formulas of design that better fits to the interior. The ball lights suspended at different heights and anchored to the ceiling by means of a floating tubular structure can take the shape of a wave or a medieval chandelier.
Toan Nguyen's Designs in the VIBIAS's Catalogue by Collections:
ALGORITHM pendant lamps.
Ichiro Iwasaki, TOkio, 1965
Ichiro Iwasaki is an industrial designer, that created his own Studio in Tokyo in 1995. He started his career at Sony Design Centre and worked for various Italian design offices. The design of his products improves the intimate spaces we inhabit and are an update the tradition in interior design. Ichiro has been awarded with iF design award Germany, the red dot design award and Japan's G-mark special award.
PIN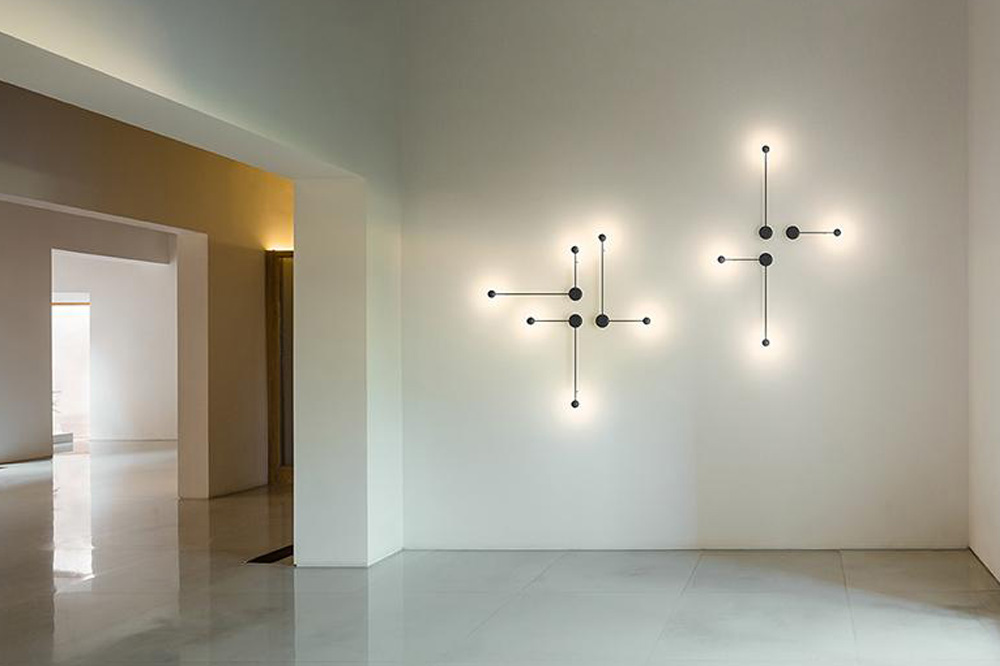 Pin explores concepts related to continuity and comfort ,  as says Ichiro Iwasaki:  through the "Despite the growing diversification of values among people living in today's world, many still value the comfort of life as it has always been done."
Inchiro Iwasaki's Designs in the VIBIAS's Catalogue by Collections:
PIN wall lamp, floor lamps and table lamps.
TUBE hanging lamps and ceiling lamps.
Emiliana Design Studio
Ana Mir Prieto, Valencia, 1969
Emili Padrós Ferrer, Barcelona, 1969
Ana garduated in Bellas Artes from the Universidad Politecnica de Valencia, and Emili garduated in industrial design in Escuela Elisava de Barcelona. Emiliana design studio was founded in the late 90's by Ana Mir and Emili Padrós, who recently graduated in design with an MA in Industrial Design from Central Saint Martins in London. The have been awarded with  Red Dot Product, First prize Llums de Nadal, Ajuntament de Barcelona and BCN Activa, Laus de Plata Award etc.
JUNE
Once outside, spaces become living scenarios where light interacts with people and creates a warm atmosphere, inviting you to enjoy in good company. The collection of outdoor luminaires 'June' is inspired by the moments of encounter and the joy of summer open-air dances and adapts to all types of surroundings.
Emilians's Designs in the VIBIAS's Catalogue by Collections:
JUNE OUTDOOR hanging lamps, wall lights, table lamps and floor lamps.
Ramos & Bassols, Barcelona, 2004
David Ramos
Jordi Bassols
David and Jordi are industrial designers that studied at the same university, the Escola Superior de Disseny (ESDi). After accumulating experience during their work in G Bernal & Associats, they succeed to co-find their own studio in Barcelona in 2004. Their design is a balance between form, function and aesthetics. Their lighting products has clean lines and are as well warm and attractive for the public. They have been awarded by several Design and Furniture Competitions, winning first prises, like F design award, Red Dot award and Best of NeoCon award.
Ramos & Bassols 's Designs in the VIBIAS's Catalogue by Collections:
ALPHA wall lights.
CENTRIC wall lights and ceiling flush lights.
DOMO ceiling flush lights.
DUO ceiling flush lights.
FLEX table lamps.
MICRO wall lights, bathroom wall lights and outdoor wall lights.
MILLENIUM bathroom wall lights.
PILS outdoor floor lamps.
UP ceiling flush lights.
WARM pendant lights, floor lamps and table lamps.
Pete Sans, Barcelona, 1947
Peet Sans, is an industrial designer that studied at the Hochschule für Gestaltung in Ulm. He founded his own company in 1994. His works have received several national and international awards.
AMEBA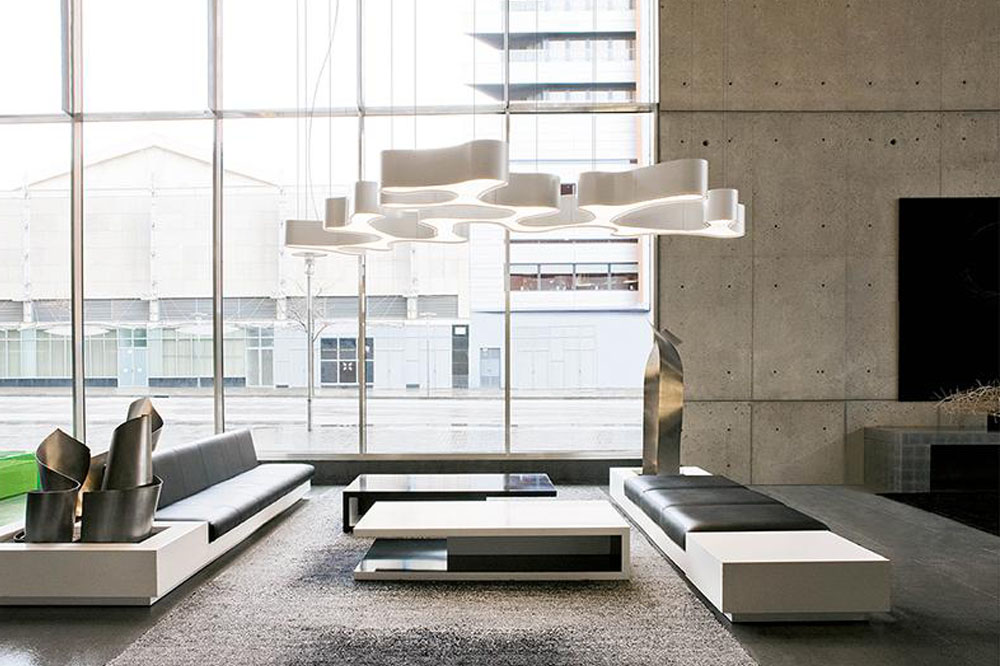 This is a new concept of the pendant lights in the shape 5 different elements that combine and fit together perfectly with one another to allow for an infinite number of compositions. The power cable can be connected to any of those modules.
Petes Sans' Designs in the VIBIAS's Catalogue by Collections:
AMEBA hanging lamps.
 Antoni Arola & Enric Rodríguez
Enric Rodriguez  is a builder of concepts and ideas through the image. He is pecializs in scenic spaces, the light and the objects. During his career Enric Rodriguez has been working with Antoni Arola and awarded with the most prestigious design prizes worldwide as Red Dot, IF design award, gold and silver Delta awards and among others.
BAMBOO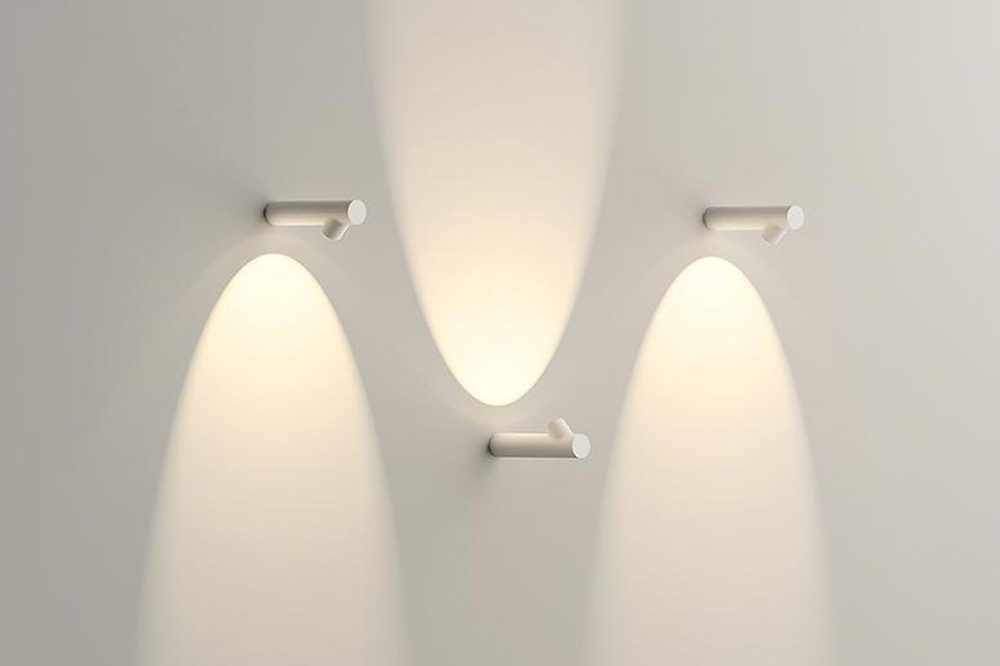 This outdoor floor lamps is an inspiration from the bamboo tree.  The designers took the advantage of led technology to design a very slender shape lamp in a different variety of height.
Antoni Arola & Enric Rodríguez's Designs in the VIBIAS's Catalogue by Collections:
BAMBOO outdoor wall lights and floor lamps.
Lievore Altherr Molina
Theis collective of professionals that collaborating across different constellations is compose of Alberto Lievore, Jeannette Altherr and Manel Molina, that joine dotgether in 1991. They have an umanist design approach by the fundamental desire for pure, beautiful forms derived from the constraints of function, technology and context.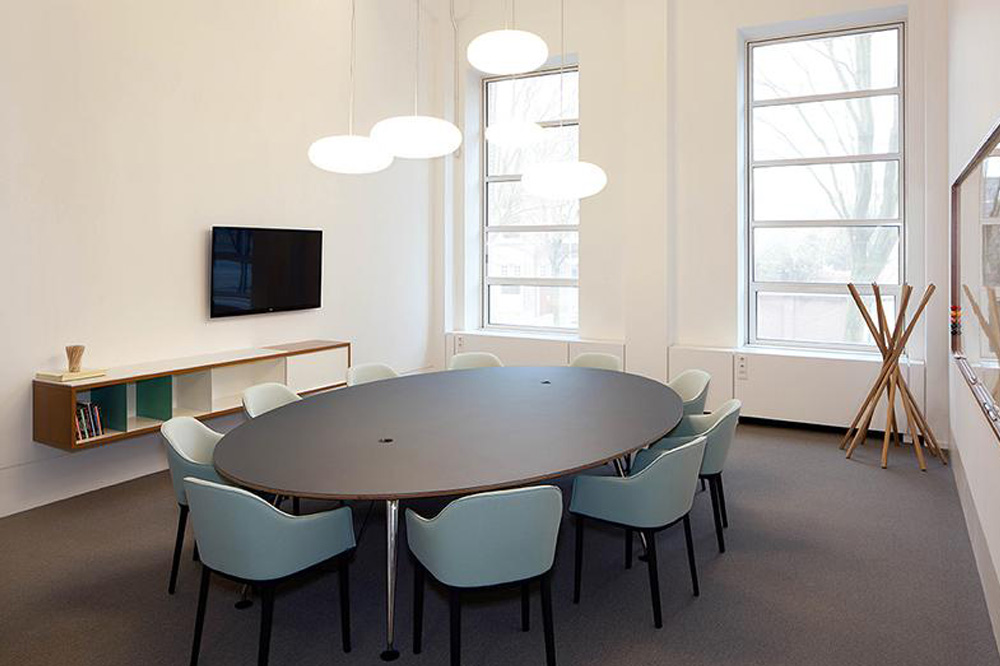 Lievore Altherr Molina's Designs in the VIBIAS's Catalogue by Collections:
BIG pendant lights, ceiling flush lights and recessed flush light.
BRISA outdoor floor lamps.
COSMOS hanging lamps.
I.CONO floor lamps, table lamps and wall lights.
SKAN hanging lamps and floor lamps.
SWING wall lights, table lamps and floor lamps.
VOL pendant lights.
Lievore Altherr
Alberto Lievore, Buenos Aires, 1948
Jeannette Altherr, Heidelberg, 1965
Alberto and Jeannette founded their studio in 2016, after 25 years of trajectory as Lievore Altherr Molina. This Barcelona-based studio specializes design & development of products and other services.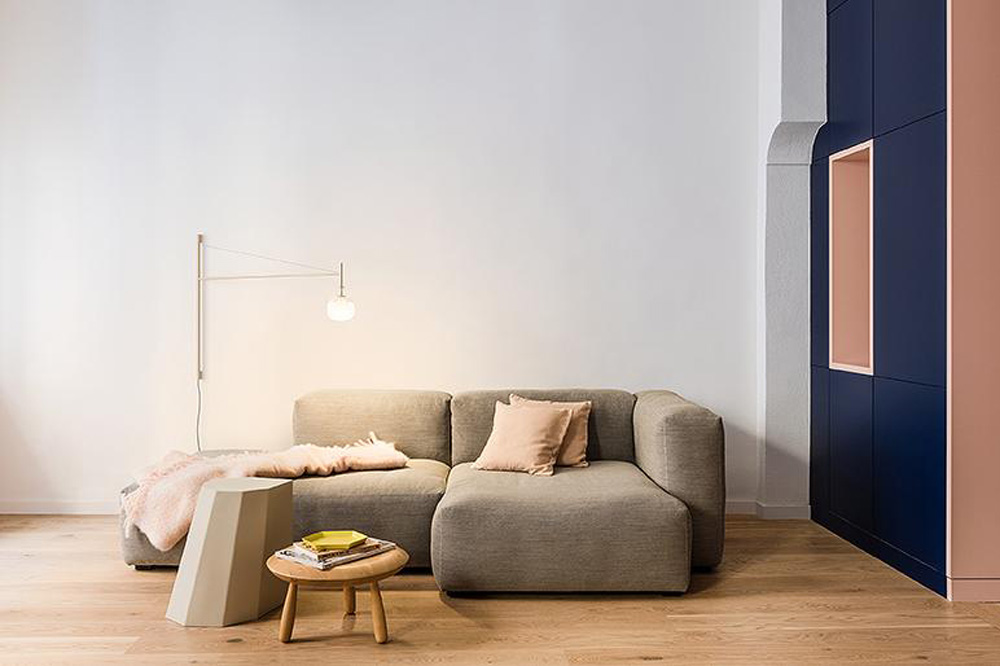 Lievore Altherr's Designs in the VIBIAS's Catalogue by Collections:
TEMPO wall lights and pendant lights.
Xuclà & Alemany
Josep Lluís Xuclà, Barcelona,1965
Xuclà has his design studio, where he develops interior design and lighting project plans as well as designs for furniture and lamps. Xuclà has won ones of the most prestigious awards of international design such as the Red Dot Design Award, the IF Product Design Award, Designpreis and the Good Design Award.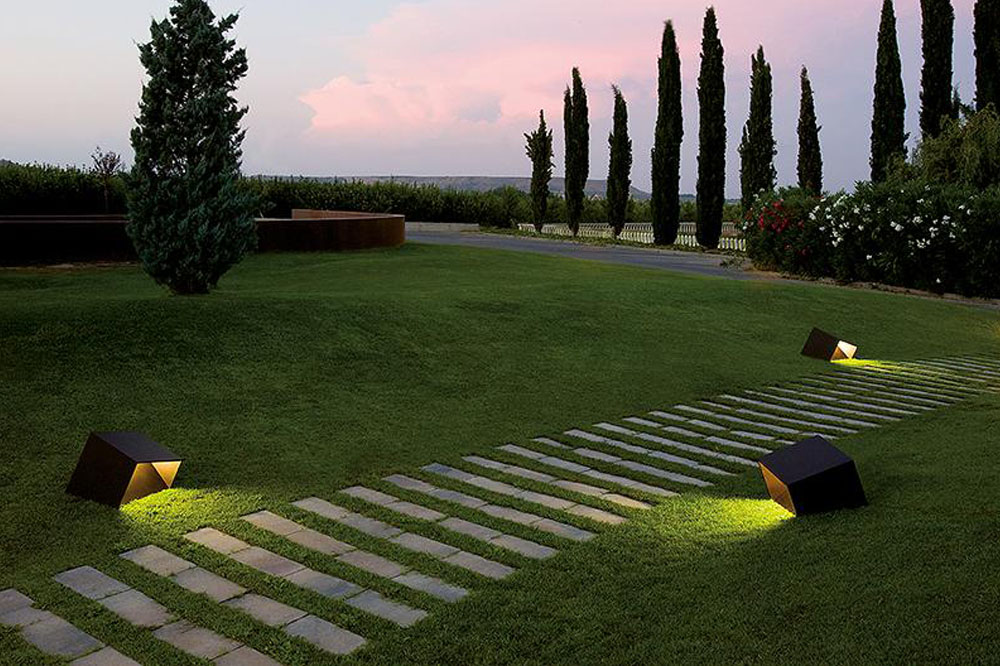 Xuclà & Alemany's Designs in the VIBIAS's Catalogue by Collections:
BREAK outdoor floor lamp and outdoor wall light.
Xuclà s Designs in the VIBIAS's Catalogue by Collections:
EMPTY outdoor floor lamp.
PAOLO ALTO outdoor floor lamp.
SET wall lights.
Martín Azúa, Vitòria, 1965
Martín Azúa is graduated in Fine Arts from the University of Barcelona and started his career as a designer in 1994. His highlights include the medals of the swimming World Championship 2003 in Barcelona, the design of the SED Exhibition for the Expo 2008 in Zaragoza and his project "Especies en Evolución" ("Evolving Species") for Roca. He has got several awards from the Citi of Barcelona award, Silver Delta award, FAD ephemeral architecture award, Design Plus award, Interiorism Plus award, AD award Best Designer, Best National Trajectory award of the Inner Magazine.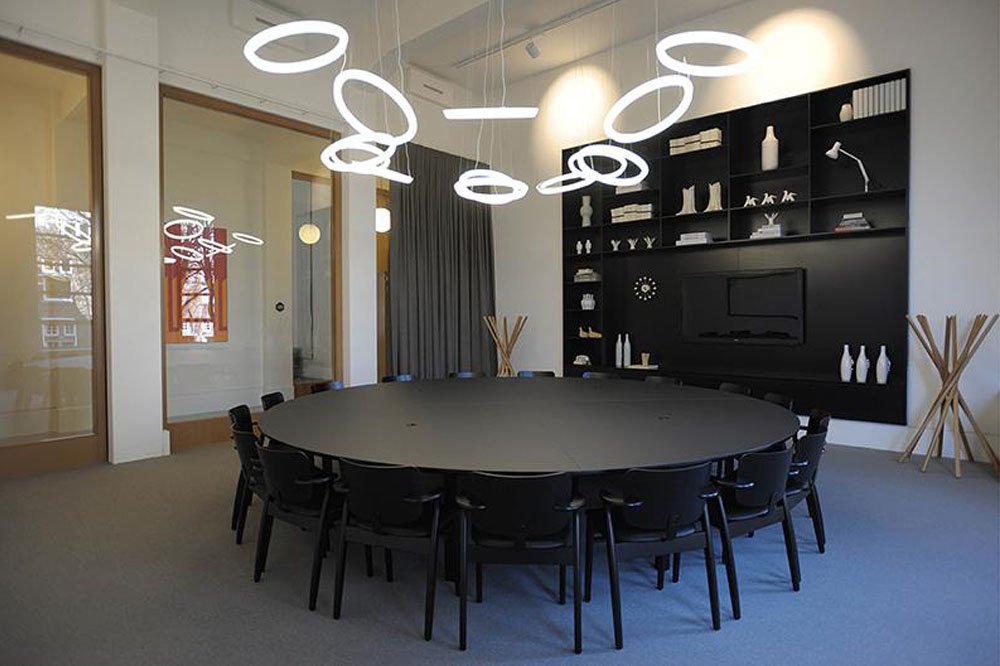 Martín Azúa 's Designs in the VIBIAS's Catalogue by Collections:
HALO CIRCULAR hanging lamps.
HALO JEWEL hanging lamps.
HALO LINEAL pendant lights.
HALO WALL light.
Proli Diffusion Studio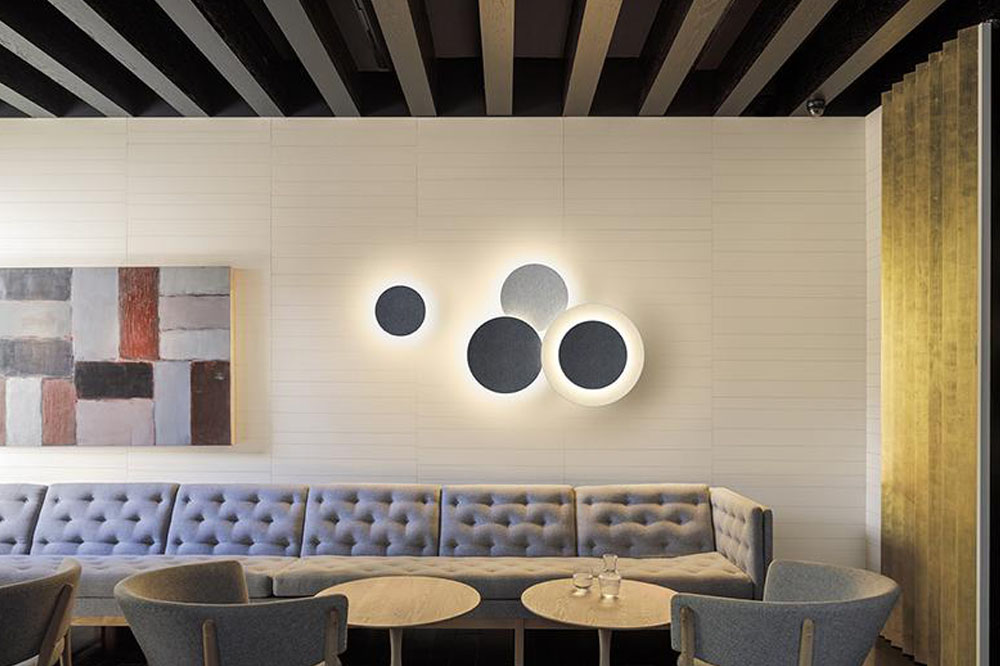 Proli Diffusion Studio's Designs in the VIBIAS's Catalogue by Collections:
QUADRA ICE wall lights.
LINESTRA wall lights.
PUCK wall lights.
Ramón Esteve, Valencia, 1964
Ramón Esteve is graduated in Architecture from the Superior Technical School of Madrid in 1990, later in 1991 he founds "Ramon Esteve Study of Architecture". Nowadays, he is one of the most notable representatives of the contemporary architecture in Valencia. His activity is developed both in the field of architecture and interior design, as well as in the field of industrial design and artistic direction at international level.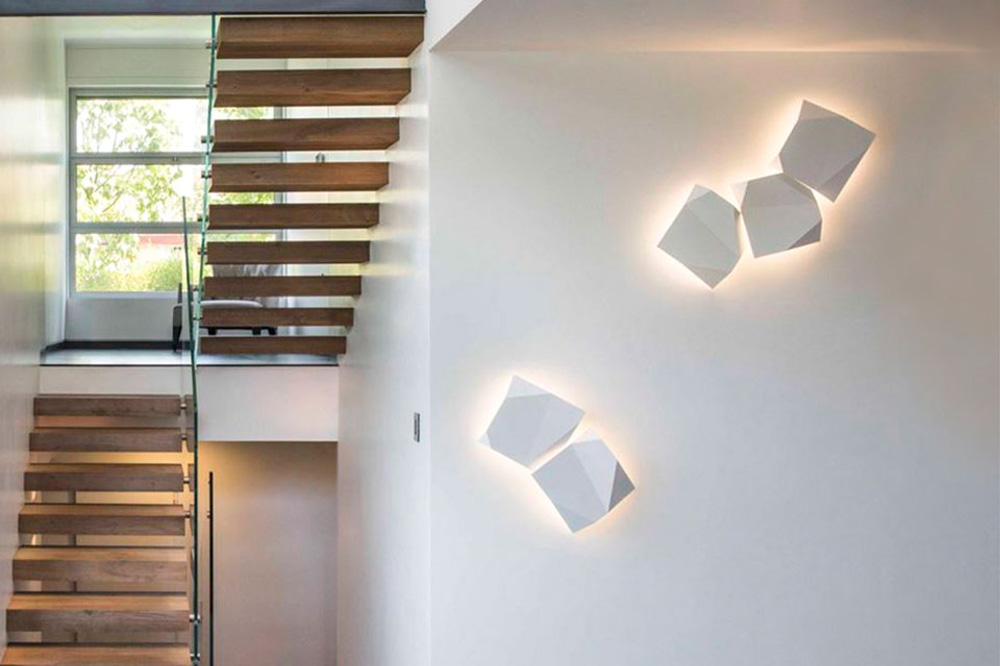 Ramón Esteve's Designs in the VIBIAS's Catalogue by Collections:
LINK ceiling lamps.
LINK XXL celling flush lights.
ORIGAMI wall lamps and outdoor wall lights.
 Jordi Vilardell & Meritxell Vidal
Jordi Vilardell and Meritxell Vidal have been collaborating on projects since 2008. Meritxell Vidal is an interior designer and industrial designer, she has collaborated in several projects with the designer Jordi Vilardell.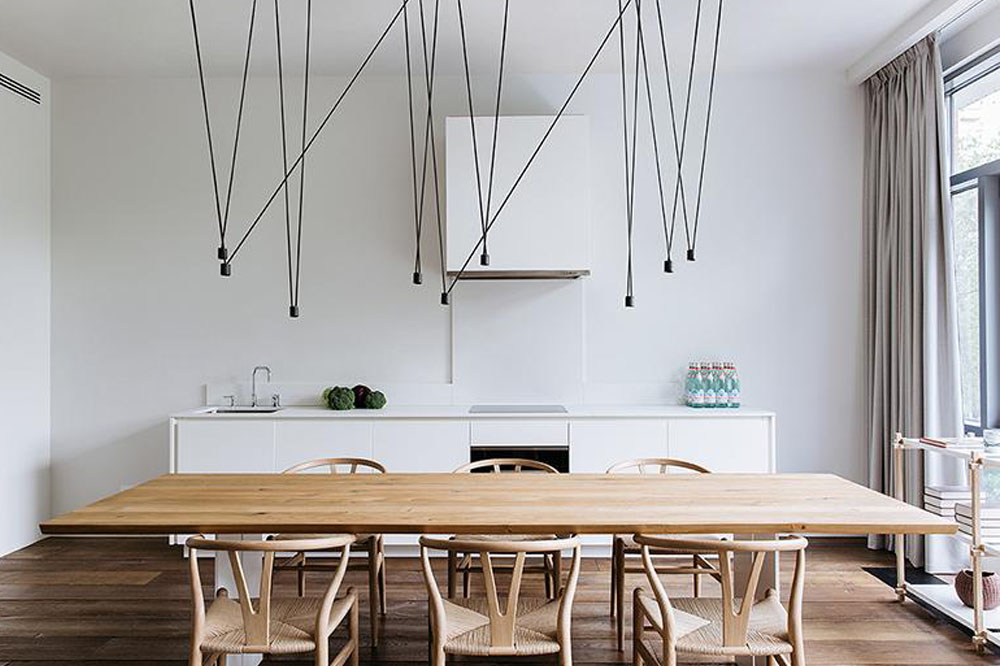 Jordi Vilardell & Meritxell Vidal's Designs in the VIBIAS's Catalogue by Collections:
MATCH hanging lamps.
MERIDIANO floor lamps and outdoor wall lights.
SUITE wall lamps, floor lamps and table lamps.
 Note Design Studio, Stockholm, 2008
Stockholm-based design studio founded in 2008 by Johannes Carlström, Cristiano Pigazzini, Susanna Wåhlin, Kristoffer Fagerström and Daniel Hecksher. The Studio is working within the fields of architecture, interior, product, graphic as well as design strategy.
Note's Designs in the VIBIAS's Catalogue by Collections:
MUSA wall lights and table lamps.
X. Claramunt & M. de Mas
Claramunt & M. de Mas are expertise in architectural, interior design and industrial design.
Claramunt & M. de Mas's Designs in the VIBIAS's Catalogue by Collections:
PLUS bathroom ceiling lights, ceiling lights and outdoor celling lights.
Oscar & Sergi Devesa
Sergi Devesa i Bajet, Barcelona,1961
Oscar Devesa i Bajet, Barcelona,1963
They have studied design in the School of Arts and Offices and the School of Basic Design 1981-83. The Devesa brothers founded D&D Design in 1987 with the ambition of collaborating in the design of new products.  They have regularly continued to design new models of lamps.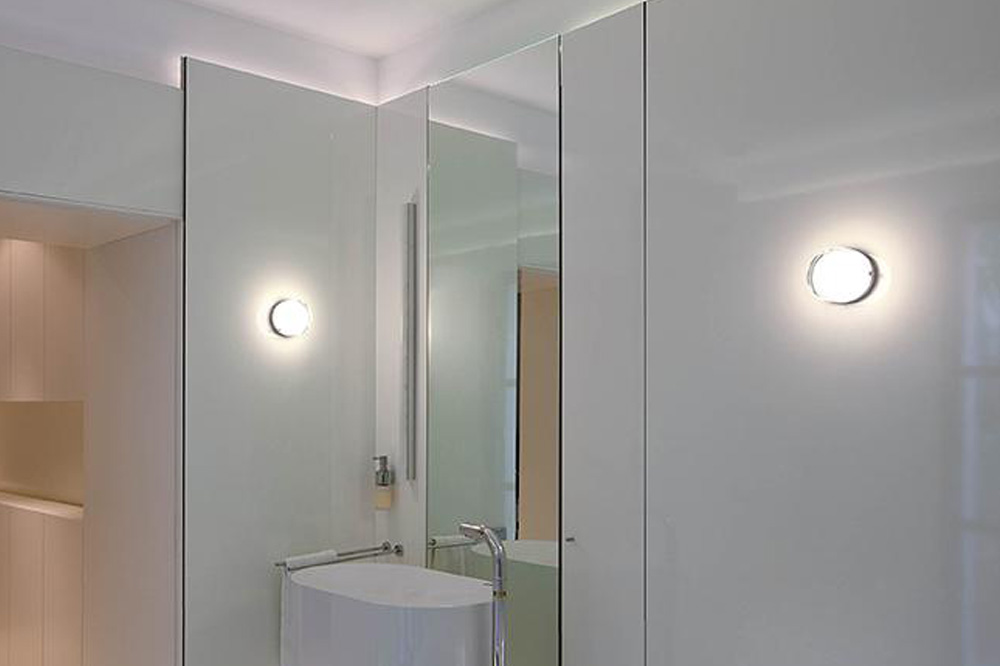 Oscar & Sergi Devesa's Designs in the VIBIAS's Catalogue by Collections:
SCOTCH wall lights, bathroom wall lamps, bathroom flush ceiling lights, celling lamps, outdoor wall lights and outdoor celling lamp.
As you could see, Vibia´s products are easy to adapt, and it is a pleasure to create lighting projects with such a flexible Lighting Manufacturer. You are invited to start your Interior design project or outdoor design project with Lighting from Spain. LFS – is a partner you can rely on.