Plussmi Light
Plussmi is the designer lighting brand created by Massmi Iluminación, a company with more than 75 years of experience in the lighting sector. Massmi has the commitment to expand its horizons with the purpose of creating objects with soul. Plussmi is a continuation of this work with design lighting in clear and simple lines, which define the personality.
The new brand PLUSSMI is led by Ximo Roca with the participation of the deisgners Jorge Pensi, Martín Azúa, Nacho Timón, Silvia Ceñal, Cerocuadrado and Enblanc. This project was presented for the first time at the Euroluce 2017 International Fair in Milan, as 75th anniversary present for Massmi iluminación.
Plussmi Light is the main way of perceiving the world around us, defines spaces and brings colours to life. This brand's tireless efforts to stretch the boundaries and innovate continues to generate a broad array of unique products born of the inspiration of both recognized designers and up-and-coming talent in the field of international design.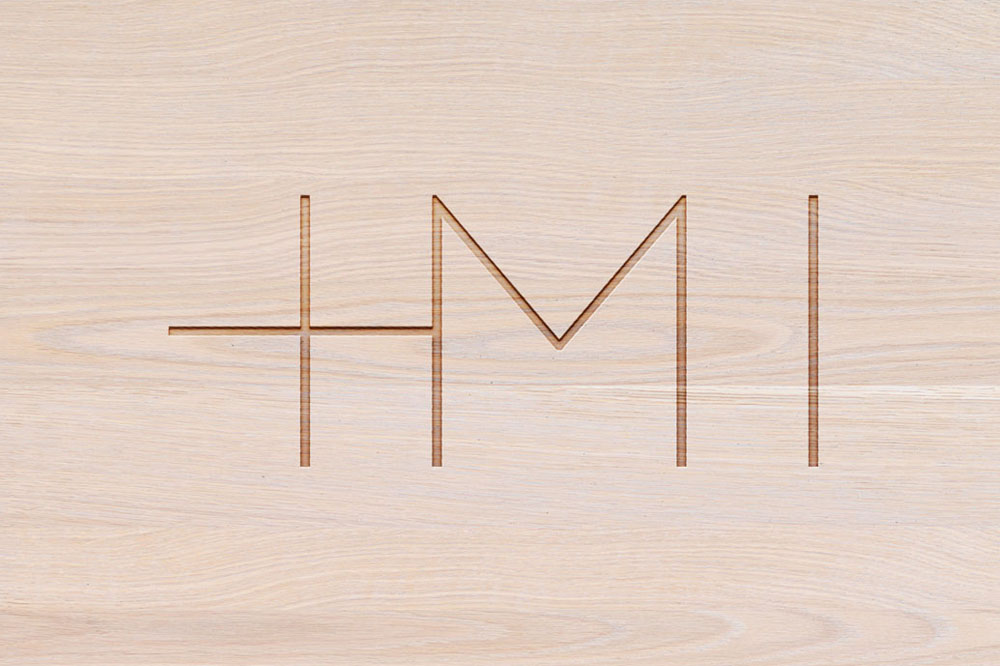 Plussmi origins
As we have already mentioned above, Plussmi is the Designer Lighting Brand created by Massmi Iluminación in 2017, on the celebration of 75 years.
Who would have thought that a small craft workshop for the manufacture of wooden luminaires in Náquera Street in Valencia, founded in 1942 by Andrés Massoni Sanz, would end up becoming one of the oldest lighting companies in Spain…?
Massmi Iluminación was founded in 1942 by Andrés Massoni Sans and managed by his son Andrés Massoni Muedra for more than 50 years. Héctor Massoni Gómez who in our days is the manager of the Production and Marketing Department and Marisa Massoni Gómez who is the manager for Foreign Trade and Administration, are the grandchildren of the Company's founder.
Massmi is proud about their "made in Spain " lighting products, that comes from their factory in Valencia. As they call their creatures "objects with a soul that define the personality of you house".
Massmi cooperates with designers and architecture and interior design studios, participates at new exhibitions, makes new distribution partners as well as participate in the main trade fairs in the lighting sector. This make the Company to grow, improve and provide collections with exclusive style that have a contemporary look and are meticulously crafted. Each piece created by them is conceived from the belief that design and production are a matter of love for a well-done job.
Plussmi designers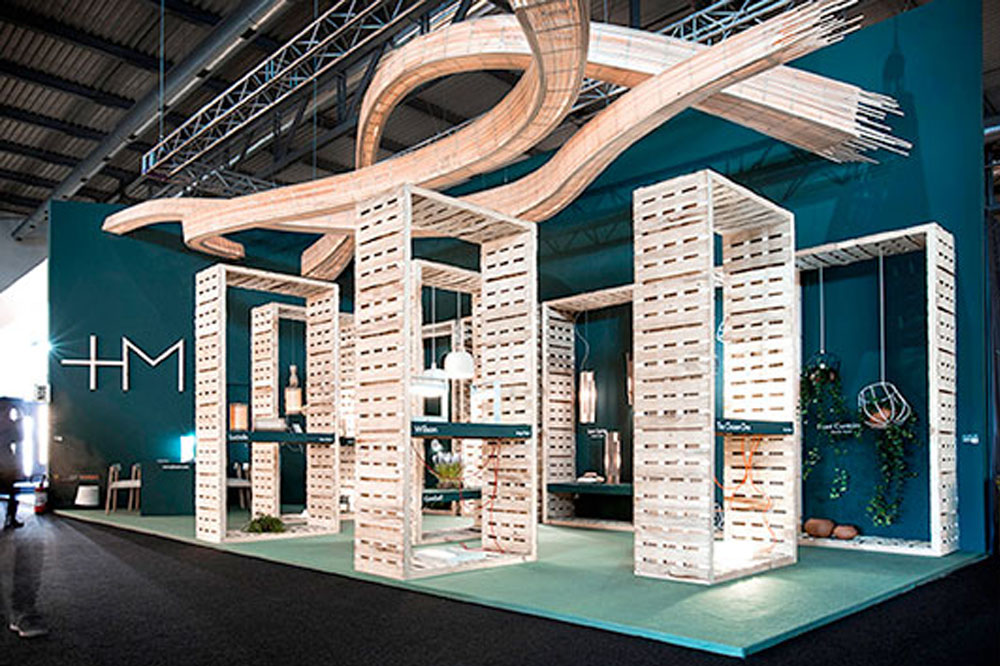 XIMO ROCA, Valencia, Spain
Ximo Roca (1958) has a Superior degree as a technician in Industrial Design. His career began in 1981 and later he founded the Ximo Studio in 1989. When his studio starts a new project, first they look for the initial insight into the business reality of customers to understand the market they are interested in. They analyse their production systems, its capacity and of course its economic potential. Their strength is to offer a service tailored to realisty design with concrete and specific solution for each client.
They range of the industrial design, graphic design, interior design and architecture designs have received numerous awards on International Level and within Spain During its more than 30 years of work XImo Roca Studio has created numerous products that today are widely spread in the market.
Ximo Roca, in our days he is Member of the ADCV (Association of Designers of the Valencian Community) and member of the BEDA (Bureau of European Design Associations).
LUCIOLE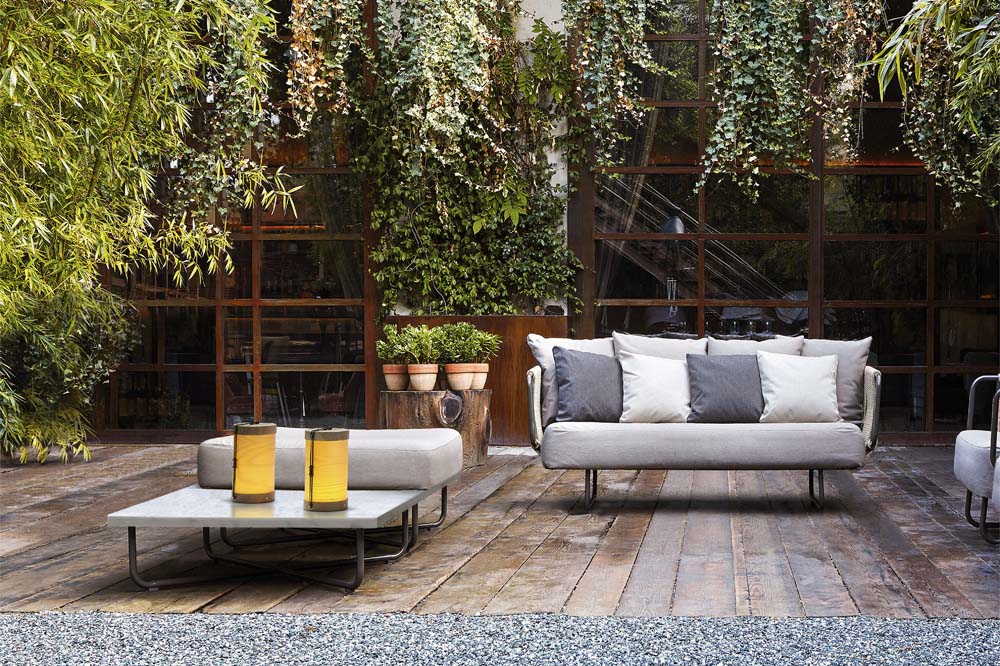 Luciole a portable small and compact lamp. Luciole is made of two pieces of solid wood joined together by elastic bands, available either in black or transparent versions. The lamp can be used as a hand-held lantern thanks to it handle design upper part. The shade is made of natural wood veneer, and its cylindrical shape creates a soft light that harmonizes with all types of different settings. It is produced from used materials and can be used both as outdoor and indoor lighting fixture, that will make give a charm lighting in any corner. It can be used anywhere independently, thanks to its rechargeable battery with a USB input, without any cables need. The lamps were awarded with CLAP Selection in 2017 and ADCV 2019 Award Finalist. It has pleasant modern touch module (ON/OF/Dimmable) with 20 led of 3W included. The Lithium polymer battery is 2500mAh. It has micro connectors for touch, battery, led module and micro USB. It is finished in natural curved wood maple with natural oak wood base. Light regulation with tactile switch.
Ximo Roca's Designs in the Plussmi's Catalogue by Collections:
LUCIOLE, table lamp
CRU ATELIER
Alejandro Berjillos Art Director, interior designer, 3D artist, Projects manager
Diego Perez 3D artist, graphic & product designer, architect
Raúl Castelló 3D artist, VFX, graphic designer, video & postproduction artist
Antonio Perpiñán 3D Artist, product designer, art director, Projects manager
Alberto Vicén Interior designer, 3D artist
CRU atelier is a group of artists that are passionate about digital image creation in both in static and motion interpretations. Each artist of this atelier has his own expertise together with the growing sense of improvement that leads them in their daily work, testing new techniques and technologies that push the boundaries between CGI and reality. They are dedicated to advertising, including photography, CGI, animation, VFX as well as graphic design. They have an artistic but also clear and fast way of showing their projects or products message that represents the realism and the high level analysing the details. This is a group of artists that work as a united team, with the believe that the teamwork improves everyone's skills, than it results in a high end of product which is beautifully crafted in the best possible way.
RENAUD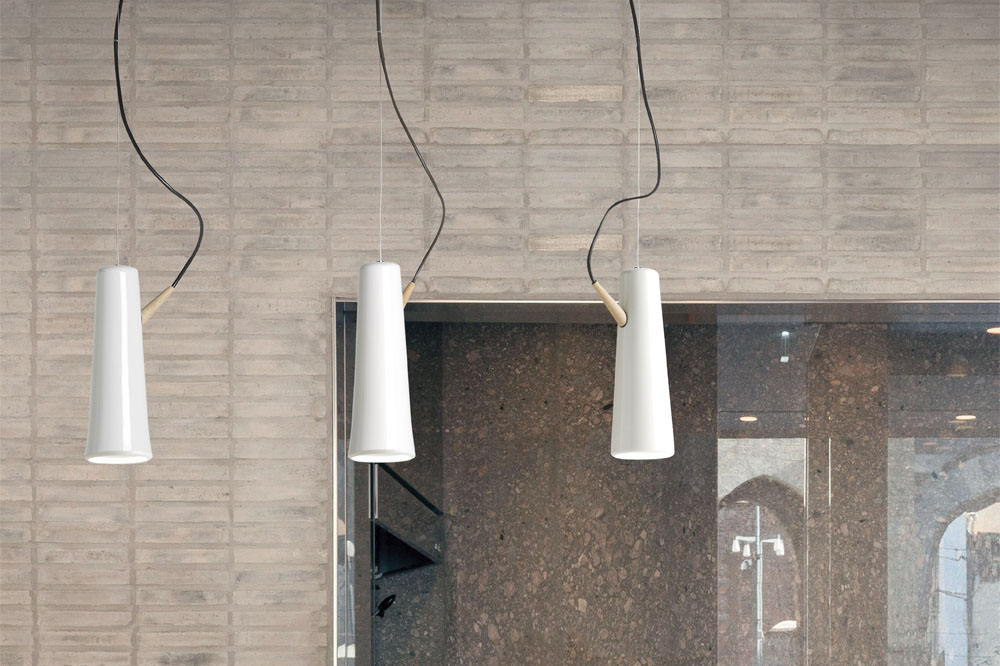 Renaud pendant lamp was born as a minimalism exercise together with study of classic materials that have gradually disappeared from the lighting industry. This lamp is a rediscover of the hand-made pottery which was applied the design as the main component. Renaud has soft form conveying sobriety and elegance. It has a little arm, made of lathed wood and the shape of it is breaking the symmetry of the piece without taking away any of its formal harmony. Each lamp is handmade by a ceramic's artisan, who imprints his or her unique personality on each piece. The contrasts between tradition and modernity makes these pendants to fit in elegantly with any type of interior. The personality of pottery and the sophistication of wood give to this model its sober and timeless character.
CRU Atelier's Designs in the Plussmi's Catalogue by Collections:
RENAUD pendant lamp.
ENBLANC, Valencia, Spain.
Paula Aloy Fortea (Valencia 1983)
Jose Aranda Almiñana (Valencia 1980)
Paula Aloy and José Aranda graduated in Industrial Design (2001 – 2004) from Universidad CEU Cardenal Herrera/ Later they have developed their career as a Space Designer /Interior Designer and Industrial Designer and Graphic Communication expert.  They created their own studio in 2007 min Valencia and develop various projects in the field of Industrial Design, Graphic Communication, and Spatial Design. These three specialties lend a global vision to Enblanc's projects, that are constantly developing offering practical, simple, and coherent solutions for their clients. Enblanc's projects have been exhibited at multiple exhibitions and galleries in Valencia, Barcelona, Madrid, Milan, Finland, and Tokyo. Enblanc was awarded with ADCV '09 Bronze Prize for their lamp "Zas" for Ona, the Accésit Injuve '09 Prize, and the Nude-Bancaja Grant for their project "Form." In February 2011, they were the winners of the logo design and slogan contest to mark the 20th Anniversary Pull & Bear.
DOT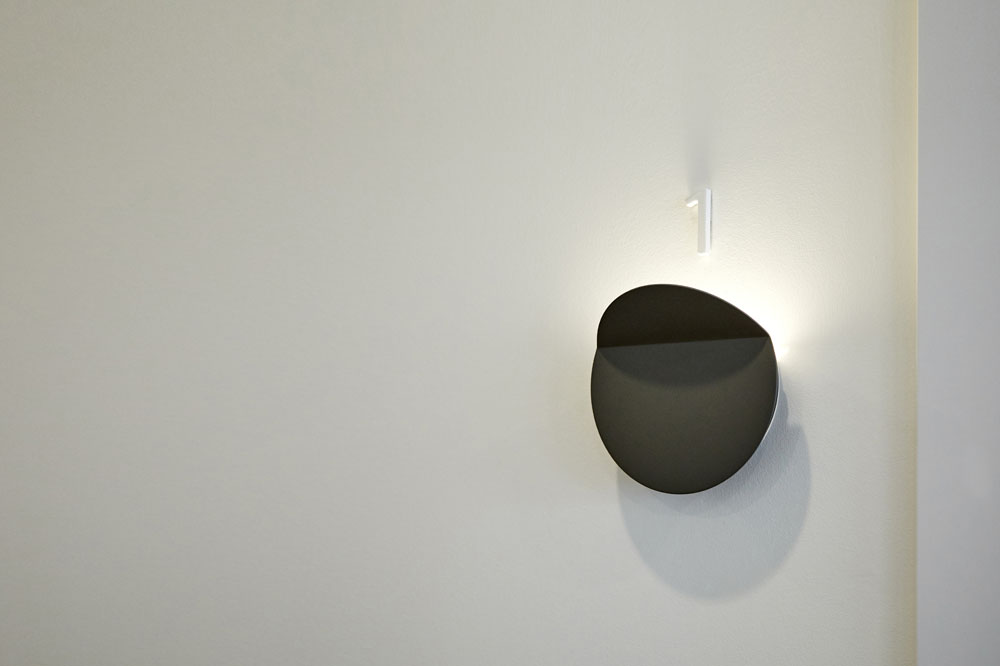 The circle shape of the Dot wall lamp seems like having slight gesture of movement on this basic geometric figure. This little change marks the difference and it allows to bathe the wall with the light coming from the angled opening. DOT wall light is versatile, functional, and contemporary piece that can be installed in different combinations in the home, in the workplace, or in public spaces. The wall lamp is made of painted iron metal, with a methacrylate light diffuser included.
Enblanc's Designs in the Plussmi's Catalogue by Collections:
DOT wall lamp.
JORGE PENSI DESIGN STUDIO, Barcelona, Spain.
Jorge Pensi (Buenos Aires, Argentina), is an architect and industrial designer, based in Spain. He is a leading exponent of Spanish design for his renowned work in furniture design. He created his own studio in 1984 in the gothic quarter of Barcelona.
Pensi's elegant design can be described as minimalist and expressive, characterized by the balance he has convincingly achieved between form and function. Despite the profusion of twentieth-century styles, Pensi has been able to innovate by achieving new forms in furniture and lighting. The products of the Jorge Pensi Design Studio have a timeless nature, their endless search for a balance between poetry and realism, matter and emptiness, and abstraction and emotion. Their designs aim to create the maximum sensation with the minimum amount of resources, putting into question the logic to verify whether if there is a real possibility of creating something new. Jorge Pensi has received recognition from the international art community through numerous awards, one of them is the National Design Award, granted by the Ministry of Industry and Energy along with the BCD Foundation for his professional career, in 1997. Jorge Pensí has established himself as a leading figure and reference point in contemporary Spanish design. He works with professionalism at every phase of a production, from the conception of ideas to the marketing strategies. He is being well appreciated for the nostalgic and stylish aesthetics of his products which can be reflected into the accounts for the sales success obtained by most of his designs.
WILSON
The table lamp Wilson is an architectural portico with its own light. The light can be moved from up to down and then forwards and backwards, producing different sensations in each position. Wilson is an architectural piece that allows the user to create different interiors designs depending on the position of the light source, from a subtle ambience when the lamp merely reflects light onto itself, to a more dramatic atmosphere when it is used to emphasize an object from the front or back, with a simple twist of the light beam. Its subtle form, although of symbolic interest, coexists serenely with the various objects present in the architectural space, when it is switched off. It is made of textured grey painted iron metallic, with a pleasant tactile adjustment of the light intensity and 300º adjustable metal lampshade, with a red textile cable.
Jorge Pensi Design Studio's Designs in the Plussmi's Catalogue by Collections:
WILSON table lamp.
MARTÍN AZÚA, Vitòria, Spain.
Martín Azúa is graduate in Fine Arts specialized in design from Elisava School in Barcelona. He has been working in Barcelona since 1994. He considers that the designers should use experimental methods as the fundamental part of the design process. Azúa's aesthetic vision incorporates natural processes into everyday life, through simple and organic shapes and lines that give a touch of playful fantasy to everyday space. Martin combines his more creative, speculative work with his professional activity as a designer of objects and spaces for important companies. Ones of his best-known projects are the "Basic House," which is part of the permanent collection of the MOMA in New York since 2007, and the prize medals for the World Swimming Championships held in Barcelona in 2003.
LIGHT & PLANT CONTAINER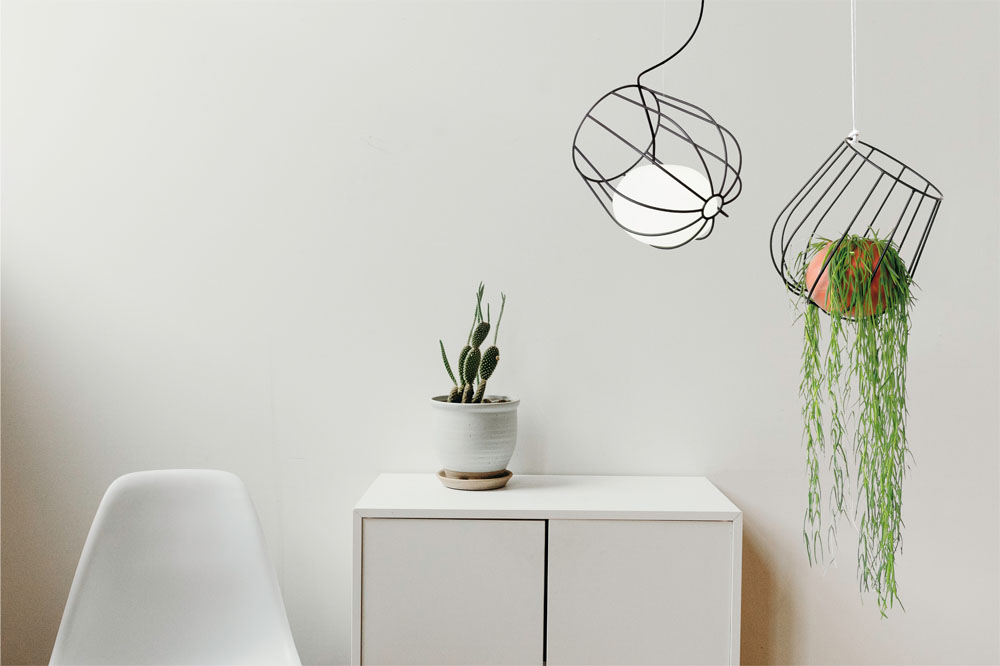 The pendant "Light" emanates from inside a metal basket that seems to float. This lamp seems to be immaterial, but at the same time as an object. In the lighting design of this lamp, the light is treated as something that has weight and volume. The two different sizes lamp, has a glass diffuser that generates a warm, diffuse a pleasant light with soft shadows, very suitable for being installed over the dining tables in restaurants, bars, and reception areas. It would look great even over the meetings tables in the workplace. This lamp has a sculptural shape that can be used as a decorative element in the interiors like halls, receptions or stairwells. The Light Container is made in painted iron metal, with an opal glass diffuser. The Plant Container is also made in painted iron metal, but with a Stoneware pot inside, and a cotton rope pendant.
LAM LAMP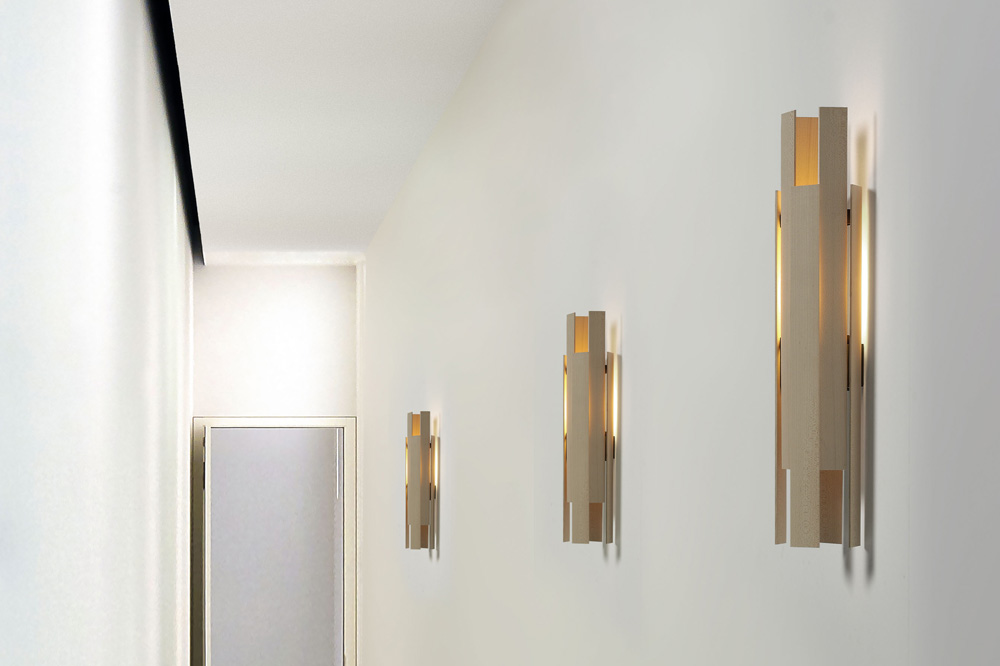 Lam Lamp collection available in its versions as ceiling, table and wall lamps. It has an appearance of an envelope made of thin wooden strips that cover a light source. The slats that has a precise position allow the light to pass through, in this way endowing the space with a warm atmosphere. Lam Lamp collection's architectural character, and is made of light birch wood, also available in a darker walnut version. The interior structure is brass-plated copper and the wooden slats are simple to assemble thanks to magnetic connection points. The structure is made of painted metal, and the natural wooden strips has magnetic connection points.
Martín Azúa's Designs in the Plussmi's Catalogue by Collections:
LIGHT & PLANT CONTAINER, ceiling lamp
LAM LAMP, table lamp, wall lamp, ceiling lamp
NACHO TIMÓN, Valencia, Spain.
Nacho Timón is graduated in Industrial Design by Cardenal Herrera CEU University.  Adventurous designer with a curious and observant nature. His designs are an evidence of functionality and logic together with the beauty of materials. Many of his customers are now friends, this is how a true architect is dignifying this profession. Passionate for the rational relationship between form and function, he is always looking for functional beauty and the balance between the concept and the outward limitations of the materials used. Humor and irony define his style, some of his main objectives include economy of parts and materials, ecology, and energy efficiency.
Timón has been awarded with the Gold medal ADCV Lighting Award in the 2015 for his "Mínima" lamp, the Gold medal Advertising Festival La Lluna in the 2014, in the Direct and Promotional Marketing category for his "Very Amstel Towels," Client PUBLIPS. Selected to participate in the 2011 NUDE salon with his "Mr.Light" lamp and 2003 Valencia Creates Product Design Award, for his screw-on bracket.
LAMPARELLA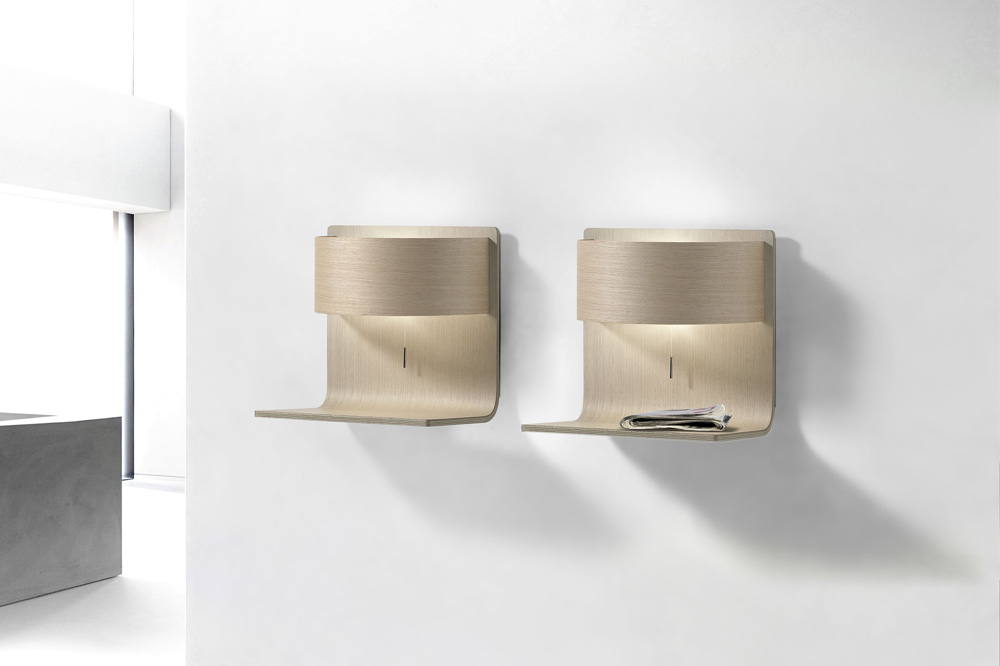 Lamparella is a concept lamp with a marked mid-century industrial style. The inspiration of this wall lamp was the idea of merging a bedside table and lamp. Two pieces of curved wood, designed in pure lines that can be personalized by choosing various colours of the lacquered colour or keep it plain. This unique lighting fixture allows the incorporation of various smart devices such as switches that control not only the lamp itself, but also other lights or decorative elements in the room, including blinds, curtains, and more.
Nacho Timón's Designs in the Plussmi's Catalogue by Collections:
MÍNIMA, table lamp
LAMPARELLA, wall lamp
SILVIA CEÑAL, San Sebastián, Spain.
Silvia Ceñal (1985) studied Technical Engineering at the Public University of Basque Country, and continued her studies in Groningen, Netherlands and then Florence, Italy. She used to work in various studios in San Sebastián, she completed a course in furniture design at the IED Madrid and continued her career at Stone Designs Studio, working with Cutu Mazuelos and Eva Prego.
In 2015, for her own professional growth in the world of design, she started her own studio in San Sebastian. Since then, she has collaborated with different national and international companies in the projects from the interior design of offices, restaurants and stores to furniture and lighting. She was creating new products inspired by the warmth and simplicity of the materials and the joy of colour. After all her experience, Silvia Ceñal has clearly stated her objective: "I would like to design something that would be in every house, that would make life easier". This is what she told us.
COWBELL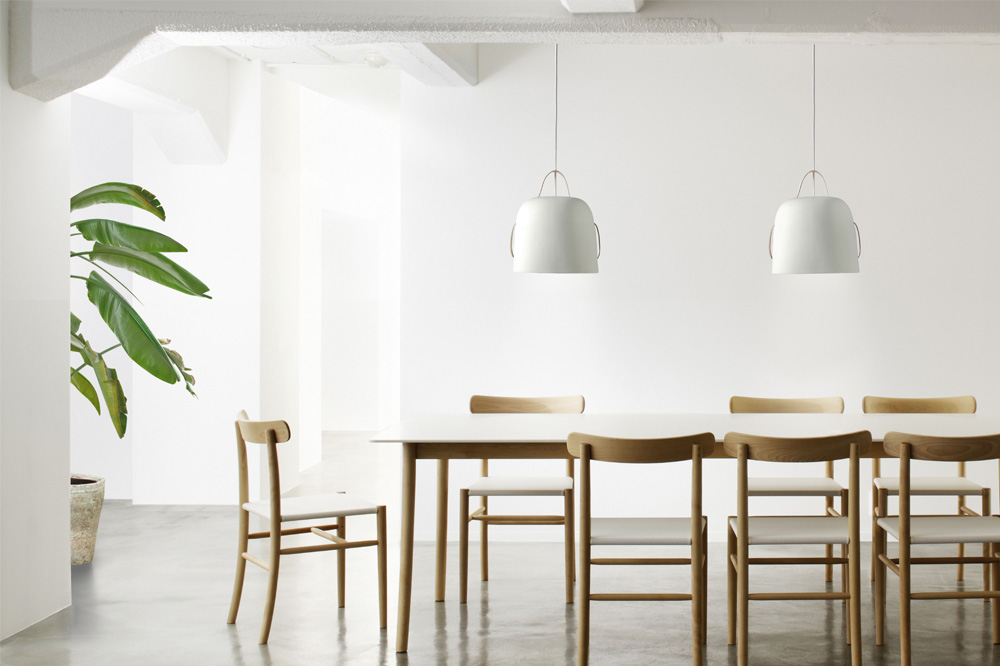 The Cowbell lamp is a piece with simple lines and a silhouette inspired by a cowbell. Cowbell has a delicate beauty. It is an inspiration from nature and rural living. This pendant combines rustic influences with a minimal design. The simple and clean lines allow the details to shine through, enhancing the textures of the materials. Cowbell lamps is made with natural materials including clay, felt, and leather. As we have mentioned before the lamp transmits a sense of nature and warm. Finished in white stoneware (natural NAT strap) or black (brown MA strap). It is 1 cm smaller in black stoneware due to the contraction of the material. It has a decorative leather strap and white or black textile cable to choose from.
Silvia Ceñal's Designs in the Plussmi's Catalogue by Collections:
COWBELL pendant lamp.
You are invited to enjoy the collaboration with the Plussmi, the top Design Brand of Massmi. Our welcome and pleasant team is open to provide you additional information, a quotation for a bulk order or a consultancy for your lighting project. Welcome to Lighting from Spain – the online platform with the best Design Lighting Brands from Spain.