Lux Cambra Lighting
Lux Cambra is a lighting Company that is producing ceiling lamps, floor lamps, wall lamps and table lamps since the 1960´s. Lux Cambra is a second-generation family business dedicated to the manufacture of decorative lamps since its foundation. It was founded by Cambra family in Barcelona and continue to be leaded by the Roger Cambra.  The Lux Cambra mission is to continue being a trustworthy and honest partner for their client's staff and suppliers. Lux Cambra is high oriented on contract projects for hotels, architects and interior designers with their lighting solutions for any customers lighting projects' needs.
Lux Cambra has been expanding and increasing constantly during the last years and due to the fast evolution of exports into the international markets. High-quality and custom involvement in the production process together with reasonable price are the key of success and the strength of Lux Cambra. They have specialized in carrying out all kinds of lighting projects, in both small and large format. Lux Cambra has an extensive catalogue of lighting fixtures manufactured entirely in their facilities. They are open modify any element of their Collection and can adapt to nay project's needs. Lux Cambra works closely with their designers' team for a better collaboration within implementation of lighting projects, in close contact with the clients.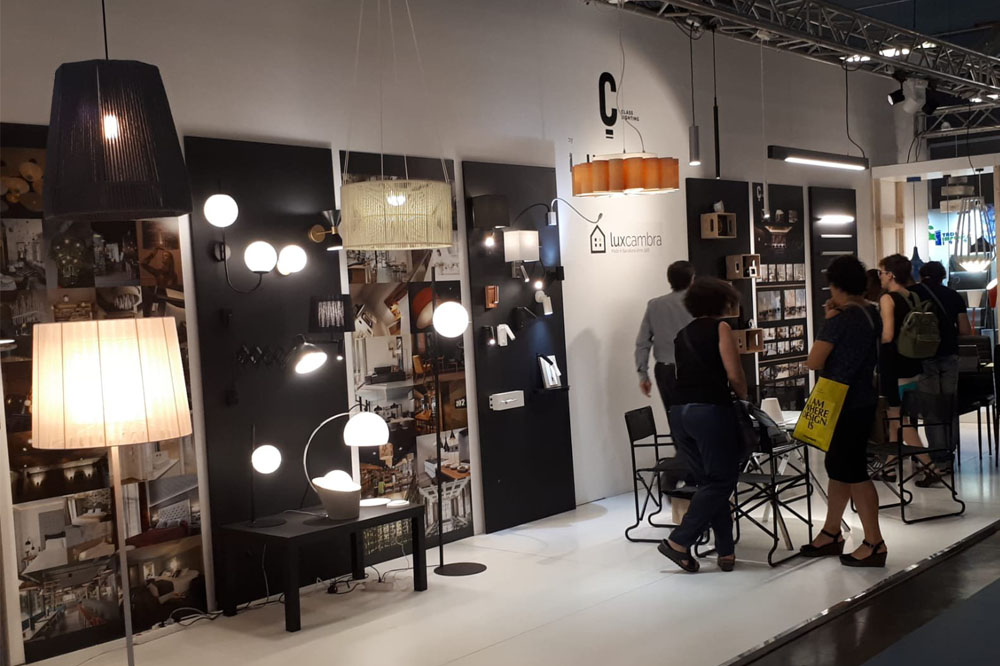 Lux Cambra work was present in the exhibitions LIGHT + BUILDING in Frankfurt, also in HABITAT, Valencia and INTERIHOTEL, Barcelona , all in 2018.  There ere presented the new Collection of Arlés model, designed by the architect Mariano Chitarrini, whose wooden slats draw beautiful organic curves. It was exposed the Halley model, designed by Javier Martinez remembering the designs of the Bauhaus but incorporating details and finishes of the 21st century. Another precious Collection presented was the Acapulco series, with LED light fed by autonomous batteries without the need for cable.
Lux Cambra's future strategy is to be concentrated on unique and environmentally friendly designs. The next Collections are planned to be created from biodegradable thermoplastic, which is made from corn starch or sugar cane, behind the ones that consists of textile.
Lux Cambra Designers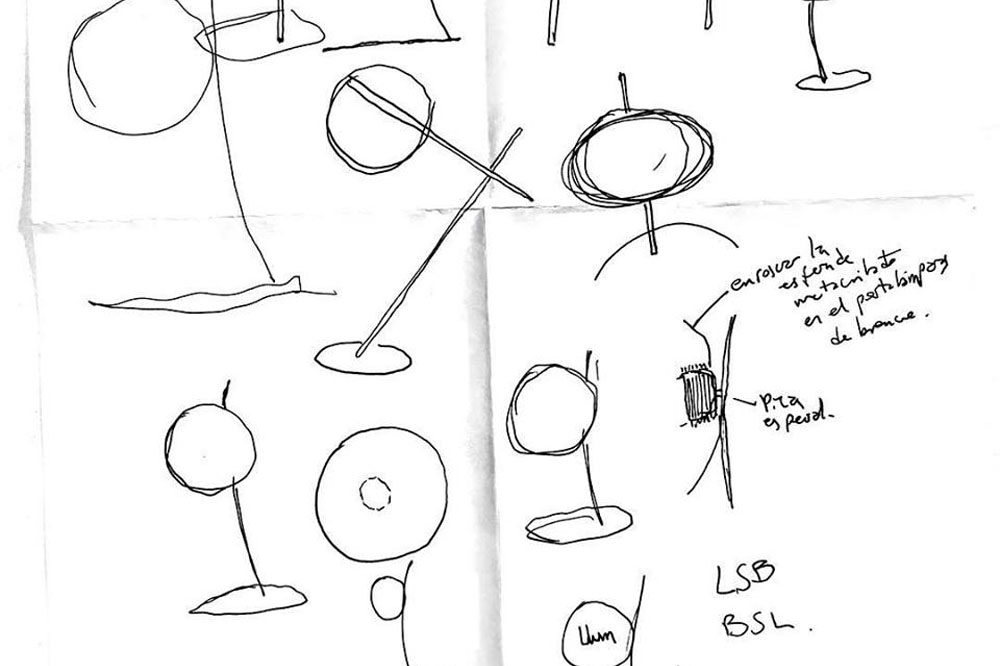 XJER STUDIO
Javier Martínez, Bareclona, Spain, 1981.
Javier Martínez since childhood was immersed in the family tradition. At an early age, he drew with his father, designed, developed, produced and assembled all kinds of lamps. He studied Product Design and Development at the Polytechnic University of Catalonia. Since his graduation and up until now he collaborates with different brands in the lighting sector to design, develop and manage the creative direction. His passion for decorative lighting can be easily felt in his work. He enjoys giving identity to his lighting fixtures to decorate any place or space. In this way, the personality and character of each design is built from the first minute to make any room as welcoming as possible and simply enjoy it.  xJeR Studio was born in 2014. It is a multidisciplinary studio, where the passion for industrial design has no limits. Inspiration comes from day to day, from the anecdotes and from not imposing ethereal frontiers that limit creativity.
TOCA'M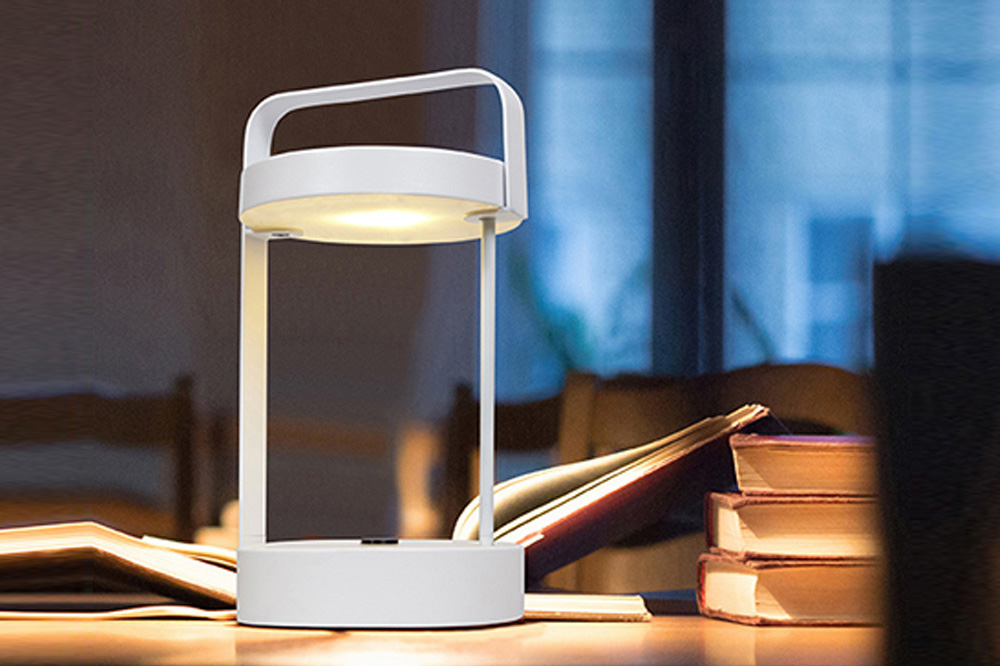 Toca'm is a LED table lamp without cable table that has an integrated rechargeable lithium battery. Simple but elegant lamp with a handle so you can move it around and place it anywhere in your interior. This portable lamp can work up to 8h and it has a pleasant on/off touch system for ease use.
HALLEY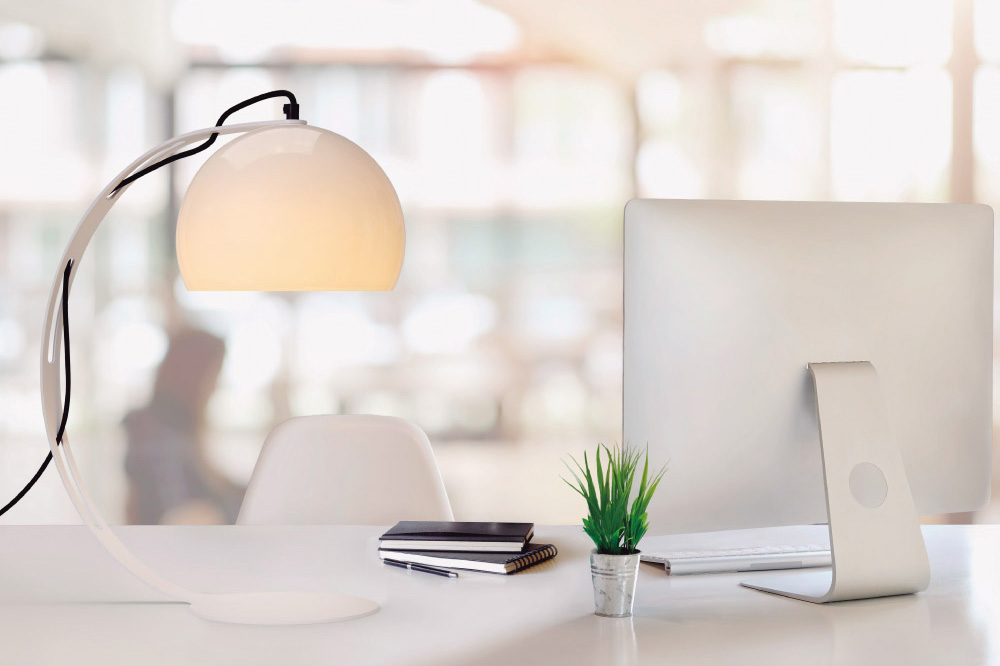 Halley Collection that consist of wall lights and desk lamps fits to modern interior offices, study rooms and home offices. The black or white shade lamps made in metal are completed with the pleasant a translucent acrylic shade in beige colour.  The arc-shaped structure makes it original and easy to distinguish the Lux Cambra curves and lines.
BIO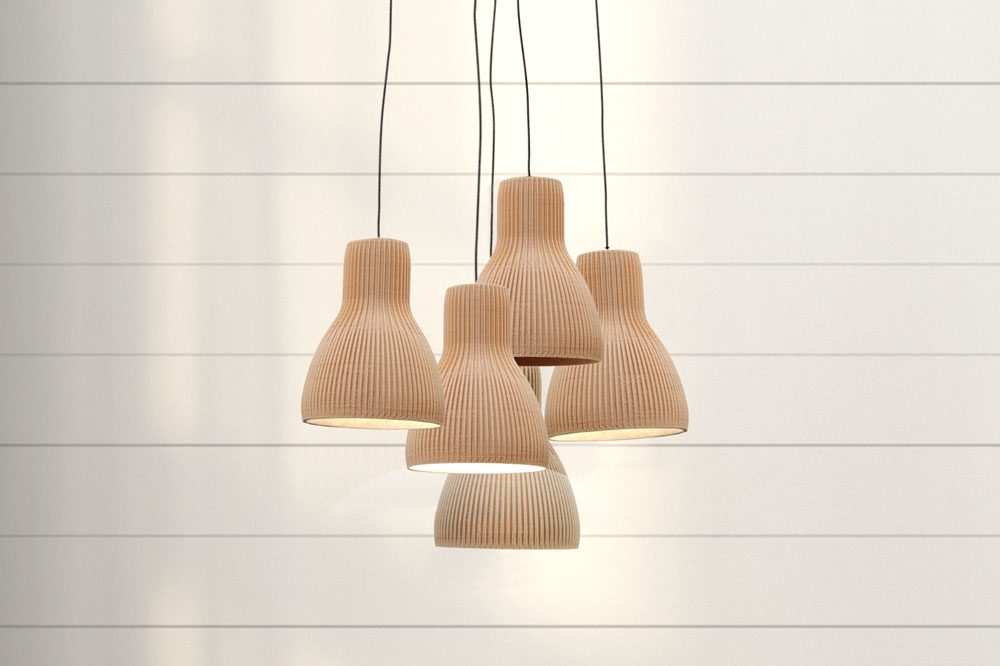 This Collection with all range of lighting fixtures, pendant lights, table lamps, floor lamps and wall lights are a made of 100% recycled wood and 80% of the lamp is biodegradable. As you can see Bio is not just the name, it is also the concept of this eco-friendly collection, for modern style interiors. The lamps are totally respectful of nature, as they are biodegradable, their originality and their shapes will light up your space and make you feel at ease in a friendly and warm atmosphere! The lampshades are made in 3D printing, in the shape of dome.
 ACAPULCO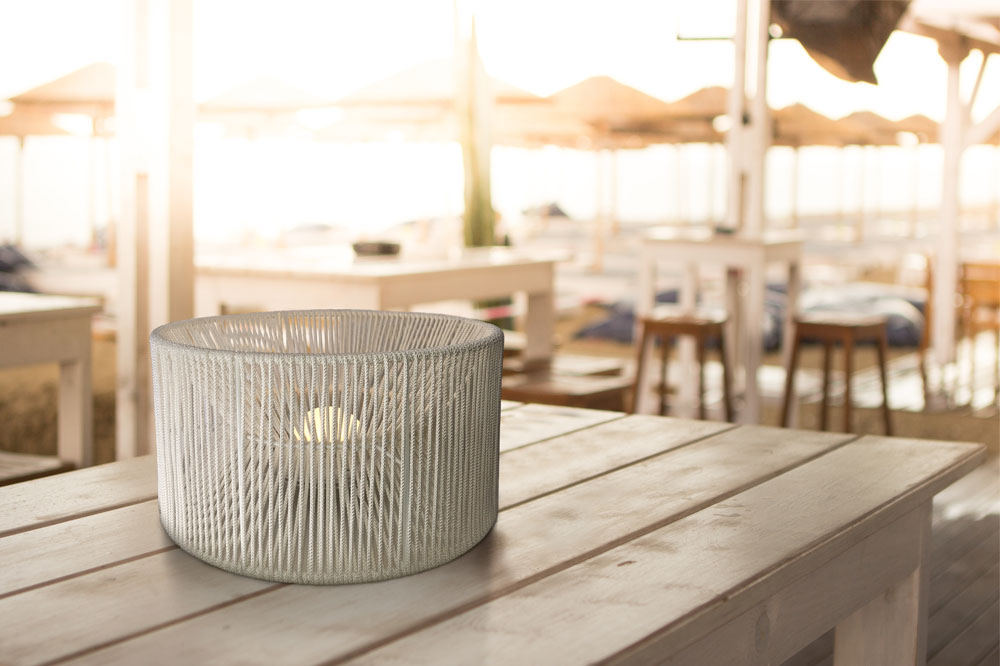 The Acapulco Collection is named after the legendary Pacific resort Acapulco in Mexico, which was a refuge of Pacific in the 50s. Acapulco was quiet place with waves, and cocktails served on sunny terraces overlooking the Acapulco Bay. The Hollywood's greatest stars like Elvis, Elisabeth Taylor and John Wayne were some of many who fell in love with Acapulco at the time. Lux Cambra created the indoor and outdoor versions of this collection. The outdoor lamps transfer you in the chill out atmosphere with those string cords made of cotton or polyamide lampshades, that reminds you the cords of the traditional cotton blend hammocks. The outdoor hanging lamps, table lamps and floor lamps have stringed lampshades and wireless rechargeable induction battery with micro USB.   A 6h of maximum power duration and switch for ON/OFF/DIMMER and remote control. The indoor ACAPULCO series transfer the outdoor mood to the indoors. It is available in the version of white ceiling rose and white cotton cable with a green shade hanging lamp, also in black or white shades for floor lamps and table lamps.
xJeR Studio's Designs in the LUX CAMBRA's Catalogue by Collections:
TOCA'M portable lamp.
MANHATTAN wall light, wall light with shelf.
HALLEY desk lamp, wall light.
KIWI floor lamp.
HOLBOX portable lamp.
LAIA ceiling pendant lamp.
ACAPULCO indoor pendant lamps, floor lamps, table lamps.
ACAPULCO outdoor hanging lamps, floor lamps, table lamps.
BIO pendant lamp, table lamp, floor lamp and wall light.
TRENS desk lamp.
BOSSA pendant light.
XAVIER SOLÉ, Lleida, Spain, 1959.
Xavier studied Industrial Design at Elisava School of Design in Barcelona, then he moved to Italy to keep going his studies at the Instituto Europeo di Design in Milan. He obtained his industrial design degree at the Elisava School of Barcelona and the European Institute of Design in Milan in 1983. After accumulating is personal experience and receiving the academic formation in Milan, he opened his own design studio in Barcelona in 1986. During 1992 he got involved in the business activity of the company AMAT-3 by becoming their R+D director and developing successful products for well-known designers. After that he joined in 2006, the company Grupo T Diffussion, by leading the technical department for the company TRAMO. In 2012, decided to reopen his industrial design studio study to develop products and offer them to the different companies in the market.
Xaviers Studio is promoting the design departments and the creation of new products for companies. Their mission is helping to consolidate innovation as a key tool for the development of companies and people.
KITO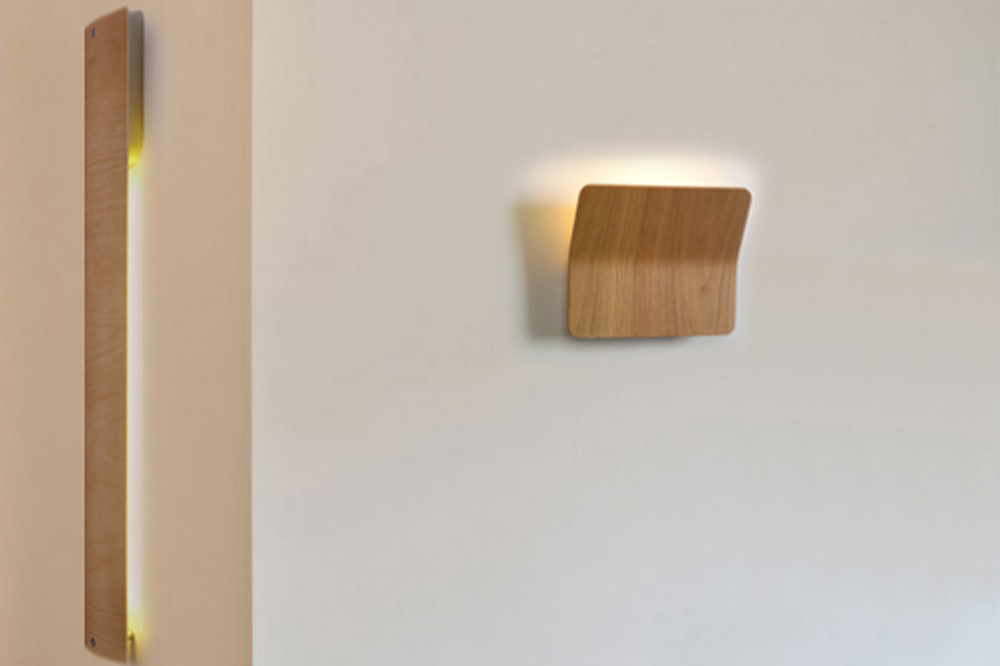 Kito indoor lighting collection has wall lights available in three sizes and pendant light available in two sizes. The wall lights are made of wooden shade in oak and a structure finished in white. The pendants have oak wood shades with a nickel finish. It adds elegance and warmth to the environment thanks to its wood finish. Kit lighting fixtures are equipped with LED lighting source and are not adjustable. Kito wall lights are a great lighting solution for hotel rooms, for halls and entrances. The pendants Kito can be art of a modern office interiors, installed over a meeting table.
CRETA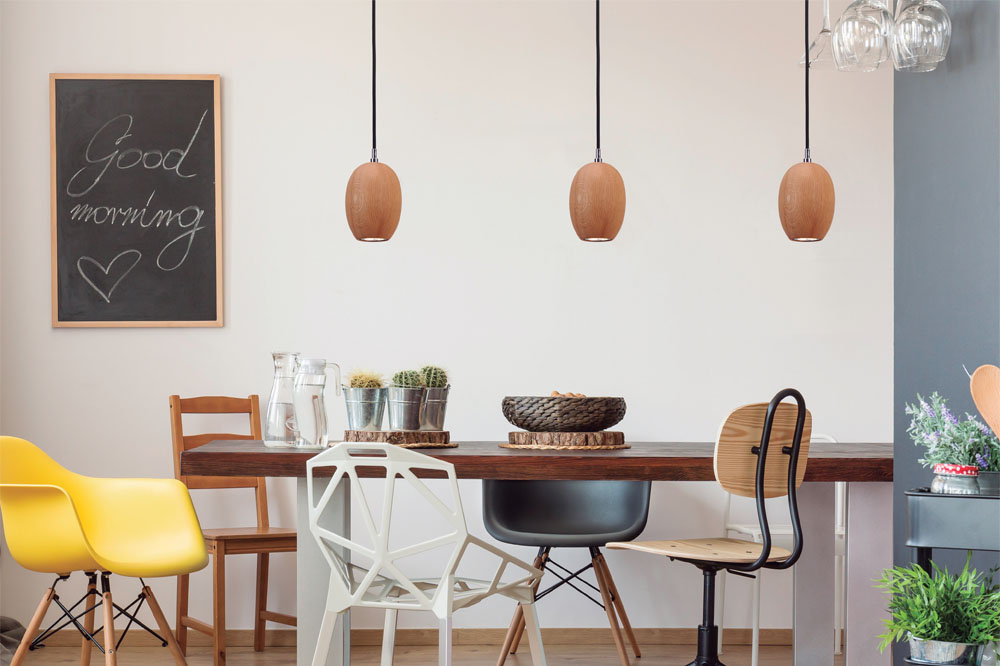 Creta Hanging lamps are designed for interior lighting. The small oval lampshade are available in oak wood and lacquered in white wood suspended by a white or black cotton cable.  Pendant lamp made of oak wood, varnished or lacquered in white. Bionics is the science that is based on the observation of the structures of the forms of nature, both animal and vegetable, and transfers them to the creation of objects. CRETA is an Olive, a Mediterranean product from nearby, made of natural wood. Its forceful shape is perfect for dissipating the warmth of LED technology, without the need to add radiators or third parts between the two. One more sample of the science of nature.
Studio's Designs in the LUX CAMBRA's Catalogue by Collections:
KITO Collection, pendant light bar, wall lights
CRETA pendant lights.
JORDI LLOPIS, Barcelona, Spain, 1972.
Jordi Llopis is graduated in Arts in Industrial Design from the Elisava Design School of Barcelona (1991-1995) and has a master's degree in arts, furniture and product design from the Royal College of Art, London (1996-1998). He worked with several companies in the fields of lighting, furniture or decoration for many years. He has worked as a designer in lighting companies managing the direction of new products and corporate identities. Jordi Llopis currently runs his own design studio in Barcelona and is co-founder of the multidisciplinary space Brots. He founded Jordi Llopis Design y Brots with the purpose to create and design his own items, without any filters to propose a highly authentic and original product. He followed the idea of ​​designing, self-producing and selling the products themselves and jointly organizing various activities related to creativity.
He collaborates as an external teacher with ESDI, Escola de Disseny de Barcelona, Elisava Alumni and has joined ESDesign Barcelona as a tutor of Final Master's Works. He has been a jury at the Ei Awards! of Elisava of Barcelona and has collaborated in worskhops in the Universidad de Aguascalientes in Mexico and Elisava. Collaborates with the platform Creative Dialogue established in Barcelona.
Some of his works, like the Lifelight, a lamp created in 2003, is part of the permanent collection of the Museu del Disseny in Barcelona. Also, the Clipa'm lamp was selected at the Delta 2016 Awards.
INDIANA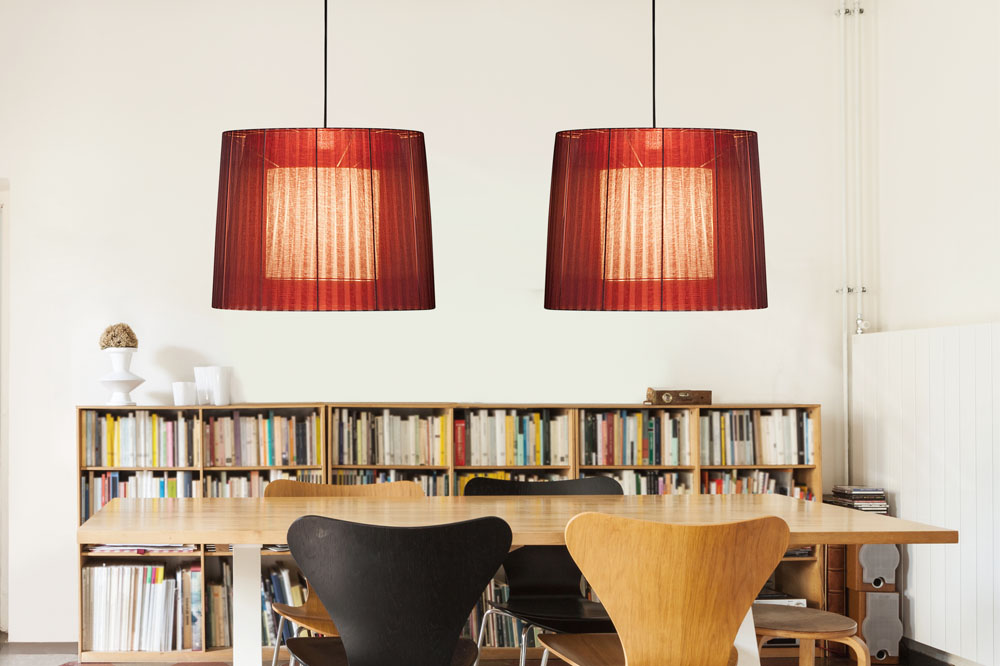 The designer used organza fabric in ribbon format, using the original length the fabric was transformed into a translucent tape almost transparent but maintaining the original colour for his Indiana Collection lighting fixtures.  He played with double shades to create an interesting depth effect. The same shade wrapped in organza gave a very personal structure to emphasize the double effect that was created. Finally, with a simple cylindrical interior diffuser it was possible to hide the light source, thus increased much more the desired light effects. This is how the INDIANA collection was born in 2015, ready to fill new and old spaces, with an infinity of finishes, colours and sizes to adapt to any project. The collections is distinguished with its  conical shade made of wrapped organza with overlaps in the fabric to give volume to the shade. The transparency of the material is muted with an internal diffuser. Indiana had a high success and was received welcome by the designers, so, it was opportune to enlarge it in varieties of a ceiling lamp, a floor lamp or a table lamp. The structure is available in white, black or grey. Also, the organza wrapped shade have the choice of colours in white, lead grey, ash grey or red.
Studio's Designs in the LUX CAMBRA's Catalogue by Collections:
INDIANA pendant light, floor lamp, table lamp.
MARIANO CHITARRINI, Córdoba, Argentina, 1990.
Mariano Chitarrini is graduated in Architecture and Design from the National University of Cordoba, Argentina (2008-2014). Since 2015 he works in MIRAG Arquitectura i Gestió as architect, Barcelona, Spain. When he was a child, the first gift he received on Christmas was a carpenter's toolkit. Mariano considers that it was not a coincidence, as he believes this event has influenced his life as a designer and a creator. He has been always passionate about objects and lights, which led him to open in 2017 the Chitarrini lighting Studio in Barcelona, Spain.  Mariano has been collaborating with Lux Cambra in different lighting projects. His work creates a coalition between different universes in order to improve the quality of people' lives. Each creation is the result of a refined design process considering the technical and emotional aspects of the lamp.
SATURNO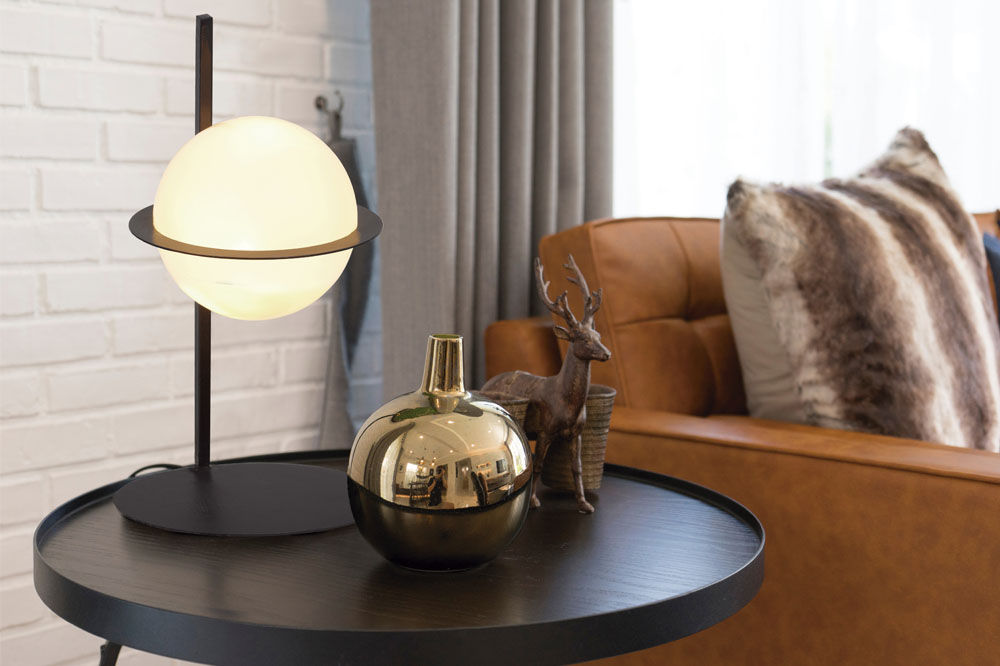 The Saturn lamp was worked with the idea of the contrast between the support material and the light-emitting material, between shadow and light, between dark and light.  It was worked with metal to achieve a light, slender and delicate structure, which combined with a white glass ball creates a very simple and sculptural lamp. The electrical system is hidden inside the structure, leaving the minimum necessary elements in sight. It has a floor version and a table version. Its structure is made in metal and the shade consists of a translucent glass ball.
ARLES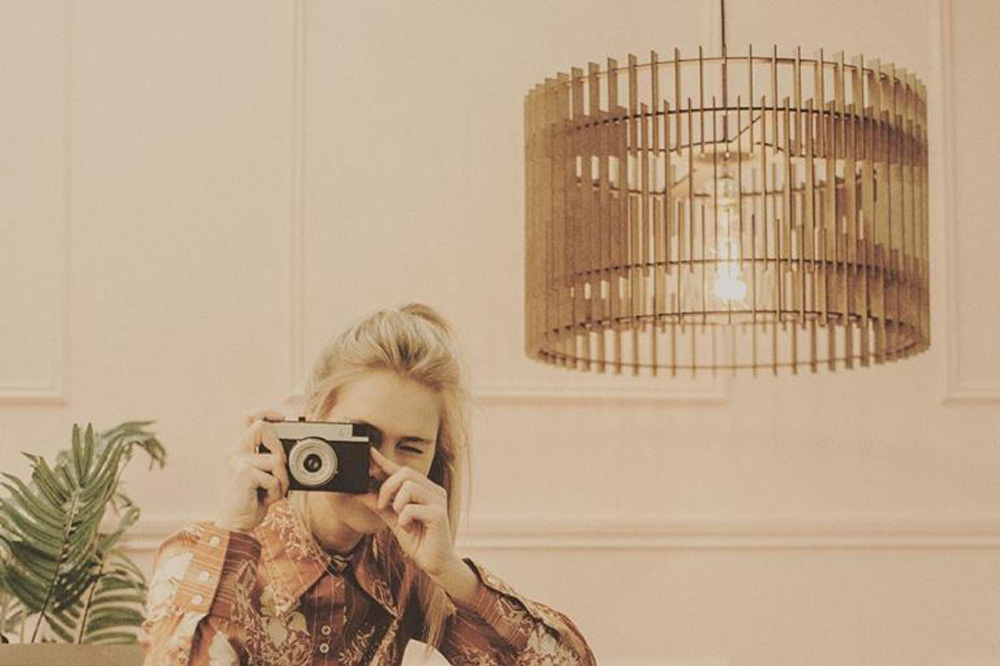 The ARLES Collection is a wooden made design lighting fixture that are available as pendant lamp, large shade pendant, floor lamp, wall light and table lamps in small and big versions.  The shade consists of parallel and concentric wooden slats, that act as diffusers of light and play with different lengths to create beautiful and organic curves. The Lighting effect creates a cosy and mysterious atmosphere in many different interiors. The lamps have a wood made lampshade with textile brown cable.
VULCANO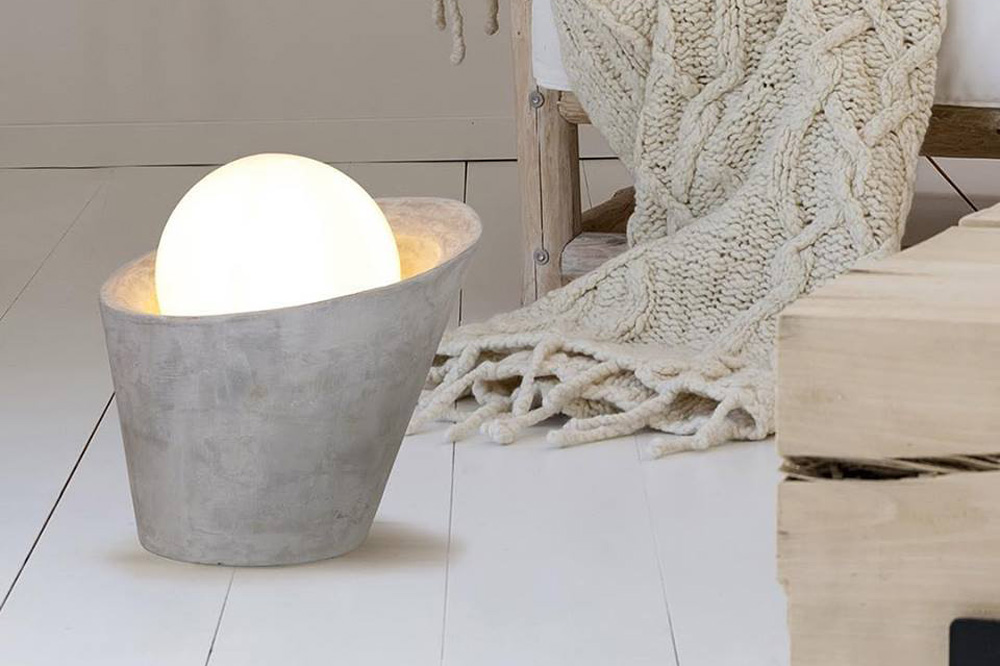 Vulcano lamps are designed for indoor and outdoor use. It reminds us of the intense light of the lava of a volcano emerging from the rock and turned off or turned on to some nest that some strange animal species has left in the garden. These are concrete baskets from which a white translucent glass ball emerges. The contrast between the delicacy of the glass and the texture of the concrete emphasizes the beauty of each material. Designed to form sets with its three sizes and small shape varieties. The lamps have a concrete structure and translucent glass ball shade.
Studio's Designs in the LUX CAMBRA's Catalogue by Collections:
SATURNO table lamp, floor lamp.
ARLES pendant light, wall light, floor lamp, table lamp.
VULCANO table lamp.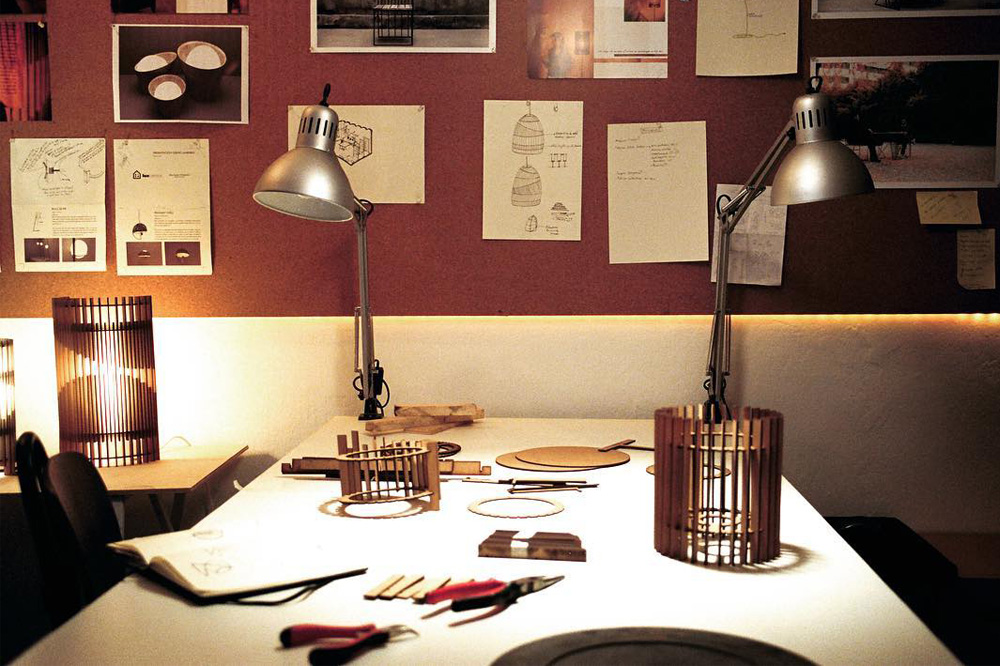 Lux Cambra is a trustful partner for lighting projects, especially the ones that care about Climate changes, Pollution and contaminations. The eco-friendly made of recycled wood with less plastic lighting items of Lux Cambra are perfect for interior designers, business and architectures that have a Corporate Responsible Policy with nature respectful program.
Lighting from Spain team will help you in your search for best lighting fixture for your project, at the convenient price and good delivery conditions. Best service for your Project implementation.