LEDS C4
LEDS C4 is an international company specialising in the design and manufacture of lighting solutions that is flexible for implementing any type of a lighting project anywhere in the world. The LEDS C4 group exports lighting solutions that adapt to the needs of any project, working for different markets and different customer profiles. LEDS C4 works on functionality, usability and efficiency. As part of their daily routine is to respond, interact and react. The team of LEDS C4 consist of over 330 professionals. They are committed to provide a wide range of products together with a local, responsible and dedicated service.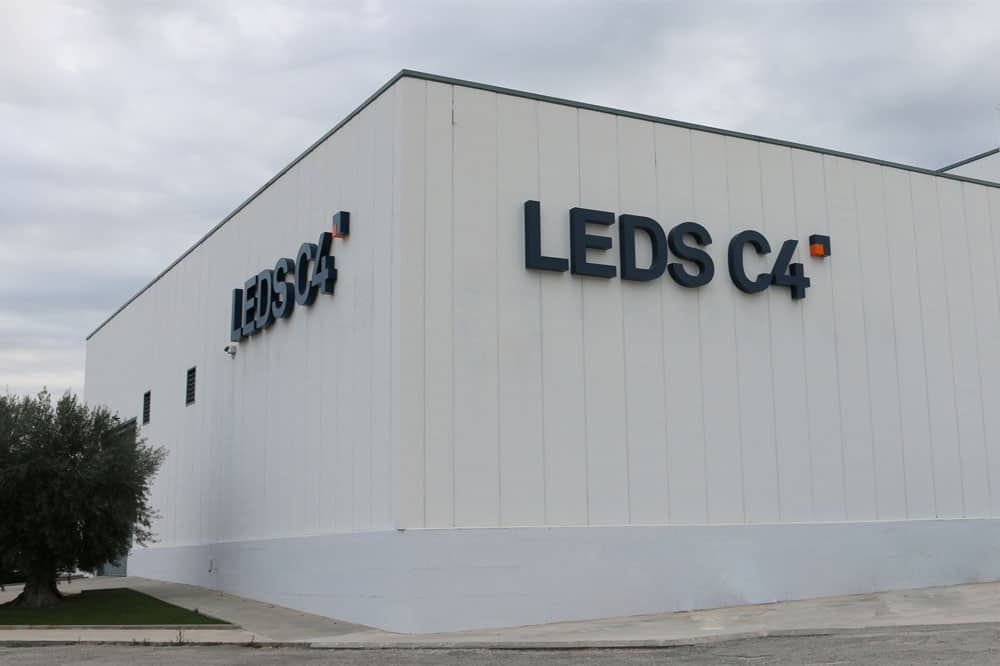 The Journey of LEDS C4
The Company has started their activity with the manufacturing of forge handmade lamps, in 1969, which change into modern lamps manufacturing in 70, and then glass shades lamps. In the early '80 they were producing decorative exterior and interior lighting. High-end design appeared in the late '80, together with always in fashion classic lamps. The 2000 was the year of experimenting the alabaster as the diffuser of light, with a collection of huge chandeliers, in LEDS C4, then 2005-2006 was dedicated to develop technical interior and exteriors lighting. The 2008 was a great year in the science of innovation and energy efficiency, when they LED revolution started.  From 2009 to 2013 the company has developed their urban lighting collection and modern ceiling fans with light, then appeared the emotional lighting.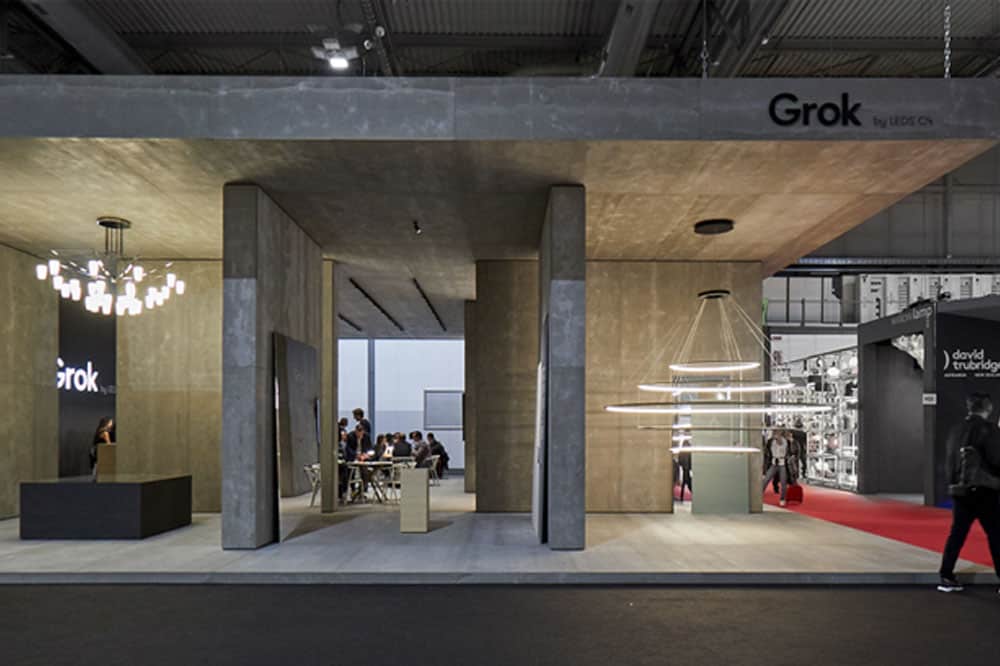 LEDS C4 work
The LEDS C4 headquarters are based in Torà (100Km from Barcelona, Spain) with a total area of 30.000m2, where are situated the management offices and an adjoining warehouse facility of 150,000 m3 of warehouse, provide all the Design + R&D centre and a showroom. Our facility capabilities include die-casting area, moulding area, painting area, metal workshop, internal laboratory for all technical testing and quality control, glass handling area (fusing technique) and handling and assembly area. In addition, they have other decentralized production centers, where we apply the same strict quality control in all phases of the production process as well as in the finished product.
The infinite possibilities of light can be explored with the purpose of transforming spaces and enriching them using appropriate lighting solutions for any space. This is the challenge and the daily work of the LEDS C4 company with 13,000 customers in over 140 countries. Its portfolio consists of more of 3,000 technical lighting projects and decorative lamps, indoor and outdoor, LEDS C4 has been creating about half a century new relation with architecture through light. A wide range of technical and decorative, indoor and outdoor lighting solutions with a sales network in over 140 countries and the ability to design and manufacture made-to-measure products.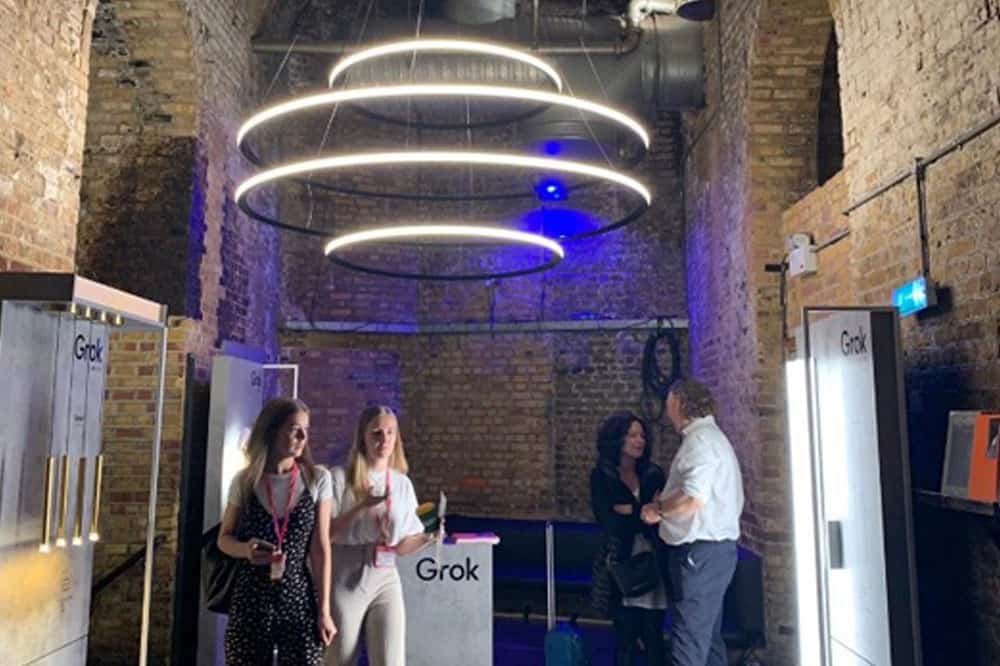 LEDS C4 structure and commitments
For LEDS C4 high quality means precision that leads to efficiency and durability. It is a continuous improvement of materials and designs carried out from the deep knowledge of the lighting sector accompanied by strict quality control. They have their own photometric laboratory and a five-year guarantee against manufacturing defects, which works in mathematical balance of details that are as logical as needed. LEDS C4 quality control commitment is their strength. This extends to a versatile catalogue with 9,900 product references and finds its maximum expression in the department of custom lighting projects. After all, quality is synonymous with freedom.
The LEDS C4 has four ways of interpreting light, with one premise – the excellence. The LEDs GROUP is composed of 4 units, that are that are providing Technical lighting, Design lighting, street lighting for public place and residential lighting projects:
LEDS C4 has a wide range of TECHNICAL and decorative lighting solutions, either for interiors or exteriors.
GROK is the unit of the LEDS C4 group that produce design and uniqueness come together to build large spaces and sensations through contemporary lighting.
CARANDINI is the unit that propose lighting solutions for public roads, industrial and sports facilities, and other infrastructures in Europe, America and Africa.
FORLIGHT is the unit of the group that propose lighting solutions for residential use and non-intensive use projects in indoor and outdoor contexts.
The designers of LEDS C4
GROCK is the designer lighting brand of LEDS C4 Group – high range of lighting solution for any interior design.
Grock design lighting transforms large areas and gives a distinctive character. Grock lighting fittings are an architectural and decorative lighting product which aim to transform spaces and improve people's wellbeing with light.
Grok aims to design a range of contemporary lighting products that are attractive and unconventional. They understand that light has the capacity to affect the physical and emotional comfort. That's why for Grock's team is essential to offer pieces to suit each space, activity and type of person. At this point, they involve their designers in the entire creative process. By this way they are adding value to their work in order to achieve functional pieces that allow architects and interior designers to create unique ambiences.
Light that interacts and plays with architectural spaces – is the concept of  the Grok  to present luminaires that highlight the link between design and minimalism and the relationship between matter and light.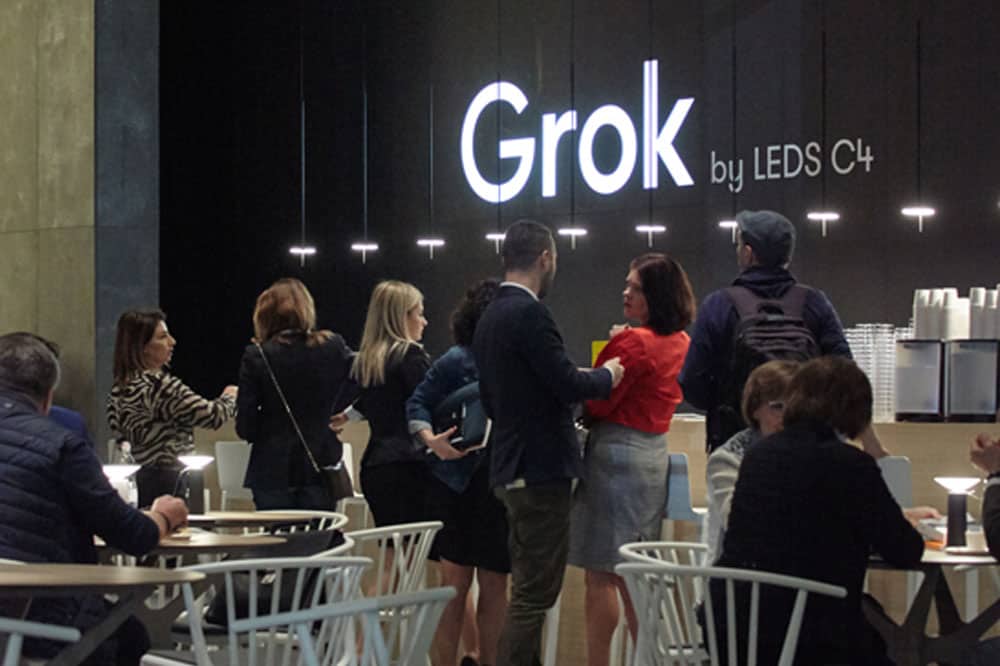 GROCK design lighting describe their Collections as follow:
The ESSENTIALISM collection are pure lines and shapes, ethereal and transparent volumes.  They reduced materials to the minimum, to achieve products that highlight and blend with the architecture and the uniqueness of the spaces where they are installed.
The MAGICAL LIGHT collection is creativity and technology to make products where the light is seen in an unusual way, in order to arouse curiosity and ensuring interaction with the user.
The OUTWARD APPEARANCE Collection. The materials and the creative process of this Collection are the heart and soul of the lighting concept. The components have been selected carefully and with a special treatment we give them to create pieces with their own personality.
We invite you to know the team of designers that are working with LEDS C4 for the GROCK's Collections.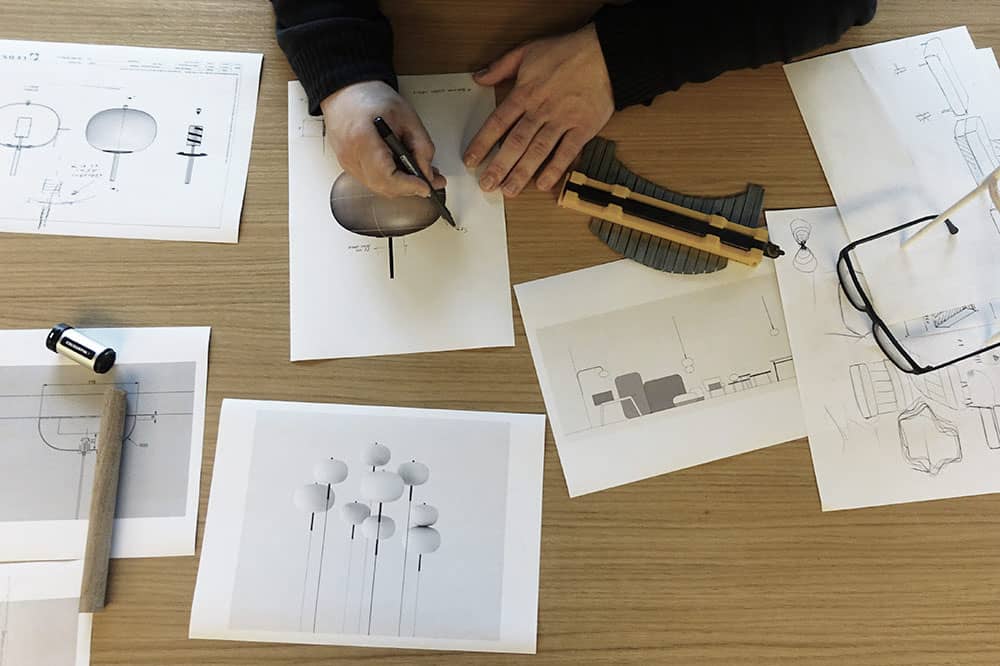 Benedito Design, Barcelona, Spain.
"Diversification allows for a more global understanding of the environment".
Created in Barcelona by Ramón Benedito( Barcelona, 1945) and  the graphic designer Maite Prat, Benedito Design has been working in product design and development since 1973.  They have worked with both national and international companies in different fields such as electronics, computers, technical instruments, machines and tools, lighting, household appliances, containers and packaging, street furniture, and micro-architecture. Throughout this time he has been intensely active, producing an extensive body of work marked by technical expression, precision and exactitude; and which reflects the social and technical evolution of society.  Benedito Design received the National Design Prize in 1992.
CIRCULAR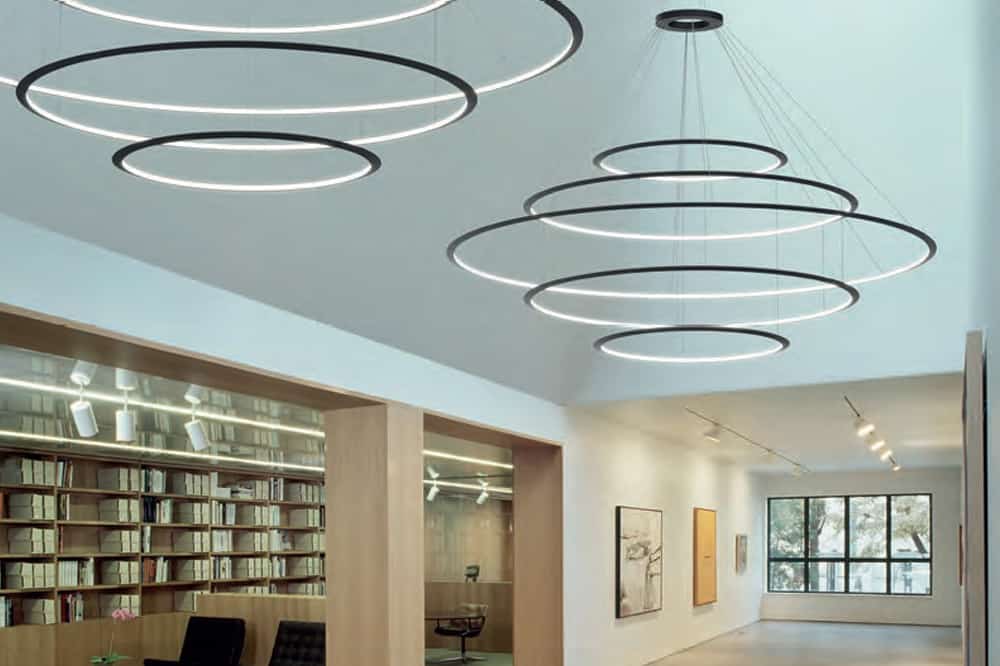 Circular pendant lamp and the new modern chandelier are the result of the combination of design and architecture to create lights for large spaces. This piece accomplishes maximum expression with minimum materials. Circular collection offers great versatility thanks to the combination of formats and finishes it may change. It's a timeless and a contemporary design lighting that gives character and perfectly lighting to high architectural value spaces. It is also important to underline that this luminaire combines technology and decoration to provide com­plete flexibility through a choice of sizes, finishes, installation and adaptability. The circular aluminium-extruded frames can be installed as an individual pendant light or it can be combined in a chandelier.
CANDLE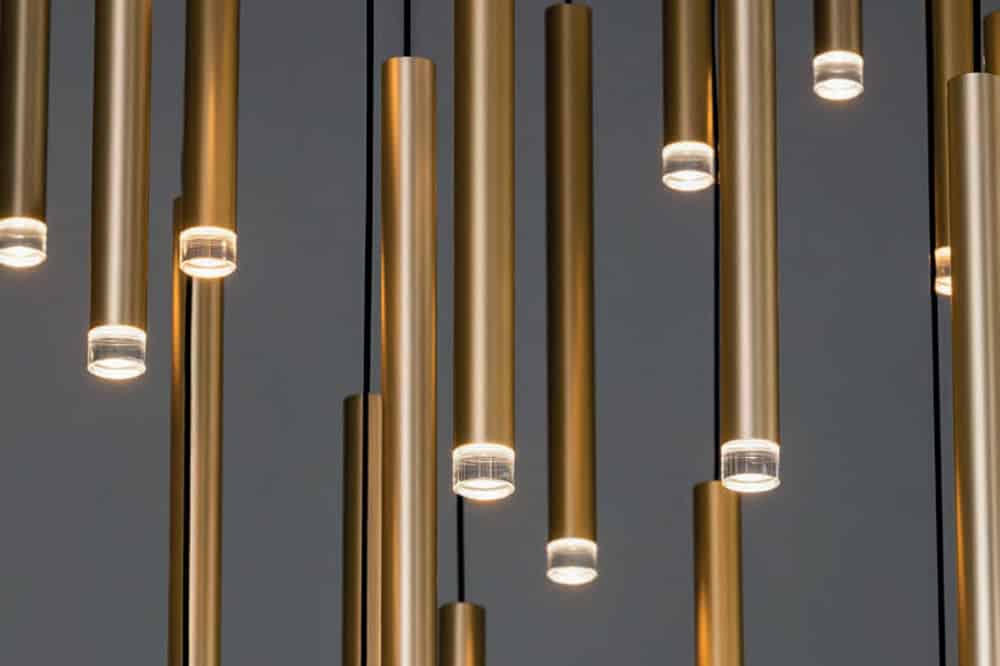 The Candle collection made of pendant lamps it is highlighted the elegance and simplicity of its design. This is a reinterpreted the idea of a Candle Holders that becomes an ideal light to create warm and natural atmospheres. This delicate light, presented as it were a jewel, is the reinterpretation of a classic candelabra with a LED light source. The way it projects the light creates and highlights the spaces, creating warm, natural environments. Grok has different versions of Candle, with individual or triple models as well as the chandelier in glossy gold or black which make the piece highly versatile.
Benedito's Designs in the LEDS C4's Catalogue by Collections:
CANDLE pendant light
CANDLE TRIPLEX pendant light
CANDLE CHANDELIER
SATURN pendant light
CICRCULAR chandelier
TANDEM pendant lamp, ceiling flush lights.
TWINS pendant lamp
FLAVIA wall light, table lamp, floor lamp.
IGLOO wall lights, celling flush lights.
SUITE wall lights
Luca Turrini, Bologna, Italy.
Light Designer & Art director. Luca Turrini has a technical studies background and he developed his passion for lighting from his early years in the world of work. His first experience in Sirrah, a leading company in the field of industrialisation and lighting design, was significant. In 2009 he created the Format Design Studio, a multipurpose structure for a better expression of design in the field of lighting technology and beyond. Luca Turrini is a creative and observant designer, he enjoys combining innovation with traditional forms without neglecting aesthetics, technique and functionality. Luca Turrini's minimalist design redesigns the classic headboards or wall lights to provide a more versatile and architectural solution integrated to interiors. He was awarded at European level as designer with the RED DOT DESIGN AWARD 2009 for the product NULLA by ARTEMIDE, and in 2010 the same award the product COVER.
ELY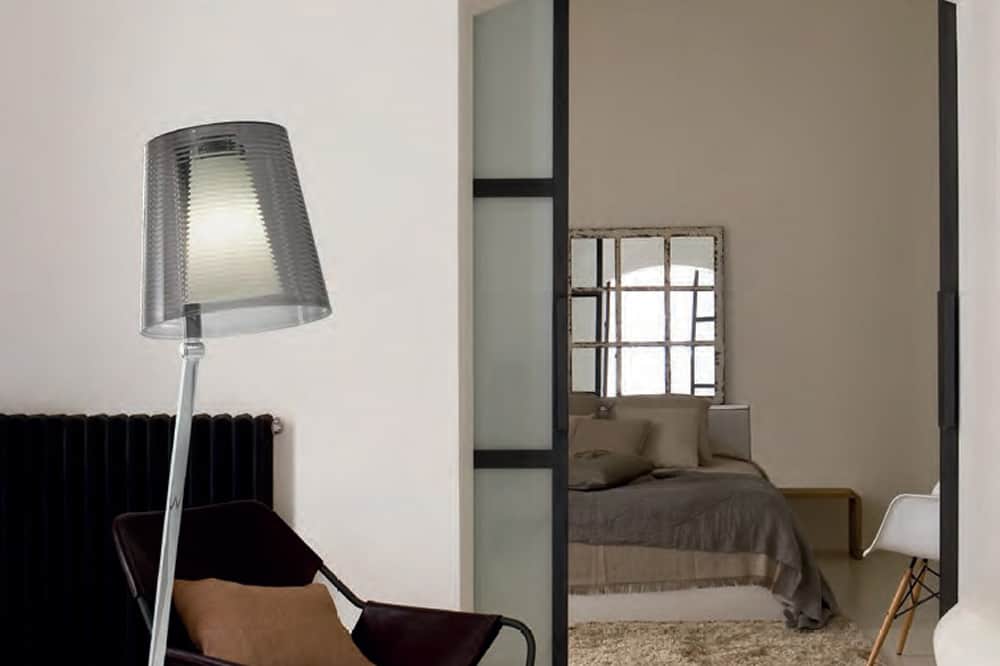 ELY is a lamp that floats in space, integrating itself into architecture with minimal impact. It prints different scenarios and emotions from a single body of light depending on its position and multiple adjustments. For LEDS C 4 the lamp Ely is synonymous with elegance, imagination and lightness. Ely represents an architectural reinterpretation of the classic bed wall lamp. A versatile and modern option that allows a total integration, and a gradual and intimate result. The light can be directed using the 360º rotation of its axis. Available in a white, gold or chrome finish and with or without button. The base can be installed vertically or horizontally. The elliptical shape allows, that with a slight adjustment of the lampshades and axis, to create different light effects for each space or area where it is used. The different finishes along with the recessed or surface options offer a wide range of elements to create different ambiences.
Luca Turrini 's Designs in the LEDS C4's Catalogue by Collections:
ELY wall light.
Francesc Vilaró, Barcelona, Spain.
Francesc Vilaró s an industrial engineer with studies in Architecture and Project Engineering. In 2004, he started his own company, which specialises in product design and development. Nowadays Vilaró combines work at his practice with his role as lecturer at a prestigious school of design.is the founder and director of the product design area of Diba Studio, in Barcelona, and bases his methodology on the balance between creativity, industrialization, innovation, aesthetics and functionality. He is the winner of several Delta design awards, in 2016 he received the German Design Award for Grok's Invisible luminaire.
CATENARIA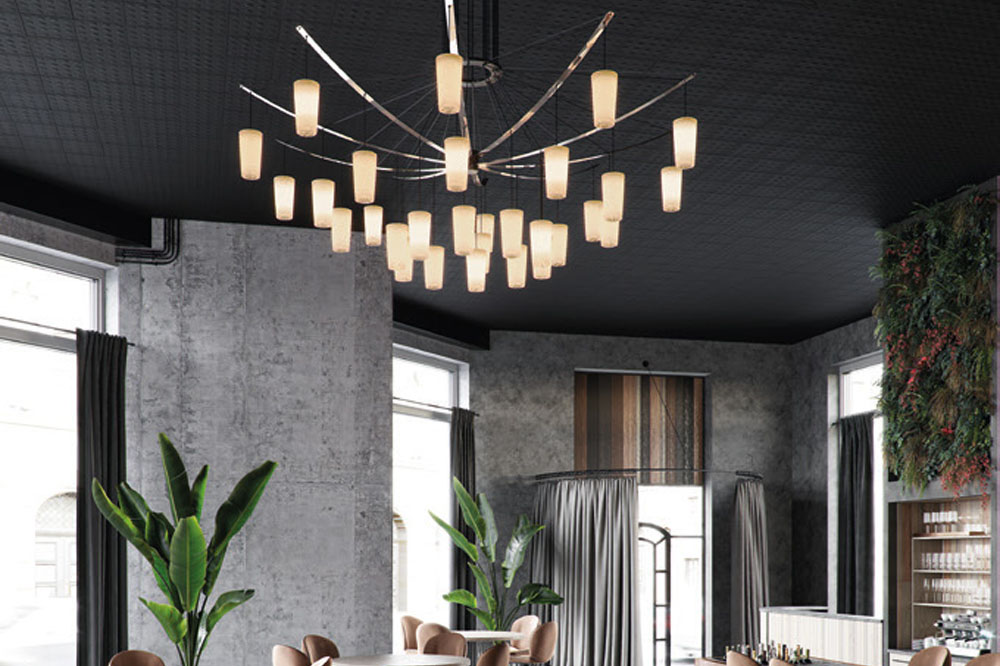 Catenaria is an inspiration by Gaudí's catenary arches, specifically in the use of the catenary curve, the designer wanted to create a piece with large dimensions where the alabaster with emotional light. This chandelier has chrome structure with a 1.7 m diameter, composed of 30 alabaster shades and a central black marble counterweight create a classic chandelier with a contemporary style. Catenaria is a big chandelier made of traditional materials such as alabaster and marble, together with chromed metal. As you can see it is versatile and ductile and the gravity plays a leading role each piece flexed by the force of nature. Inspired by Gaudí's work.
COCTAIL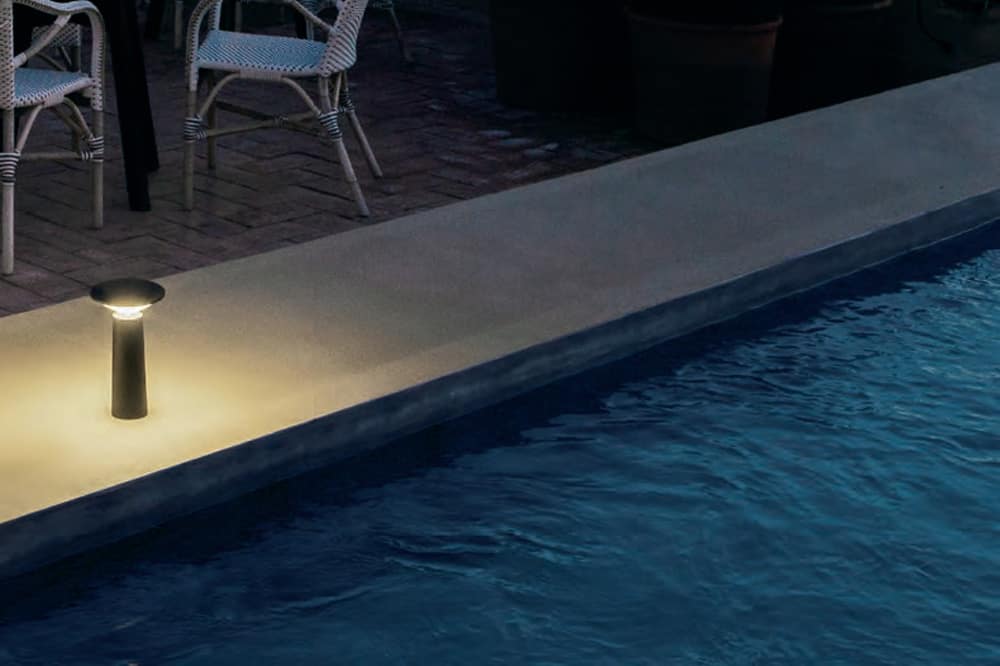 Coctail floor lampa and table lamp are the lights that work for you. Cocktail lamps mean balance, creativity and industrialisation. The Innovation and aesthetics of the portable lamp that works for you, creates a perfect atmosphere in restaurants, hotels, terraces and homes. Its adaptable design, with timeless shapes in black and white can invent atmospheres by creating compositions with different light points. The original design of this port­able light makes it ideal to create a special atmosphere in restaurants, hotels, terraces and homes. Cocktail, portable lamp with adjustable head allows to direct the light and to accentuate an object or a space. Nevertheless, its 4 dimmer settings (100%, 75%, 50%, 25%) help to create the perfect environment. Also, its high-quality battery lasts for up to 10 hours at 100% capacity and for even longer if the light is dimmed.
Francesc Vilaró's Designs in the LEDS C4's Catalogue by Collections:
INVISIBLE pendant light, table lamp, wall light
ALIVE pendant light
RINGOFIRE pendant lamp
EMY pendant lamp, wall light, table lamp, floor lamp
BIG BANG wall light
BEND wall light
SKATA wall lights
COCTAIL table lamp, floor lamp
CATENARIA chandelier
Céline Wright, Paris, France.
Céline Wright is one of the most influential French designers, with more than 20 years of experience.  graduated from the School of Applied Arts Duperré in textile design.  Her career was influenced by the period of her life spent in Japan. She started to use the Japanese Washi paper in order to creates handmade pieces using ancestral techniques made with natural non-polluting materials. Celine's pieces evoke serenity with a sensitive and poetic approach, inspired by nature. For Céline Wright "the work done by hand is the only non-polluting human energy".
VOILES
Voiles pendant lamp looks like an envelope of contemporary design for large spaces with a style of sculpture removed from conventional materials and shapes, opting for traditional craftsmanship. Voiles' asymmetric shape provides a different vision depending on your position. The Japanese Washi paper gives the piece a lightness that allows constant movement. Bothe characteristics create a poetic living piece that makes any space more beautiful. You can fell the clarity, poetry and harmony that set the tone of this lighting fixture. It is hand crafted in Paris, the light fitting features a hanging cord and an asymmetrical, four-sid­ed design produced in Washi Japanese paper, which captures the light to create a distinctive ambience wherever it is installed.
Céline Wright 's Designs in the LEDS C4's Catalogue by Collections:
VOILES pendant light, wall light
Iratzoki Lizaso, Azkaine, France.
Jean Louis Iratzoki and Ander Lizaso decided to form a partnership and created the industrial design studio Iratzoki Lizaso in 2016. Their succeed to bound various areas of design such as: home and office furniture, textiles, lighting, ephemeral architecture and accessories.
ILARGI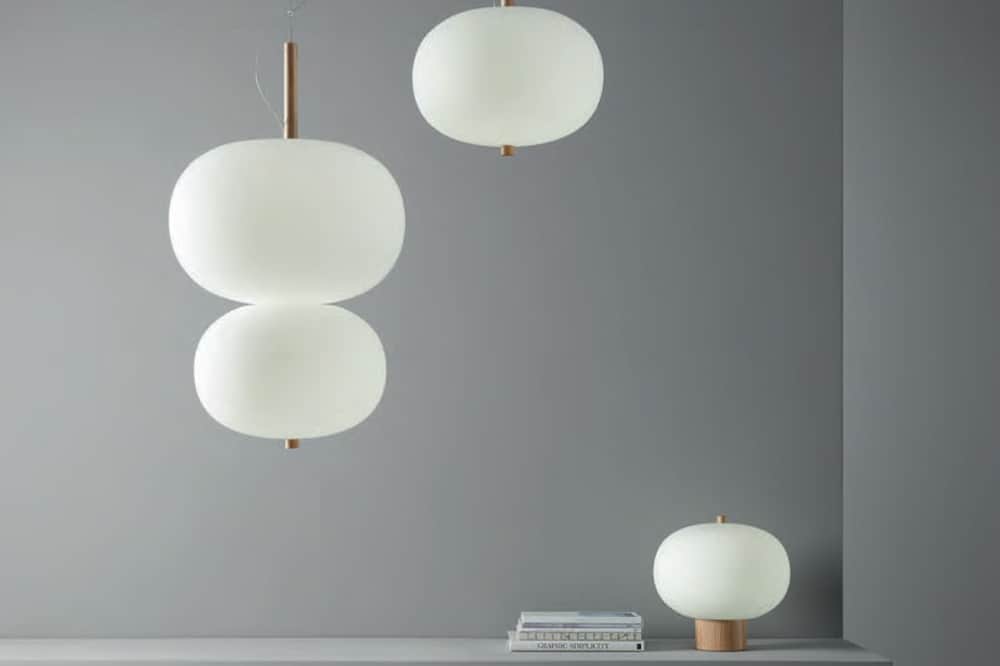 Ilargi pendant light have a subtle and minimalist shape where a wooden wand sits between traditionally hand-blown glass spheres. Ilargi lamp provides soft, warm and pleasant light that is welcome either in a professional or domestic setting. Its timeless design is creating comfortable and natural spaces. Ilargi means the "moon" in Basque language and it has a subtle and minimalist design, comprising a wooden rod inserted into a handblown glass ball. It is evoking somehow an ar­tistic sculpture in the nature, the light hangs in the air, and the combination of two sizes of glass creates a double suspension. It is produced by using a traditional Polish glassblowing technique with in two sizes available: 23 cm and 39 cm. The dimmer touch on the upper part of the light create a natural ambience.
Iratzoki Lizaso's Designs in the LEDS C4's Catalogue by Collections:
ILARGI pendant light, table lamp.
Nahtrang Disseney, Barcelona, Spain.
Nahtrang design is the name for a new adventure that started around 2003 by Daniel Vila (Sant Quirze Safaja,1975) and Ester Pujol (Sabadell,1977), industrial designers graduated by Escola Massana (Barcelona). The name off the studio comes from a Vietnam city that inspired the founders. They win a Silver Delta'12 Award for the product Pile in 2012 and won the NYC X DESIGN award in 2017.
TUBES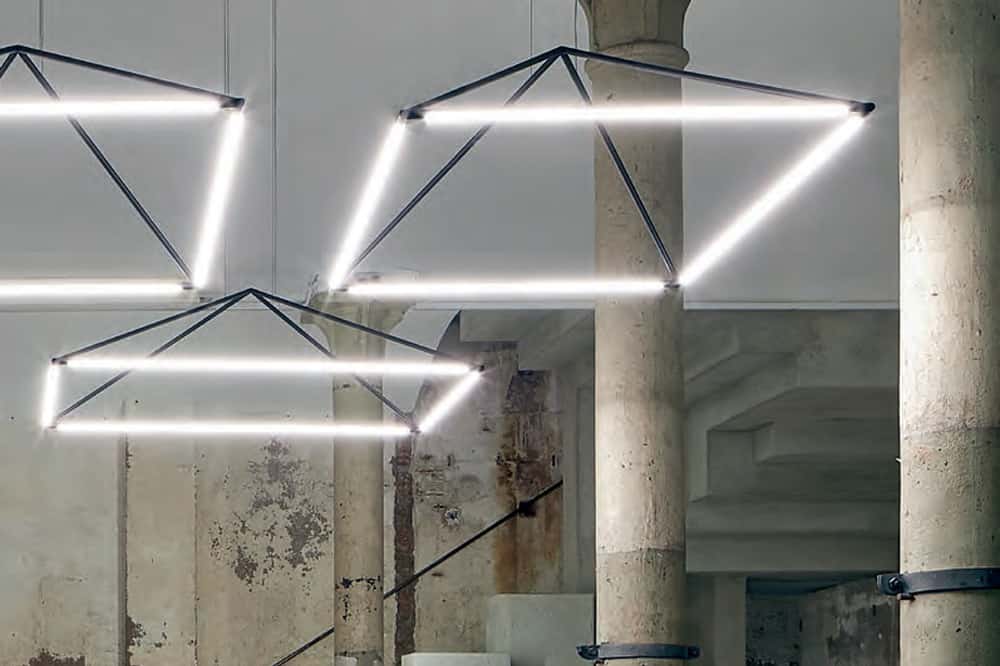 TUBES pendant lights are an expression of the balance. They have a unique design, the geome­try of its pyramid-shaped lines trap the light inside highlighting and creating delicately and order wherever it is used. Tubes pendants has soft and powerful light, perfect to be place in large space interiors.
SPIN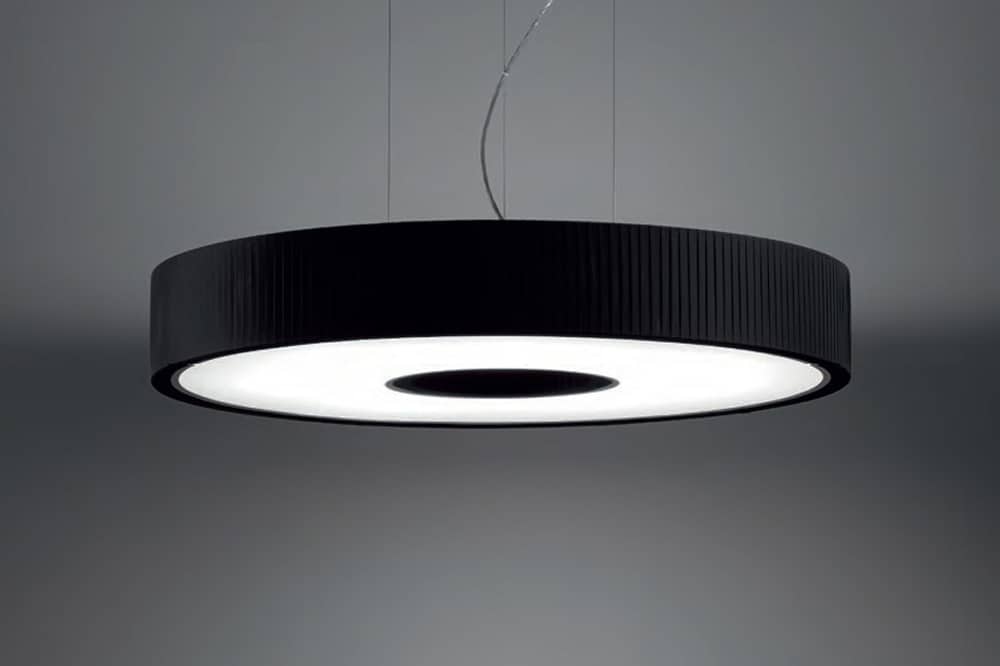 Pendant lamp that transmits kindness, with its dual circular structure of silk wrapped around a central void. It is a classic, unique and singular piece that provides warmth to any space forms and materials contrast.
Nahtrang's Designs in the LEDS C4's Catalogue by Collections:
TALK pendant light, wall lamp and table lamp.
SPIN pendant lamp, ceiling flush light.
HALL wall light, table lamp, floor lamp
TUBES pendant light.
Gema Bernal, Barcelona, Spain
I tend to propose useful, simple and warm objects, says Gema. Gemma Bernal (Barcelona, 1949) is a multi-task designer who has created everything from furniture and lighting objects to toys, household appliances, household goods, sanitaryware and urban furniture. She was awarded a Delta de Oro for a hand shower in 1969.
BAMBOO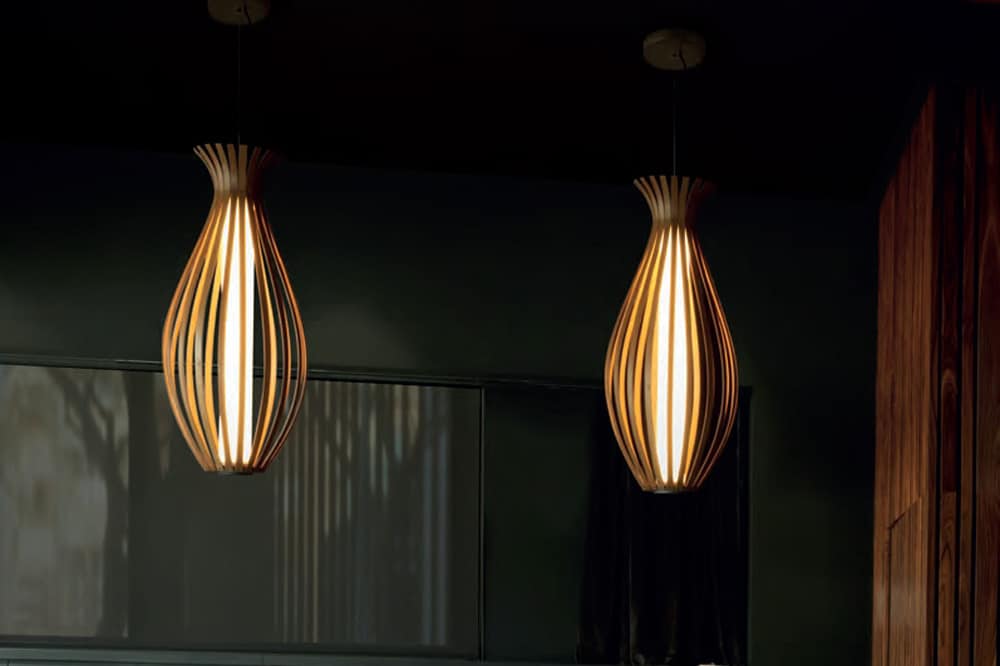 Bamboo Collection is made from fine, natural and eco-friendly materials, such as bamboo. This Collection integrate perfectly into both warm and archi­tectural spaces. They can be installed in large spaces to create low-cost, efficient lighting.
Gema Bernal's Designs in the LEDS C4's Catalogue by Collections:
BAMBOO pedant lamp, floor lamp
Estudi Ribaudí, Igualada, Spain.
Etsudi Ribaudi design is a studio led by Jordi Ribaudi, that is formed by a multi-disciplinary creative team. Ribaudi founded the studio in 2002, with the purpose to create pieces with their own identities. Ribaudi Etstudi has been working  mostly in the lighting sector,  Lighting has been one of their strengths. Their designs are born of a mixture of ideas, concepts, materials and technology. Ribaudi suggests a new way of experiencing objects: "If it doesn't look new from 100 metres away, it isn't new".
TULIP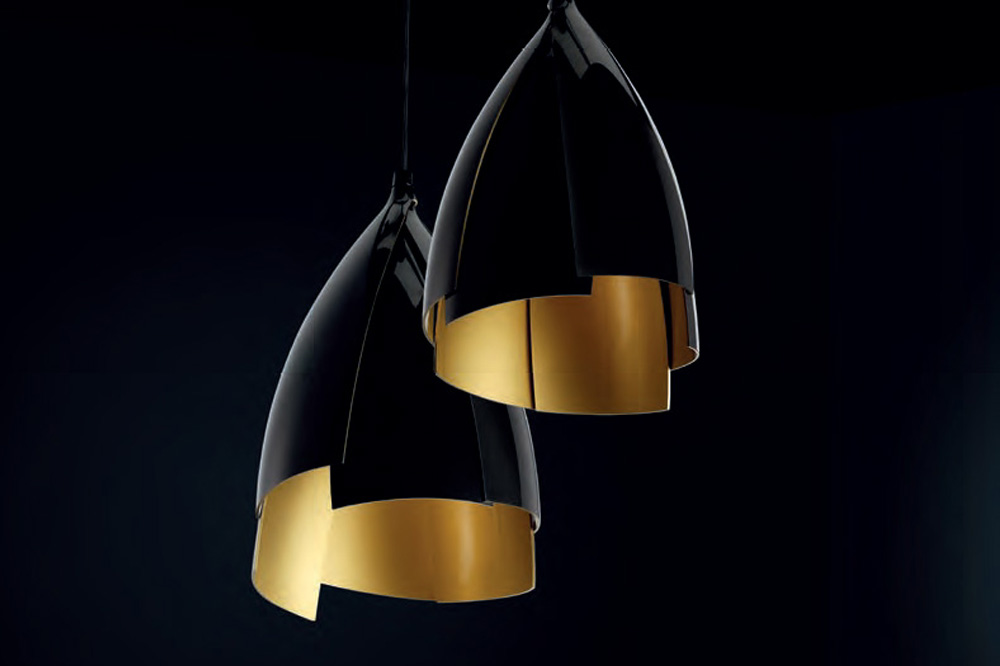 The mysterious, plant-like morphology of this pendant lamp explores organic forms. The spiral connection of its petals creates a asymmetrical, harmonic and natural piece. Leds C4 Tulip hanging lamp is made of ABS, ABS or acrylonitrile butadiene styrene is an amorphous thermoplastic, a type of plastic very resistant to impact (blows) widely used in automotive and other uses both industrial and domestic.
Estudi RIbaudi's Designs in the LEDS C4's Catalogue by Collections:
TULIP pendant lamp
Jordi Llopis, Barcelona, Spain.
Jordi LLopis is a product designer, currently runs his own design studio in Barcelona.  Industrial Designer bachelor of arts in industrial design in Barcelona by Elisava, University School Design and Engineering and an master of arts in furniture and product design from the Royal College of Art in London. He has been collaborating with lighting companies, urban furniture and objects for many years.
PREMIUM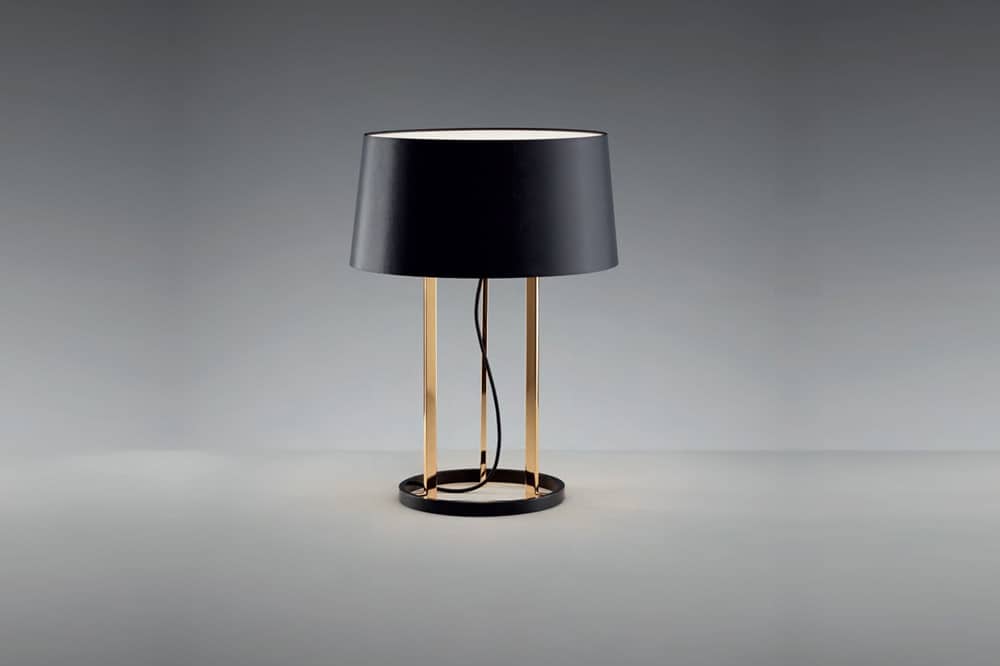 Premium Collection made of floor and table lamps has a classic and elegant and in the same time contemporary design.  The Structure in steel in bright copper finish or gold finish and a black fabric shade. It plays with the finish's combination between the shade and the structure. Switched on or off, its appearance makes it an ideal type of light for bedrooms and hotels' vestibules.
Jordi Llopis' Designs in the LEDS C4's Catalogue by Collections:
PREMIUM table lamp, floor lamp
Ramón Valls, Barcelona, Spain.
Ramon Valls estudi d'arquitectura designs and develops amenities, housing and public space, both new construction and rehabilitation, for public and private clients. Knowledge and experience combine to enable a harmonious architectural response that gives the best social, technical and economic fit, introducing innovation and progress. The practice works with regular technical collaborators and consultants who have proven experience in specific areas
RIZZ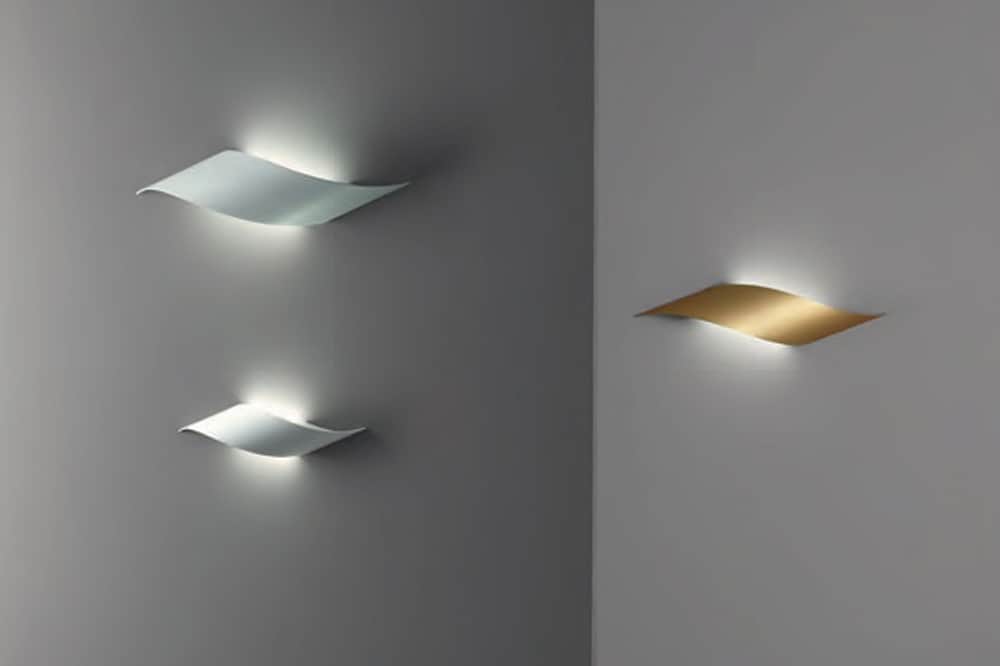 Rizz wall lights have curved shapes that reminds the movements of the waves of the sea, thanks to its special design allows them install together, separate or play with multiple combinations. The various finishes and meas­urements of these wall lights facilitates their incorporation into any space regardless of its decorative style, filling it with different visual and lighting appearances. The wall lights are available in satin aluminium, matt satin finished brass and matt White.
Ramón Valls's Designs in the LEDS C4's Catalogue by Collections:
BOSQUET floor lamp
MEDUSA floor lamp
RIZZ wall lights
WIS Design, Stockholm, Sweden.
WIS designs is created by Lisa Widén and Anna Wallin Irinarchos, that are graduated from Beckmans College of Design in Stockholm with a BA in art and design. They are independent designers, working in several mediums: furniture, product, interior and graphic. Wis design try to challenge and enrich the industrial design with a poetic and playful approach.
UMBRELLA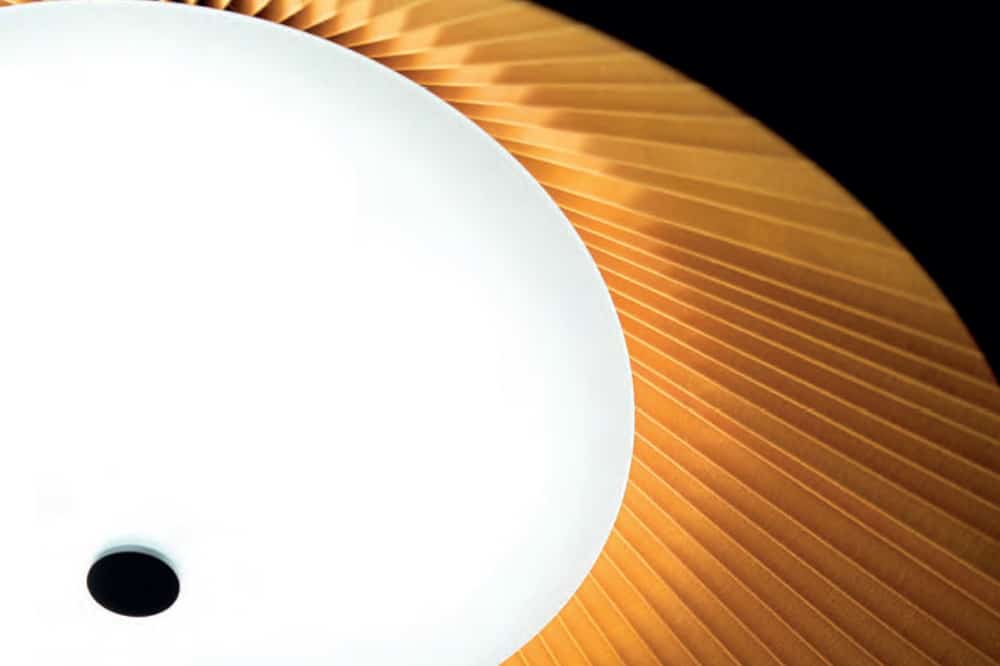 Umbrella, the radiant lighting Collection inspired by an umbrella on a sunny day where the sun shines through the fabric and creates a soft ray of light.  It is available in two sizes and two-colour combinations: black and gold or white and silver. The pendant lamp comes in two different sizes, where the biggest one is 1 meter in diameter.
WIS's Designs in the LEDS C4's Catalogue by Collections:
UMBRELLA pendant light, table lamp, floor lamp.
Josep Patsí, Guissona, Spain.
Jorge Pensi is an industrial designer specialised in decorative lighting design, with Argentine origin (1946). He moved to Barcelona in 1977 where he established a partnership with another leading industrial designer until 1984. After this very rewarding collaboration, he embarked on a new challenge by opening and running his own studio in the centre of Barcelona, which specialises in furniture design and lighting, becoming a leader in light within contemporary international design. His creations, which are characteristic in their minimalism and natural beauty, have been awarded numerous prizes and prizes, notably in 1997 with the National Design Prize.
HELLO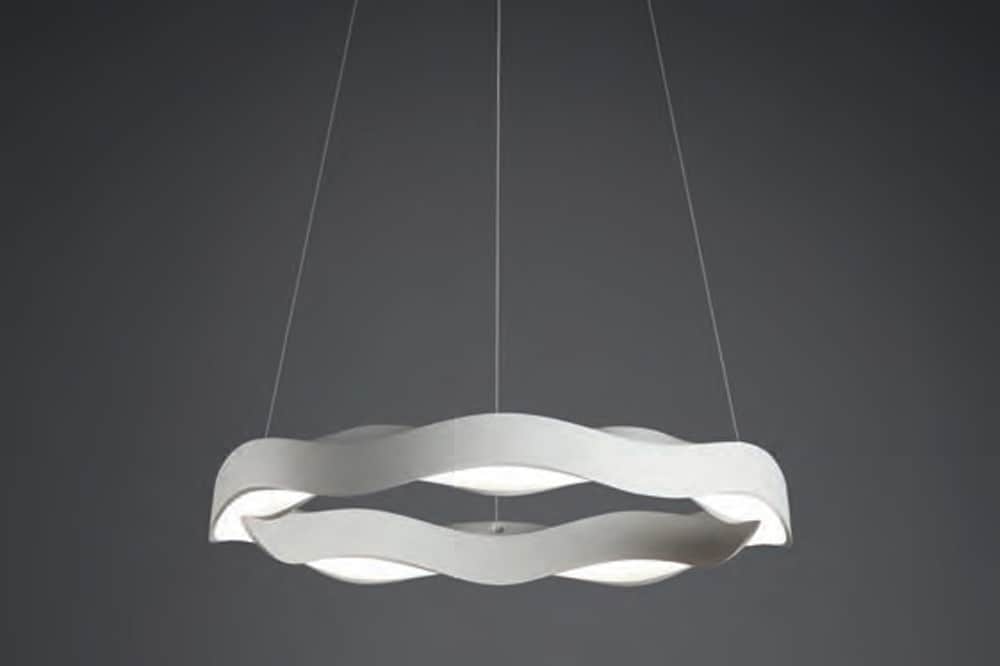 Harmony, pendant light has the sea and waves as the main source of inspiration. Its wave shapes that diffuses direct light downwards and its contemporary design allows it to find its place in any environment, generating an intimate atmosphere throu­gh warm and comfortable light.  This light has personality and its visual comfort harmonises spaces with diffe­rent styles. It is available in two colours: white or rust finish.
PRIME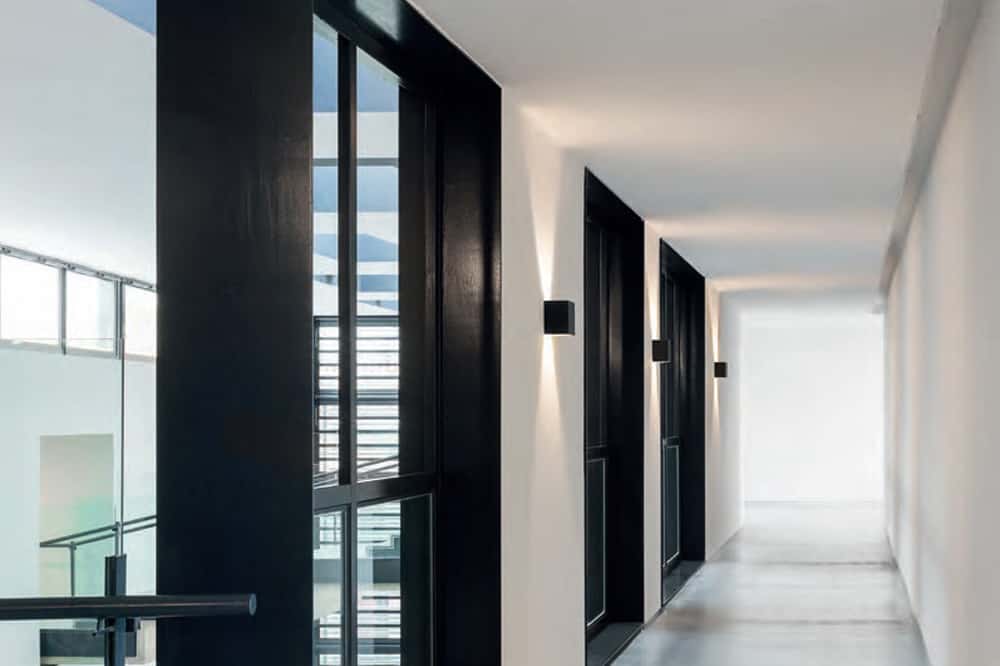 Wall light Power can be a fundamental and necessary piece in any interior design project because its simple geometry easily integrates into any space. It combines simplicity and delicacy of forms. Prime wall lamp in white aluminium with LED technology and two lighting points is an ideal choice for lighting all kinds of spaces with a contemporary touch.
Josep Patsí's Designs in the LEDS C4's Catalogue by Collections:
CIRC pendant light, floor lamp, ceiling light.
NET pendant light
AURA pendant light
ANGIE pendant lamp
BALLOONS pendant lamp
CLEAR pendant lamp
SIXTIES pendant lamps
STREAM pendant light
PRIME wall light
SURF wall light
WAVE wall light
FLAT wall light
SIX ceiling flush lights.
SINGLE ceiling flush light.
Lighting from Spain team is open to interior designers, architectures, and any businesses like hotels, restaurants, bars, that want to experience the LEDS C4 design products in their projects.