EL TORRENTS
El Torrent was born in 1997 in a small workshop in Mieres, a town Can Torrent, Mieres in the Pre-Pyrenees, Girona province of north-eastern Spain. The inspiring countryside views led El Torrent's co-founder and the lead in-house designer Eloy Puig to design models based on organic and natural shapes. All El Torrent's lights are handmade in Spain, in the same wonderful setting that provides its inspiration.
El torrents creates handmade luminaires, pendant lights, floor lamps, wall lights and table lamps for indoors and outdoors with total dedication as required by projects and the exclusive imagination of their customers. Each customer of El Torrent luminaire, after purchase become the owner of a unique piece equipped with the latest technology and with a subtle design that conveys warmth and comfort in any environment.
The manufacturer of handmade lighting designs located in the foothills of the Pyrenees El Torrent is a in the find their inspiration in the rural landscape, with beautiful views, a natural splendour together with the local culture stimulates to explore new materials and innovative solutions.
El Torrent Work
El Torrent's small production still resides in Mieres, a small medieval town in Spain that has a population of less than 500. An inspiring environment, at the heart of nature, produces the most innovative designs. The company initially began with designing for the contract market, such as lighting projects for hotels, restaurants and malls, based on the collaboration with different designers. As result were creates colourful and engaging collections that can be suited also into the interior and exteriors of residential areas.
The production space is in an intimate setting for a small number of designers that are creating high-quality products, whether they be simple or elaborative in execution. All types of decorative luminaires that adapt to any space thanks to your artistic materials and finishes. Over 70 materials are used in El torrents' collections, in unique combinations, in various colours. Mostly natural materials are used by the Spanish manufacturer, that impress with their organic shapes. Ell torrents lamps are handmade with total dedication, as required by the most exclusive lighting project. Each piece can range from decorative to functional—all with the goal of creating customized lighting for the home or workspace.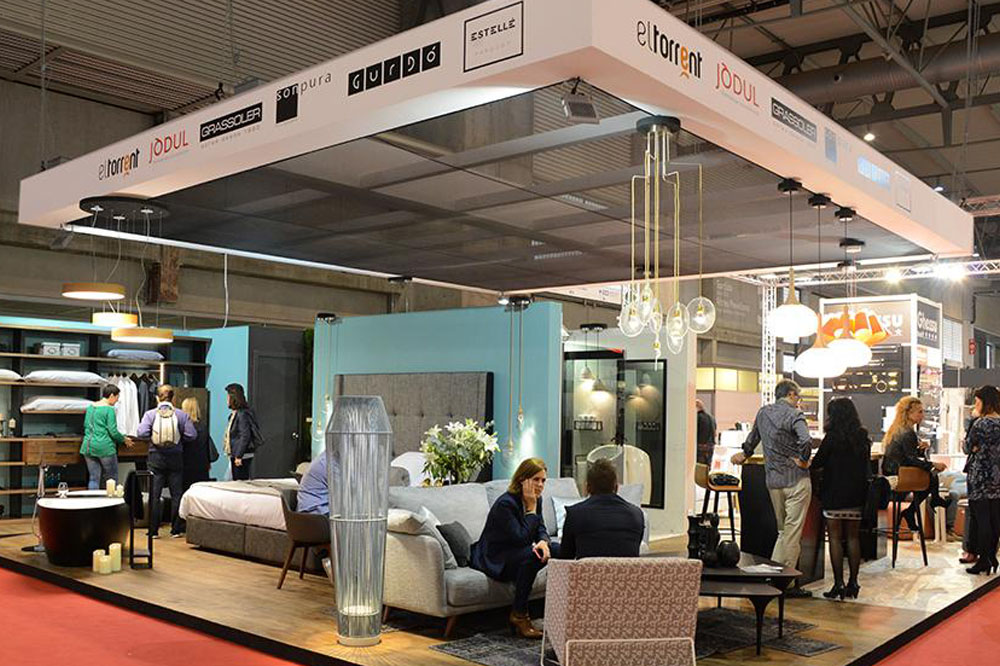 El Torrent Designers
"Giving life to new designs creating synergies with nature. The best source of inspiration is the privileged setting of our surroundings. In our exclusive art pieces, imagination and careful teamwork are mixed."
El Torrent is a small family business that creates and produces decorative lamps. This relatively small group of individual designers and studios presents an extensive product line that contributes comfortable lighting for interior spaces. El Torrent is a company that creates and produces indoor and outdoor lamps, all types of decorative luminaires that adapt to any space thanks to their materials and artistic finishes, for both public and private projects. Its luminaires, respectful of the environment and energy saving, combine handcrafted work, which is carried out in the same company, with technological innovation.
Eloy Puig enriched the El torrent team of designers with Andreu Carulla, Joan Genebat, Estudi Ribaudí, Pete Sans, Series Nemo, Estudi El Torrent and Stimulo.
Combination of Art and technology is the priority in creating designs for the El torrent team. You can follow a slight influence of the Mediterranean lifestyle in their designs of lights. Lights are alive, radiate from the inside and put a smile on the face of their owners. It is a new language of making lights by using selected materials and innovative processing. El torrent revalue traditional manufacturing methods and complement them with their future oriented expertise and creative wit.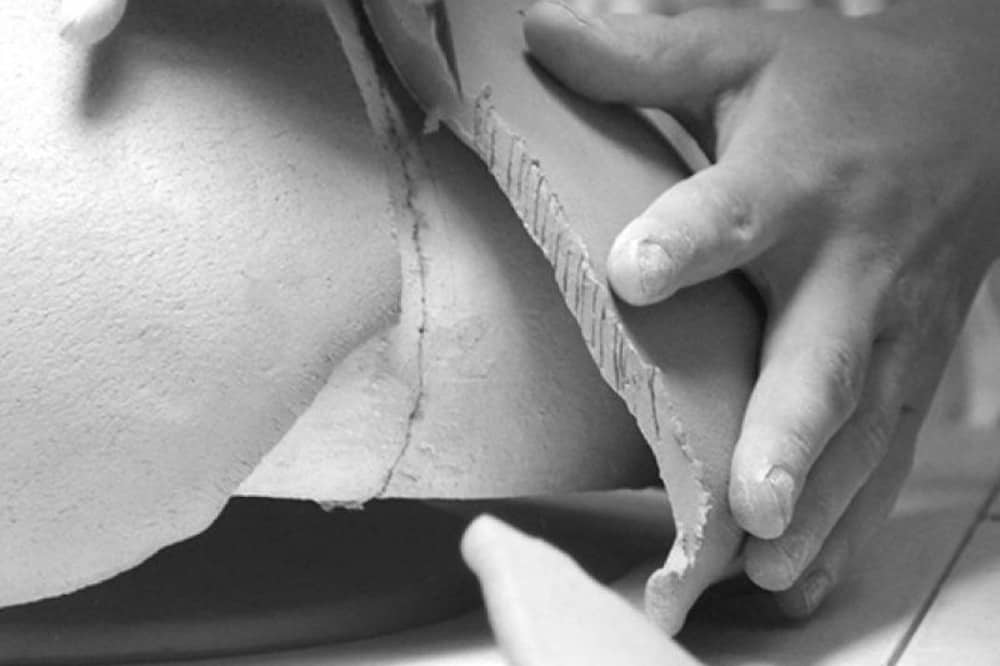 Eloy Puig
Eloy Plus is versatile person that adores making experiments with lights. He is the main Designer and co-founder of El Torrent. He is the one who reinvents what already exists, in pure sensitivity and creativity. Eloy Puig was working alone the first years after foundation, then he has incorporated creatives designers and engineers to form a team completely dedicated to the design and development of new products. His moto to generate new design is: "Experiment, reinvent, investigate all aspects of art … Sensibility and creativity."
KOORD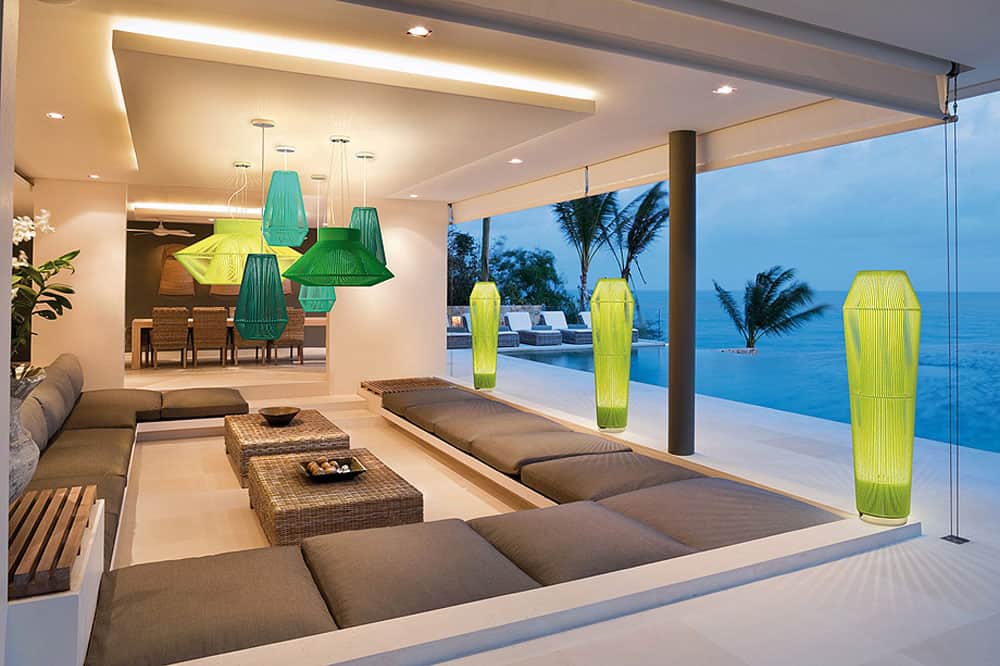 Koord is part of a careful catalogue of luminaires that born based on the inspiration by the natural environment where the El Torrent is located. Eloy Puig, designer and co-founder of the company, explains that for him "the environment is essential. The environment is what inspires us. What I perceive in this environment is what I like to express in the designs and that the person who buys the product can intuit what is behind.
Koord is the Collection of lighting that became the symbol of El torrent brand. Koord family handmade lamps is consisting of wall lamps, ceiling lamps, suspension lamps, floor lamps with three wooden legs for interiors and floor lamps for exteriors. The lampshade of each lamp is worked by hand, the indoor lamps are made with acrylic braided cord and the exterior lampsa re made of braided polypropylene cord that can be exposed freely to UVA treatment.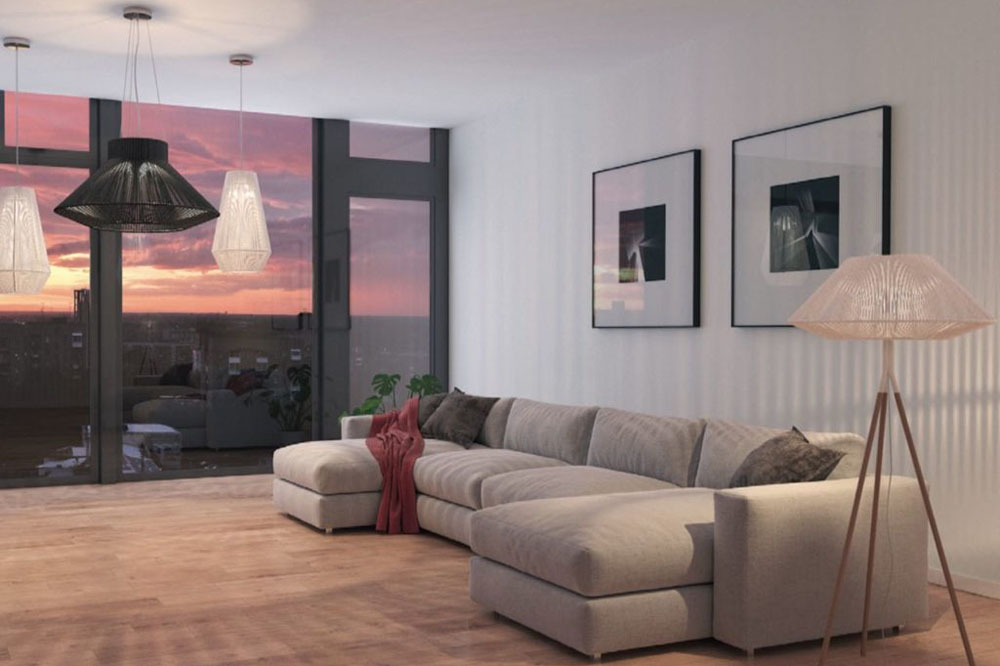 The Koord lamps stand out for their dynamic design of each piece of the Collection, ideal for being part of modern spaces and becoming an attractive element of interior or exterior design. The portable lamps from Koord are very welcome for use in the living room, as table lamps, either in the kitchen or in the terrace and balcony.
The huge variety of pendant lights, table and floor lamps are made in different shapes, slightly larger in size and colours, which give a different functionality to the collection thanks to the fact that they are battery-powered and can be used outdoors. Their rechargeable battery offers an autonomy of seven hours and no cables to switch. They are amazing lamps with a very practical use. The three light intensities change completely the atmospheres. Easy use induction charging system with ON/OFF touch switch at the base of the module and a remote-control system. The cord used for the lampshade is made of polypropylene for outdoor use is available in many colours. The new versions have the base made of white polymer concrete, a dimmable lighting is and an IP66.
Organic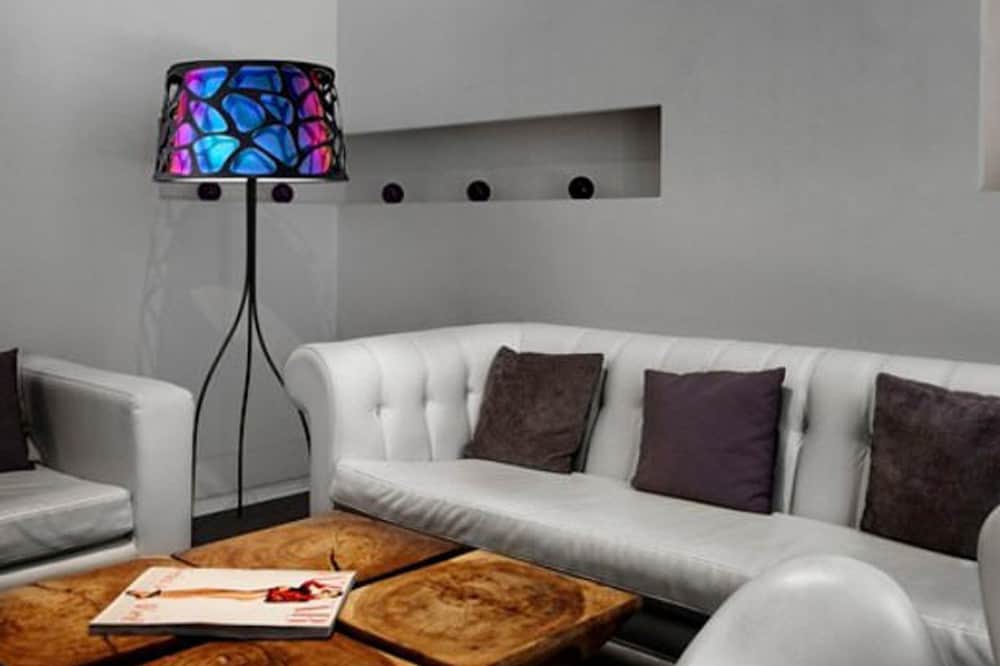 The Organic Collections brings us Art of futuristic dyes, which fill our soul and spaces. This lighting collection has suspension lights in 3 sizes, wall lights and floor and table lamps models. Its metallic body in broken white or black, combines with the soft colours that emerge between the die-cutting of its lampshade.
Gemma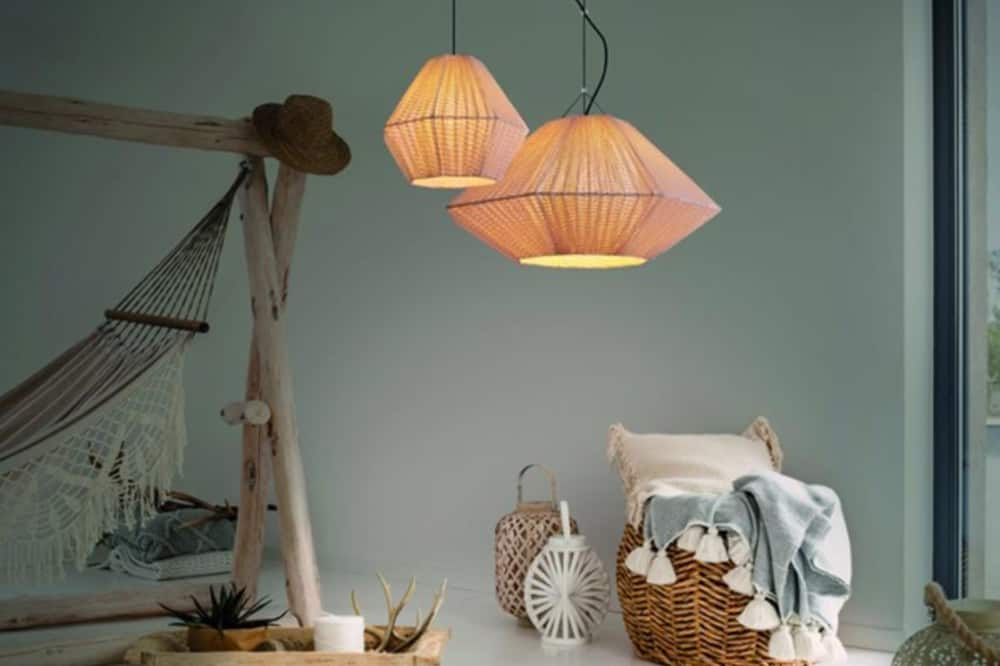 Freshness, romanticism and naturalness are the essential features of this original pendant light. The acrylic mesh, soft and flexible, gives life to the lampshades in the form of precious stone. Presented in two different sizes and formats, it is completed with nickel fleuron and red or black textile cable. Gemma pendant lights adapts to any size of room, they have their own identity and by combining them at different heights or keeping it in linear form you will have a fantastic composition.
Citric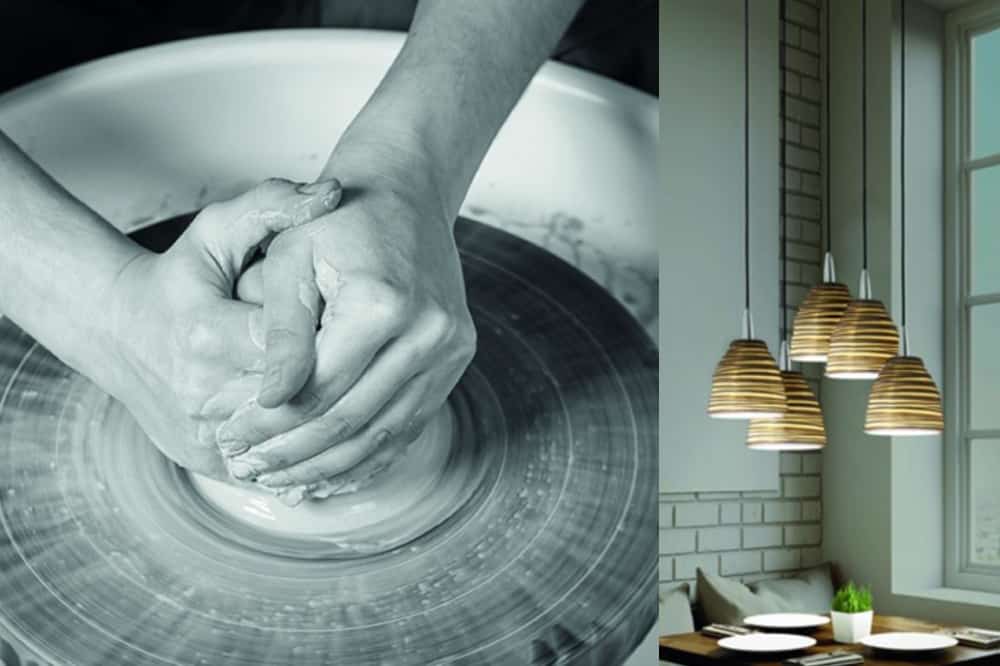 Handmade hanging light made of natural coloured porcelain, CITRIC, has a 17cm diameter lampshade, with organic and rough shapes that allow a soft light to pass through, creating a singular and warm atmosphere. The colour game of the satin nickel ceiling rose completes with the red or black textile cable. The collection is completed with a wall lamp.
Dentro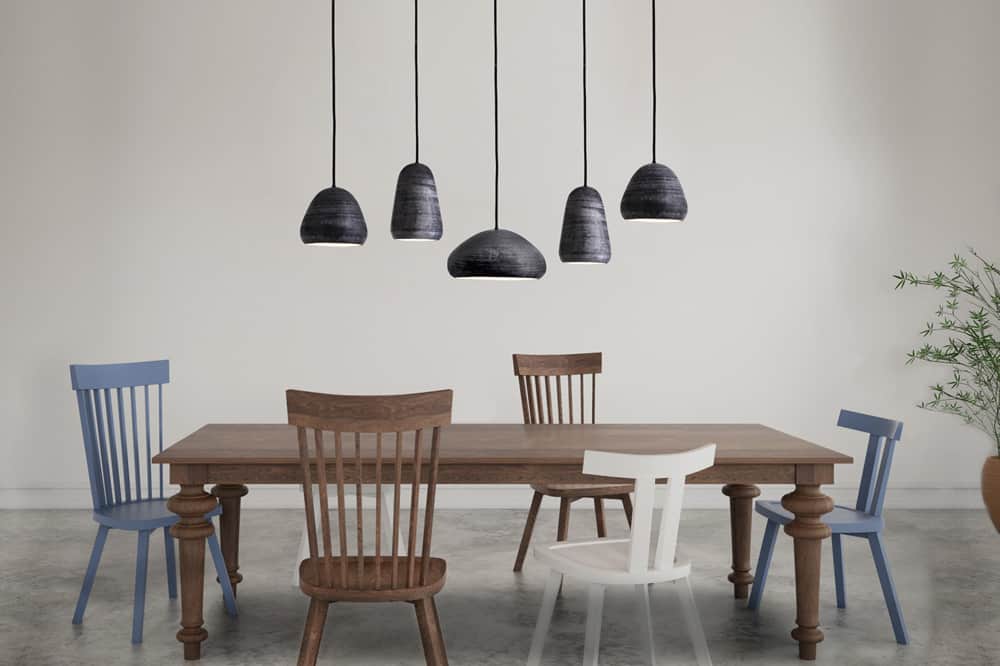 These delicate pendant lights are manufactured by hand, one by one, in three different diameters and shapes. The alchemy of the 4 elements, earth, water, fire and air, is present in the creative process of the collection Dentō. They create a fresh, emotional and natural atmosphere by being placed alone, in line or gathered on a large circular base, at a different or identical height. The craftsman creates each piece as a unique work of art, made in a ceramic workshop.
Petal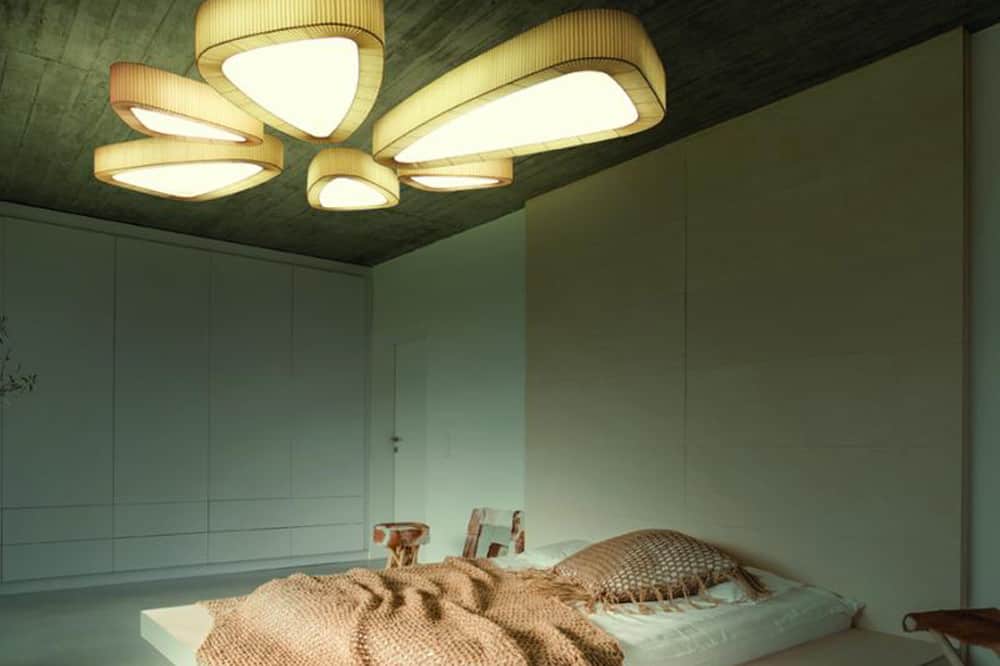 The Petal creator, Eloy Puig, was thinking about a flower crown while he was designing this composition of the flush lights. They are hand-knotted ceiling lights with a methacrylate diffuser and magnet attachment. Their intelligent design allows you to replicate the lamps and create unique compositions that diffuse light in an accurate and neat way.
Eloy Puig's Designs in the El Torrent's Catalogue by Collections:
ANKARA pendant light, wall light, floor lamp.
CONET pendant light.
CITRIC pendant light, wall light.
DAYA pendant light, flush light, semi flush light.
DENTO pendant light.
DUNA pendant light.
EVA pendant light.
GEMMA pendant light.
KOORD ceiling light, pendant light, floor lamp, table lamp, wall light, portable lamp.
KOORD outdoor collection, pendant lamps, portable lamps, floor lamps.
NEO pendant light, floor lamp, wall light, table lamp.
NEX pendant light.
ORGANIC pendant light, floor lamp, table lamp.
OVLA suspension bar.
PETAL flush light, wall light.
SLIM pendant light, flush light.
SONORA pendant light.
TRUDY pendant light, floor lamp.
VERSATIL pendant lamp.
Andreu Carulla
Andreu Carulla states that "… curiosity for the new and a passion for light. Always experimenting with new materials to create objects with their own identity and free of their own iconography, returned to their purest essence…". Andreu's design studio combines art and technology to create lighting fixtures. They understand their design as a reflection of the Mediterranean lifestyle, creating products that are vivid and bright, trying to put a smile on the face of the owner 😊. They are pushed up by a constant exploration of materials, old-school techniques and contemporary processes, Andreu Carullas studio's projects include furniture, tableware, lighting, fashion, interiors and more. They are located one hour far from Barcelona, being surrounded by an idyllic lake, in repurposed mill houses, where is now the designer's studio and workshop. This environment is reflected in their Mediterranean approach to design. Here are the latest awards of Adreu in 2019, Good Design Award, Winner, in 2018, Restaurant and Bar Design Award, Ancillary, in 2018, IED Madrid Design Award, Best Eco Design, in 2015, Red Dot Design Award: Best of the Best, in 2015, INTERIORES Young Designer of the Year.
ODA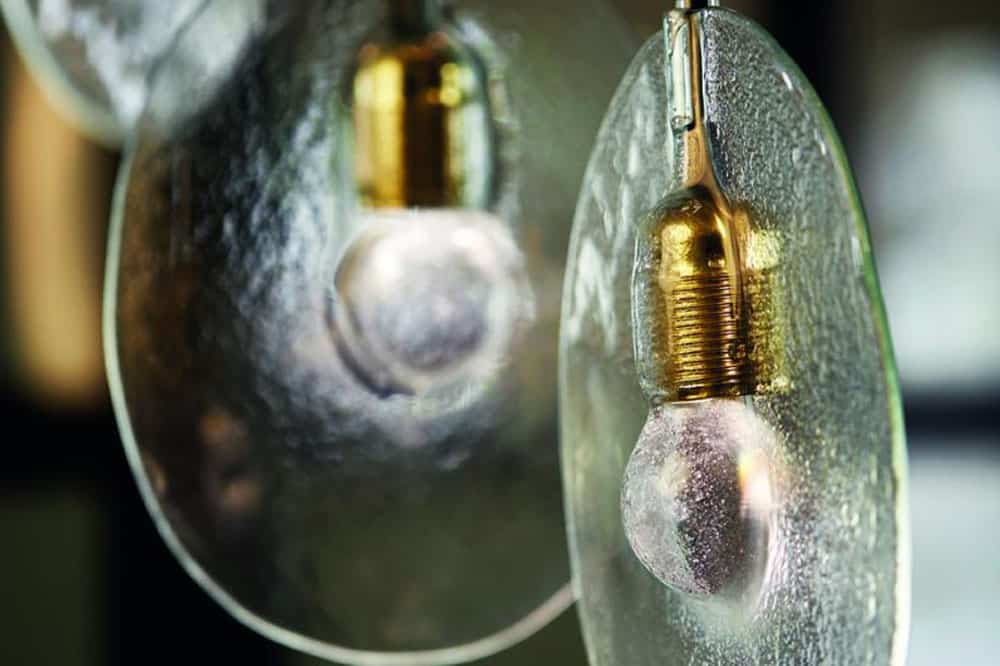 Andreu Carulla offers a grateful farewell to the classic incandescent bulb while imagining ODA lamps. He was giving a new style to an old concept. Andreu has devised a luminaire with a fusion glass body and 3w LED. This combination of elegance and vintage gives a nice aesthetics to any room. It can be installed as ad single piece of in group of three, five or eight units. Each glass shade evokes past times as well as a bright future.
FLUX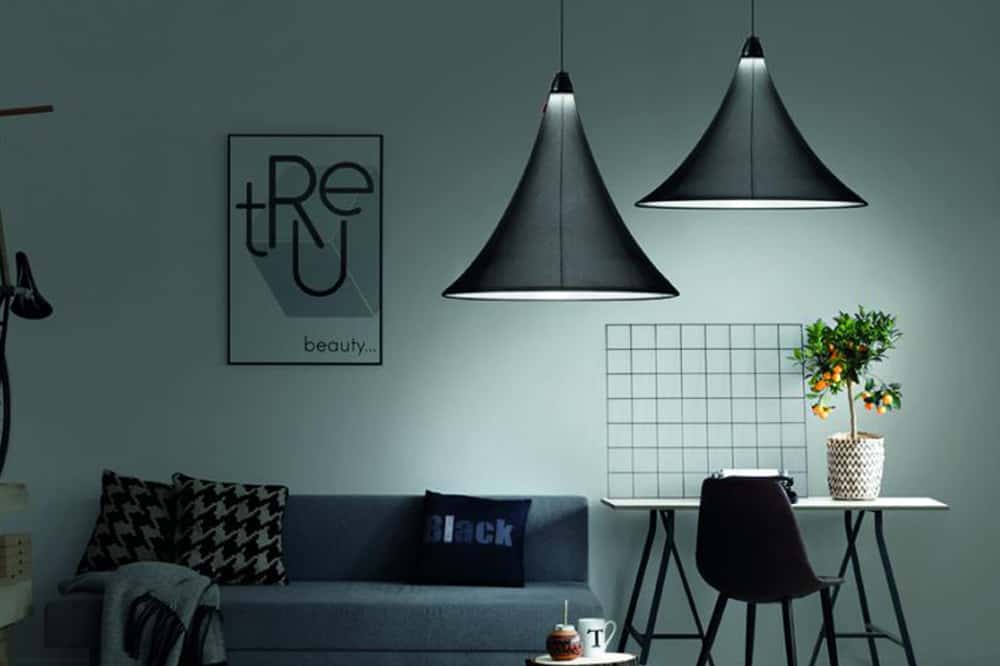 Pendant lights Flux has a simple and formal spirit, ready to be integrated in industrial and modern spaces. The two pieces of this hanging light fit together in a natural way. The black aluminium lamp holder is perfect for maintaining the constant temperature of the 17 W LED. The elastic technical fabric lampshade is hand-sewn. This original pendant lamp is available in two sizes of 40 and 80cm and in two colours- white and black.
Andreu Carulla's Designs in the El Torrent's Catalogue by Collections:
ODA pendant light.
ELSA prendant light.
FLUX pendant light.
Joan Genebat
For Joan Genebat "… The challenge and main objective is to successfully convey the desired sensations. Light has contrasting characters and personalities; we discover them step by step…". He is a product designer with a background in Industrial Design, graduated from the Polytechnic School of Girona, Spain in 2008. Joan Genebat gives creativity and energy to El Torrent team work.
Aura
Mediterranean Sea, sand, whitewashed walls and volcanic earth this are the game of words that comes into your mind when you see the Aura wall lights. This is a decorative wall lamp with LED lighting and beautiful simplicity, where the central light radiates with sensuality and mysticism, gambling with the sensations at our pace. It is perfect to adapt to the size or feature of any room, especially to the passageways or halls. It transforms into a surprising sculpture when placed strategically with several pieces.
Cloche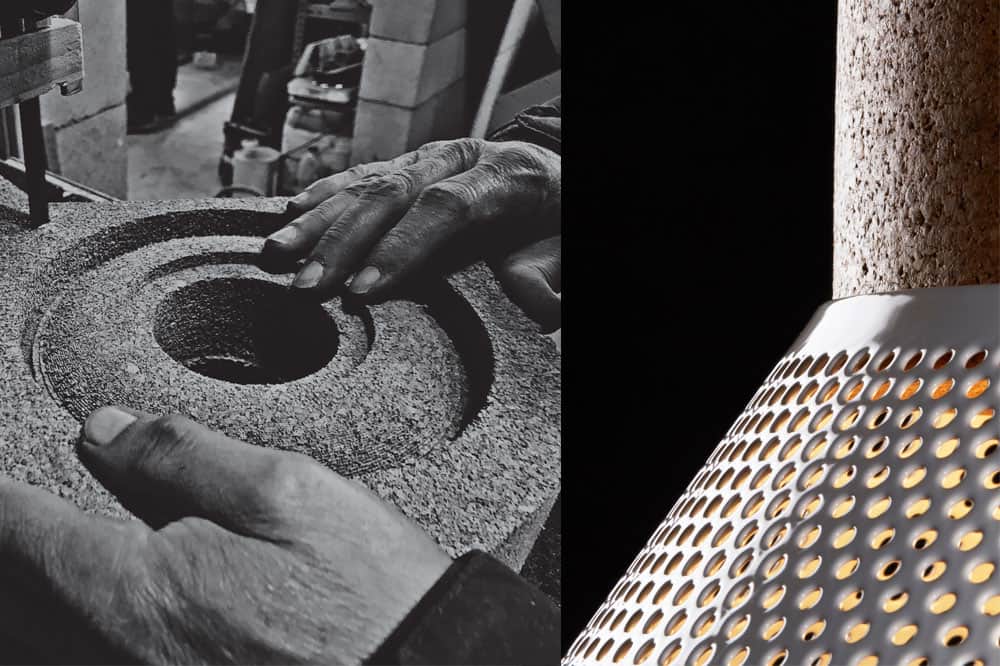 Cloche is an indoor or also outdoor pendant light that combines both elegance and the natural look, with a Roaring Twenties air. The decorative and close to nature features of this hanging light will highlight the areas of family or recreation activities. Made from local cork, that covers its LED module with a perforated metal shade in anthracite grey or broken white. Pendant lamp made with antioxidant treatment and polyester paint for the outdoor lighting version. You can choose for your lighting project either an indoor pendant with a black textile cable and bulb or in the outdoor version in the neoprene cable and integrated LED of 10 W.
Erol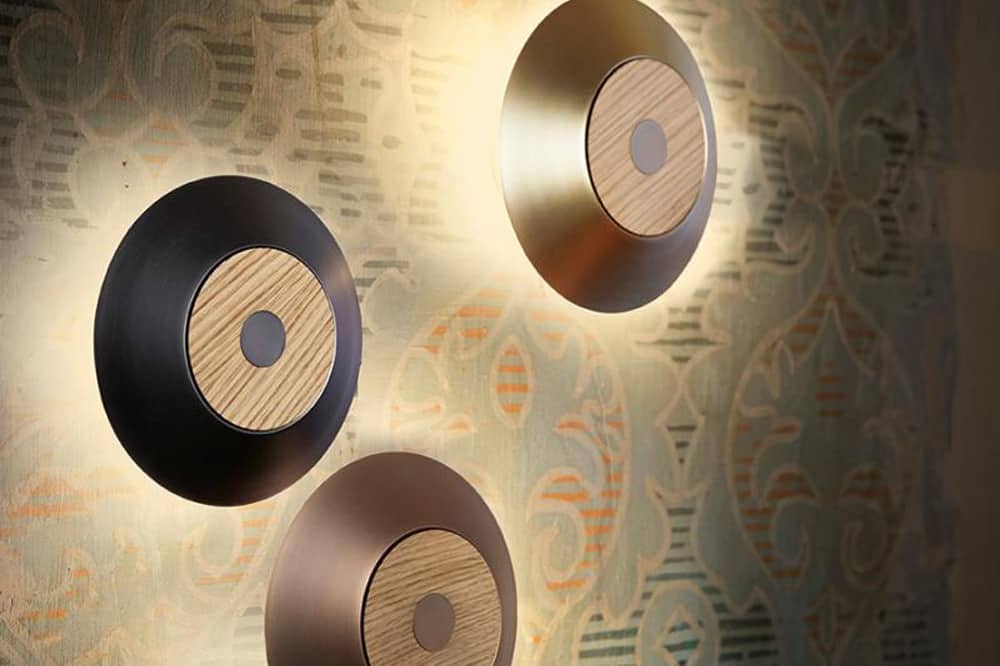 Play with light and create a calm atmosphere into your interior, is the mission of Erol wall light. Erol lamps have metal shades in copper, gold and graphite colours with an oak trim in the central part. The integrated LED light source projects emotions in a warm spherical wave. You can create different compositions on the wall by using the two size versions of 18 or 23 cm diameters.
Tuareg
The cool shapes of the Tuareg Collection lamps are available in high floor lamps, flush mounted lights and table lamps. Made of polyester and methacrylate diffuser and the structure in metal for the floor and table lamp version, in black, broken white and red will help you to select the best interior design project.
Joan Genebat's Designs in the El Torrent's Catalogue by Collections:
AURA wall light
CLOCHE outdoor and indoor pendant light.
EROL wall light
TUAREG ceiling flush mounted lamp, table lamp, floor lamp.
Estudi Ribaudí
Jordi Catalan Ribaudí founded the Ribaudí studio in 2002. He succeed to build a multidisciplinary creative team, with the goal to design lighting fixtures and other items with their own identity. Ribaudí studio's designs surprise and seduce in the same time. The lighting deisgns arise from the mixing of ideas, concepts, materials and technology. Estudi Ribaudí proposes a new way of living following the maxim objects present in all his projects: "novelty, if it's not seen a hundred meters, is not new."
Talaya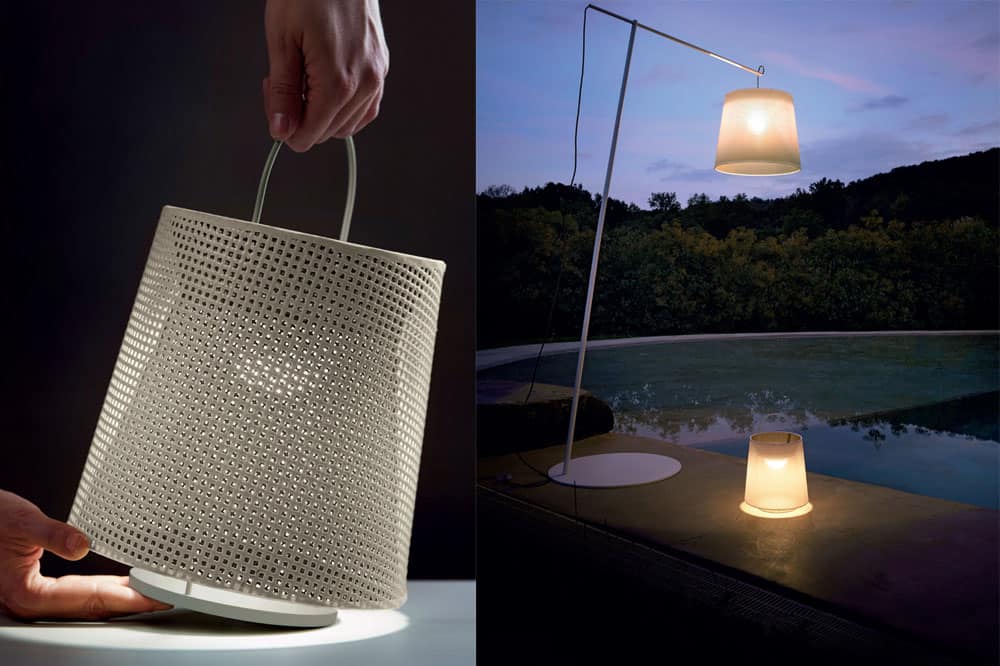 The Outdoor collection Talaya consists of floor lamps, pendant lamps and portable lamps, with pure and minimalist lines. The metal structure floor lamp is almost two metres high, has been designed to stand out in a sun terrace or garden. The compact format portable lamp has a sealed battery for a more intimate light. The lampshades are made from a flexible perforated composite membrane with waterproof and UVA protection.
Fló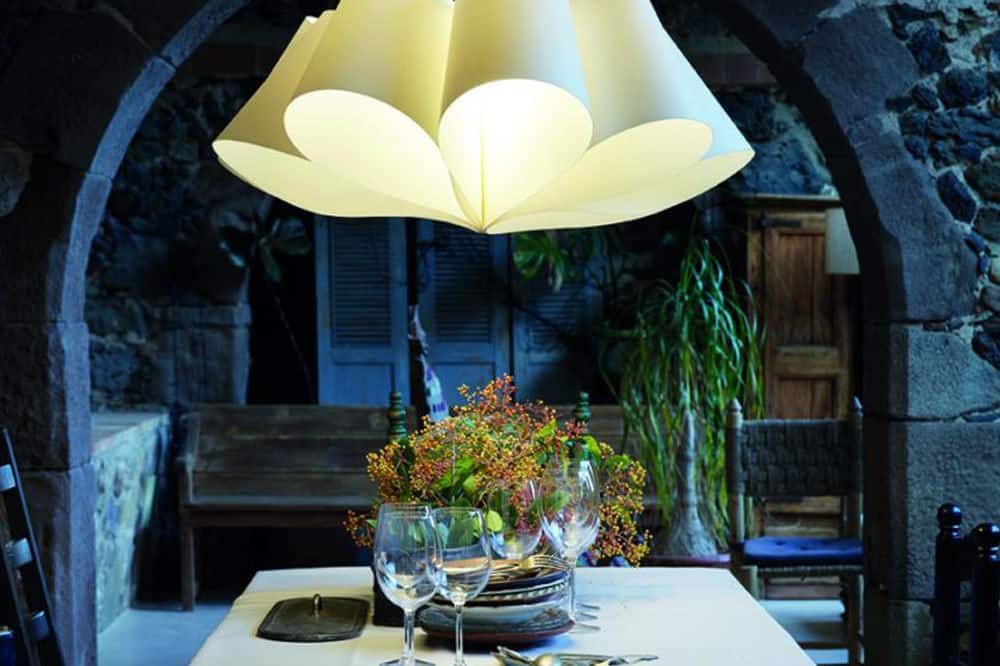 The glamorous and chic Fló pendant light is a wonderful selection for a nature inspired lighting project. Flo hanging light is a romantic and functional model, with an attractive aesthetic. It was handcrafted with Pergacol, mixed paper and PVC. The soft lines of this lamp are a good choice for a home lighting decoration and impressive lighting for commercial primes such as restaurants, hotel's lobby and receptions. You will be softly surprised that you can choose from a great selection of colours for your lighting design in the interior project. The charming colour compositions that evoke pure nature can be installed separately or in combination with two or more models from the same collection. The Flor light fixture is destinated for big spaces as it have the dimensions of 100 x 80 cm, and powerful warm temperature of LED lighting, perfect for a  ambient light in any room of the house.
Jordi Catalan Ribaudí's Designs in the El Torrent's Catalogue by Collections:
FLÓ pendant light.
HOOPS wall light.
LAOLA pendant light.
TALAYA outdoor portable lamp and floor lamp.
Series Nemo
SeriesNemo design studio founded in Barcelona in 1991 by Jokin Arregi and Monse García and, since then, its trajectory covers all fields related to design specializing in brand image, packaging and creation of new products. The Stuido's multidisciplinary team consists of specialists in industrial design, graphic, decoration and communication. SeriesNemo designs got recognition in numerous international competitions and prizes such as Good Design Award (Japan) 2013, Red Dot / Best of the best 2013, IF Design Award 2014, German Design Award / Special Mention 2015 -2016 and others.
SeriesNemo philosophy is "We dont follow the rules. We are independient. We have our own personality. We belive that products build brands. We are weird. We are SeriesNemo". They create designs with soul, close, emotional that become later products with their own, unique character and balanced in form and function. SeriesNemo know how to stimulate intangible connection between user and object.
SWELL
The Swell design of the studio SeriesNemo is an original piece of lighting in organic forms Created with artisan tenderness. This so personal luminaire looks like an upside-down flower. Swell is handmade like other lamps from El Torrent. The delicate natural beech wood structure combined with the translucent white polypropylene satin lampshade, which projects a powerful beam of light thanks to its 18W LED power, serves to bathe any environment with warmth, transmitting serenity and beauty. Its originality allows you to play with linear or group compositions. The red textile cable adds a discreet touch of colour.
SeriesNemo's Designs in the El Torrent's Catalogue by Collections:
SWELL indoor and outdoor pendant light.
Crous Calogero
Francesc Crous and Alessandro Calogero
CrousCalogero design agency was established in 2009 by Francesco Crous and Alessandro Calogero. Francesco Crou graduated in Product Design from the Eina design school of Barcelona and completed his studies at the Politecnico di Milano. Alessandro Calogero in Industrial Design at the Politecnico di Milan. After collaboration with different prestigious design studio their professional ways cross, within the innovation Lab of the Spanish company Roca.
Their motto is: "We want our objects, materials and details of each product to convey a desire to be touched and observed close up. Functionality is a basic requirement that we consider essential, and on which we try to suggest a narrative, consisting of memories and sensations, generating an intangible bond between object and person." They develop their own ideas and abstract solutions around the produced design. The result of this work is a competitive and optimistic product, which offers solutions based on the differentiation and the creativity as the strategic values. CrousCalogero's work has been awarded with prestigious prizes like the Silver Delta 2012 and the Delta Selection 2014.
Cuca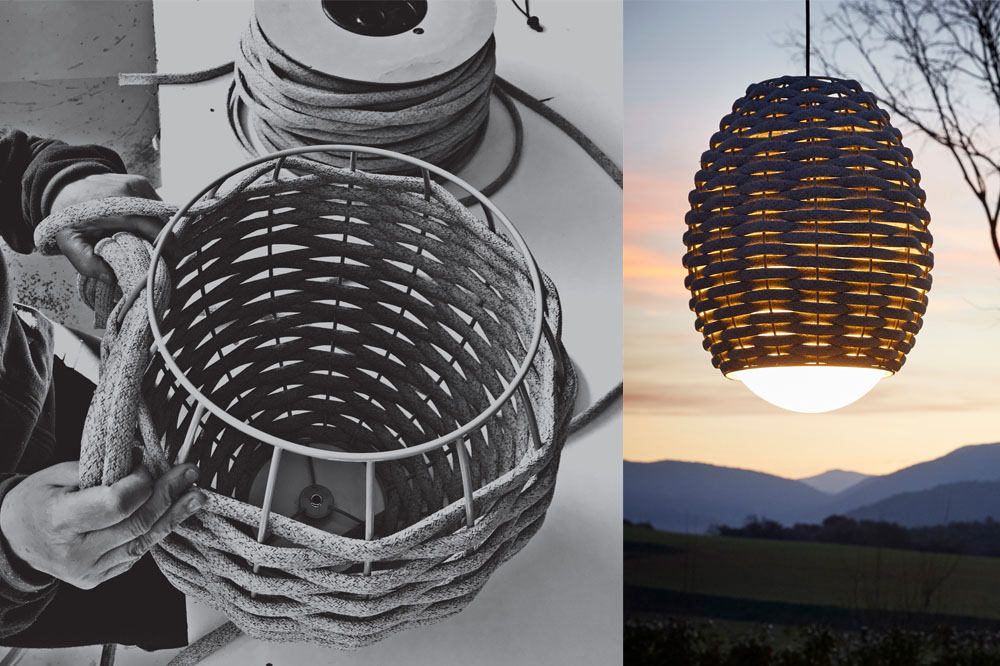 Cuca outdoor collection consists of standing lamps, floor lamps, table lamps and hanging lamps. The Cuca lights are characterised by their organic shapes and warmth, defining El Torrent common features. The shapes of the lampshades are braided elliptical globes, that look similar to a malacca. It was used a new neoprene material coated with a fabric suitable for outdoors, while the interior is a large opal triplex glass sphere. The metal structure of Cuca Lights is treated with nanophoresis for better use in outdoors, painted in grey and braided with UV-treated flecked textile material. The floor lamps versions have a white polymer concrete base. The pendant lights have black fleuron and cable, from neoprene. You can regulate the intensity of the included LED light with the dimmer. The bulb can be replaced by a Smart one and connect to Alexa virtual assistant developed by Amazon or Google Home smart speakers.
Twice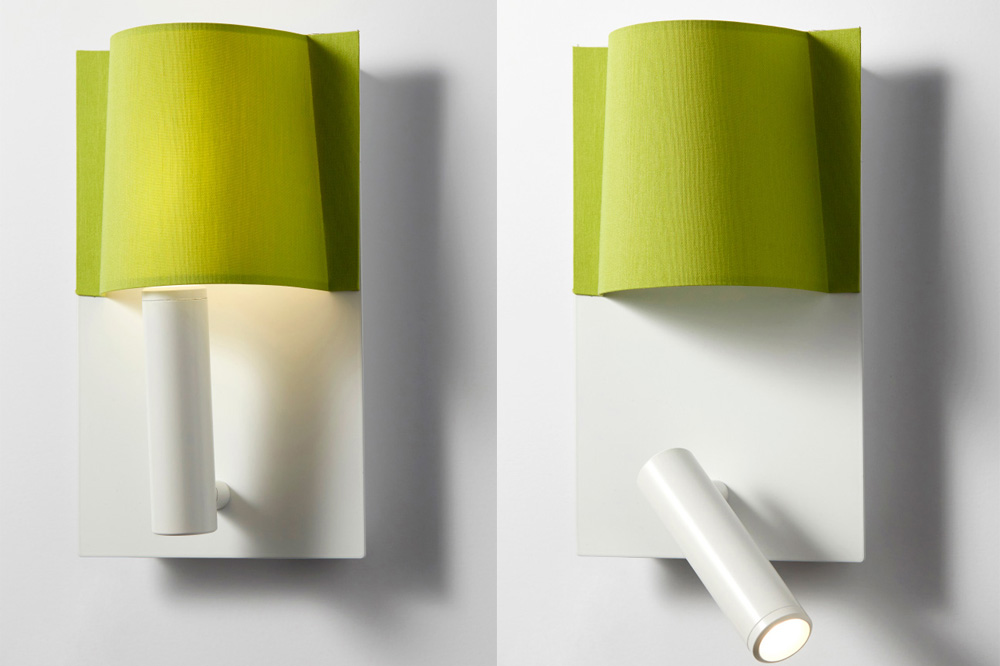 Twice minimalist wall light provides direct light for reading, and with a simple movement, its soft arc of essential light prepares you for resting. It is a two-in-one light that can be used as an ambient light, pointed light or reading one. This item can be adapted to any interior design project as you can customize the colour of the shade from the huge pallet of El torrent materials. The Twice wall lamps have a metallic structure lacquered in white and lampshade available in different colours, a 360º adjustable LED light source, and a built-in USB charger switch and output.
Crous Calogero's Designs in the El Torrent's Catalogue by Collections:
CUCA outdoor pendant light, floor lamp, portable floor and table lamps.
TWICE wall light.
Roger Vancelll
Trained as an Industrial Designer at ESDAP LLotja and later at Escola Massana in Spain. His interest for the design profession was born out of a desire to project things and the environment around us. This curiosity that persists inside the designer, allows him to grow and also provokes the necessary motivation to continue learning day by day, in the search for new ways to solve each project. Roger states that: "The working method helps reveal the beauty of everyday objects, making them simple, functional and clear, by using attractive, sincere solutions arising from our constant search for innovation".
Quadra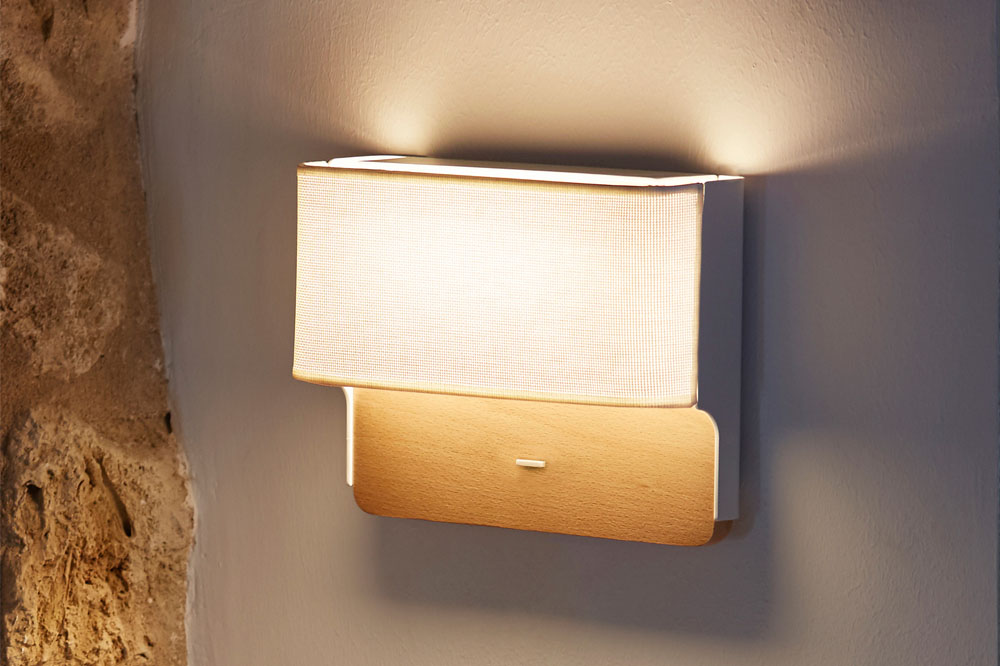 The Quadra Collection that includes two-luminaire table lamps and wall lights, is a combination of minimalist tailoring and rational lines. The design merge together elegance, functionality and usability. It is based on the coexistence of different materials and their relationship with light as the main theme. The Quadra lamps have a metal structure, beech wood and a washable fabric lampshade. The pure lines make it the ideal complement to any decorative style. The Quadra table lamps, and wall lamps are available in white or black, and have a TRIAC adjustable LED lighting system.
Roger Vancelll's Designs in the El Torrent's Catalogue by Collections:
QUADRA wall light, table lamp.
Pete Sans
Pete Sans born in Barcelona in 1947, began his studies at the Hochschule für Gestaltung in Ulm, although he did not finish his degree. Pete Sans is a charismatic designer, who prefers to describe himself as a creative sculptor and furniture designer. His artistic attitude beyond the pressures of the industry has allowed him to establish his trademark in the design scene and earn Spanish and International Awards.
Kathay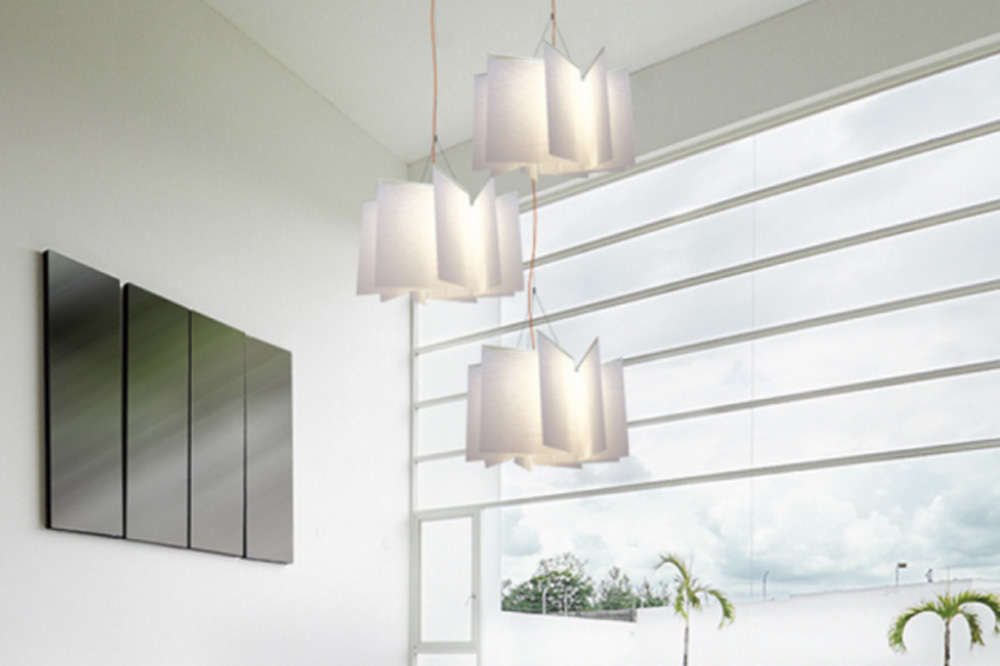 Kathay Pendant light with and acrylic lampshade, white lacquered c ceiling rose and lampshade support. You can adjust the red steel electric cables ad different drop.
KATHAY pendant light.
PLACA wall lights.
POP pendant light.